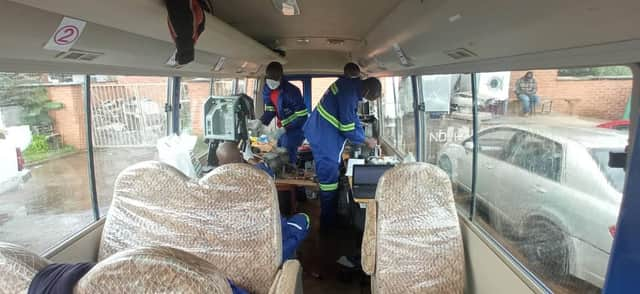 Generally, Malawi seemed to fare comparably well through 2020 with regards to Covid-19. New infections and mortality declined from late July with less than 200 Covid-attributed deaths by the end of the year. Many have speculated that this might be due to demography (with a median age of 17), climate or vitamin D. Whatever the reason, it seemed that Malawi would be spared the same scale of outbreak seen in Europe, the UK and the US.
This all changed at the start of 2021, with more deaths in January than all of 2020. Malawi hit the global headlines when two Cabinet Ministers died of Covid within 24 hours, with the President declaring a national emergency on 12 January.
New cases increased exponentially in January, doubling every four to five days, with reports of healthcare systems being potentially overwhelmed across the country and a serious shortage of oxygen.
In the spirit of collaboration and coordination, the Scottish Parliament's Malawi Cross Party Group joined forces with Westminster's Malawi All-Party Parliamentary Group for a joint-meeting on 25 January to discuss the worsening crisis in Malawi. Amazingly, more than 250 organisations and individuals joined this digital meeting, to listen to the Malawian Minister of Health update both Parliaments and stakeholders.
Tragically, every Malawian speaker on the agenda in this meeting had lost close colleagues, friends or family in the last week due to Covid. Dr Matthews Mtumbuka, CEO of UbuntuNet Alliance and former Chair of the Malawi Scotland Partnership, was just out of hospital with Covid, where he was on oxygen for seven days. He described how he only survived because family members drove around Lilongwe sourcing Oxygen cylinders when the hospital ran out.
Moved by this account, Scottish groups came together, under the Scotland Malawi Partnership national network, to form an Oxygen Coordination Group: connecting organisations together and exploring what more could be done urgently. The Coordination Group includes each of the major institutions and NGOs in Malawi and Scotland, and is Chaired by Alberto Gregori, a Scottish Consultant Orthopaedic Surgeon.
One of the challenges the Group has identified is how best to support Malawi now, when it takes four-six weeks for new oxygen equipment to arrive in Malawi. Their appeal, launched last week, is supporting a group of Malawian engineers called 'Open O2.' This volunteer group of engineers has repurposed minibuses as mobile workshops, and are driving around Malawi fixing broken oxygen concentrators already in Malawi.
350 broken concentrators have been identified so far and the group thinks it could easily rehabilitate half of these. The numbers are compelling. One trip by this group of volunteers to a district hospital costs around £600 and can result in 30 oxygen concentrators being fixed. For comparison, purchasing 30 new concentrators would cost over £30,000, and these would take four-six weeks to arrive.
If there is one thing we've learnt over the last year, it's the need to work together, think laterally and be led by the data. Scotland and Malawi are doing just this, and we encourage all who can to support this inspiring appeal.
David Hope-Jones OBE, Chief Executive, Scotland Malawi Partnership