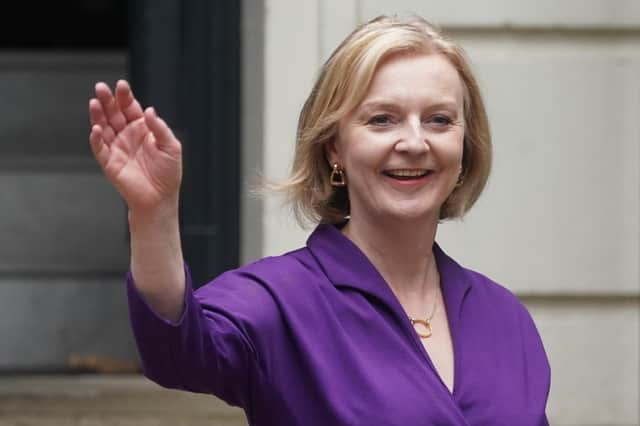 The Conservative MP only really became a household name - and that's a push - when she became foreign secretary. Despite the war in Ukraine, her tenure was unremarkable, and she seems perpetually bored with her speeches.
But Truss is the third female prime minister of a political party frequently accused of being misogynistic. Nancy Astor, Viscountess Astor, was the first female Member of Parliament in 1919 - and a Conservative.
No party is without its institutional failings. But it seems more of the public has a problem with Truss as a woman than the members of her party (she won 57.4 per cent of Tory members' votes to former chancellor Rishi Sunak's 42.6 per cent).
This week the BBC Politics Facebook page ran with a video about all "the questions you have about her." What follows is a classic exercise in latent sexism. The fault is either in the BBC's perception of what they think the public cares about or they really are "the most-searched questions about the UK's next prime minister."
"How old is Liz Truss? Does she have children?" They followed it up with an entire article on "Who is Liz Truss married to?" One wonders if these would be the most urgent questions for another male prime minister from a public going through a cost of living and energy crisis.
Britain has a woman problem. When Theresa May became prime minister and Nicola Sturgeon first minister, both were asked how old they were and did they have any children. It is an ugly stereotype perpetuated when such questions are deemed of import. In certain quarters policy takes a backseat to the oppressive reality that women are in a position of power.
Scotland is absolutely no exception. Look closely at comments about Sturgeon or previous opposition leaders Kezia Dugdale and Ruth Davidson, and there is brazen hatred of women on social media. Sexism is passed off as a legitimate inquiry about their private lives and runs concurrently with flagrant vulgarity about their looks, their clothing, and insinuations about their sexuality.
Reuters ran with the damning headline "Childless Scottish nationalist leader Sturgeon reveals 2011 miscarriage. "Do you intend to start a family?" is as much a problem question in the private and public spheres. It is the not-so-secret code for "will they be able to do their job and fulfil their portfolio if they do." Finance Secretary Kate Forbes was subject to this when she announced her maternity leave plans.
One tabloid reached an astonishing low when it reported Conservatives had accused Labour deputy Angela Rayner of a "Basic Instinct ploy to distract Boris" by crossing and uncrossing her legs at PMQs.
Everything about the sentence "Ms Rayner, 41, a socialist grandmother who left school at 16 while pregnant and with no qualifications before becoming a care worker" is morally wrong. A passive stereotype is perpetuated when such details are deemed of relevance.
Finnish PM Sanna Marin volunteered for a drugs test when videos of her at a party in a private apartment became public in August. The predictable commentary about a woman in power dancing only propagated the double standards between the sexes.
Beyond the anatomical is the intellectual. "Thick Lizzy" was trending on Twitter at various points during the Conservative leadership campaign. When Truss said she was "ready" to press the nuclear button, social media comments focussed on her intelligence, not her policy.
US Vice President Kamala Harris has an irritating habit of laughing off tough questions. The first auto-complete Google search question is whether she has children. Sky News Australia ran a video titled "Kamala Harris shows again why 'no one takes her seriously'".
Female leaders are treated as slightly ironic. Former Tory Scottish Secretary Malcolm Rifkind said Scots detested Margaret Thatcher because "she was a woman, she was an English woman, she was a bossy English woman."
The Reykjavík Index assesses attitudes toward female leadership in the G7 countries. In its most recent survey, the average score for the last three years was 78, a far cry from 100, indicating that women and men are viewed differently for leadership positions.
Invocation of Thatcher is often taken as an appeal to stereotypically masculine qualities. She is either too much of a "ballbreaker" or not feminine enough. Women in politics either lack gravitas and are too severe or not serious enough.
Standards are centred around a comparison to men when the conduct of male politicians, like Boris Johnson, Donald Trump and Alex Salmond, has been ugly.
Sexist tropes are perpetuated by the characterisation of women being an exception in politics. When Truss decided to pose atop a tank in Lithuania, an obvious nod to Thatcher's 1986 tank shot, she was called a pound shop Iron Lady.
The sheer volume of sexist, violent and misogynistic attacks against female politicians as they climb the political ladder is harrowing. The murder of MP Jo Cox in 2016 shows us the threat to life facing female politicians worldwide.
As Liz Truss takes a centre seat at a time of deepening crises, it is an opportunity to reset and think our language. She will inevitably be compared to her predecessor, and it is a chance to stop and reflect if we would ask the same absurd questions about Boris Johnson or make as many superficial comments.
Well, maybe about his hair.