US Republican party's 'war on women' could be Joe Biden's trump card in 2024 presidential election amid culture war backlash – Henry McLeish
The US Republican party's 'war on women', nurtured over the past half century, could wreck their chances of victory in next year's presidential election.
The issue of abortion is dividing the party, exposing a broader and dramatic legislative assault on women's rights in Republican states and putting pressure on 'the GOP' to reassess its historic relationship with evangelicalism. The Supreme Court's decision to overturn the landmark Roe v Wade case unleashed a powerful anti-Republican backlash, the severity of which few had anticipated.
Fear now grips the GOP. The suspension of Food and Drug Administration approval for an abortion pill by a Texas district judge appointed by Trump, temporarily reversed by the US Supreme Court, the Republicans' loss of a key race for a state Supreme Court seat in Wisconsin to an abortion rights candidate, and a deluge of extreme anti-abortion legislation in southern and mid-western states are unsettling the party leadership and some presidential hopefuls. But not Ron DeSantis, a possible Republican candidate, who has supported bills described as "Don't say gay" and "Don't say period" and the "Stop Woke Act", which would restrict what teachers can say in class.
For the Democrats, however, something remarkable is happening. Their relatively strong performance in the 2022 mid-term elections – reinforced in subsequent state and local elections – has surprised critics, given the background of Joe Biden's unfavourable approval ratings. Since then, a catalogue of events has rocked the Republicans, confirming that abortion, reproductive and human rights have fired up American politics and opened a new chapter in its culture wars.
For American women, this represents a new twist on the old debates about "family values" which first emerged in US politics in the 70s and 80s. Today, the struggle for women's rights is being viewed through a new lens of an angry, articulate and increasingly engaged female population, opposed to "patriarchal authoritarianism". The war against women being waged by the GOP is likely to dominate the 2024 presidential election, and decide its outcome.
After enthusiastically welcoming the dismantling of abortion rights, the Republican party is now less confident of that position, losing seats at state and city level, and experiencing divisions within its own ranks over LGBTQ protections, same-sex marriage, civil rights, reproductive rights, and school curricula. Expect a bitter pre-election fight over the role, rights and freedoms of women in 'modern' America.
Donald Trump is avoiding the issue. His conspicuous silence over the abortion row is not surprising. He was the architect behind the unleashing of this orgy of anti-abortion legislation in nearly half of the US states by appointing three right-leaning judges to the US Supreme Court.
History explains a great deal about the present plight of the GOP. Democrats argue that the era of wedge issues – controversial and divisive political or social issues designed to split the population – began in the Reagan White House when Lee Atwater, then Republican party chair, was looking for ways to divide the Democrats and cause blue-collar workers and others to vote Republican.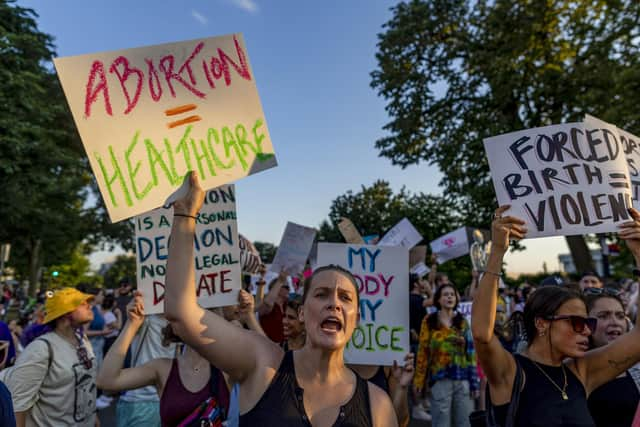 Social issues such as abortion, race, flag-burning and school prayer became a major feature of politics in the 1980s. Continuing a transformation started in the 1960s, the GOP moved from an establishment-dominated, centre-conservative organisation to a more grassroots party with its power base located in the south and west of the US, including the Bible Belt.
The 1973 Supreme Court decision in Roe v Wade, which struck down state laws banning abortion, led to the GOP developing new "family values" campaigning ideas based around evangelical and fundamentalist Protestant churches, at a time when the Reverend Jerry Falwell founded the Moral Majority. Such thinking is now ideologically the preserve of white Christian nationalists, where flag, family and the cross dominate.
Cultural wars – the platform on which ideas of female oppression, anti-abortion campaigns, women's rights and gender issues are debated – have become key to understanding modern US politics. Launching his candidacy for the Democratic presidential nomination last week, Joe Biden said: "The question before us now is whether we'll have more freedoms or fewer in the years ahead."
For the president, there will be a bitter-sweet irony to the notion that abortion could play a vital and decisive role in shaping the mood of America and delivering his second term. In his 2023 State of the Union address, Biden, only the second Catholic president in the history of the US and a regular churchgoer, called for "the protection of woman's rights" and defended a "woman's right to choose".
For him, women's rights are human rights – not states' rights. When asked as a good Catholic why he supported abortion rights, he said: "I am not going to make a judgement for other people." Biden has been threatened with a "communion ban" and branded a "fake Catholic" by a US Bishop, and faced an attack from the leader of the US Conference of Catholics who said: "Catholics must keep fighting Biden's single-minded extremes." This has not been an easy journey of faith for a Catholic president.
Writing in the US magazine Politico, Jack Stanton warned how culture wars "could break democracy". He reflected on the work of James Hunter, a sociologist from the University of Virginia, who 30 years ago wrote a book, prophetically entitled Culture Wars, describing what was happening in America over abortion, gay rights, and religion.
Adding race to that list, Stanton wrote "30 years later, Hunter sees America as having doubled down on the 'war' part – with the culture wars expanding from issues of religion and family culture to take over politics almost totally, creating a dangerous sense of winner-take-all conflict over the future of the country". On political matters, Hunter said "one can compromise", but "on matters of ultimate moral truth, one cannot".
Britain must heed the dangers of such culture war madness.
Henry McLeish is a former First Minister of Scotland
Comments
 0 comments
Want to join the conversation? Please or to comment on this article.