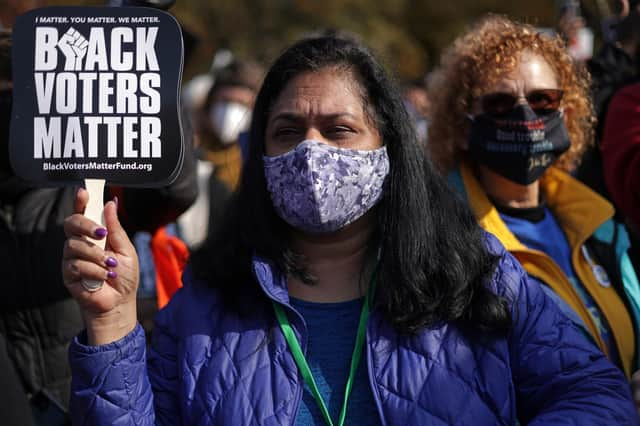 Activists take part in a voting rights protest outside the White House (Picture: Alex Wong/Getty Images)
Traditionally fewer people vote in the midterms than in the presidential election years. Turnout will be critically important in this fiercely contested election in a country evenly split between Democrats and Republicans.
Increasing the turnout adds to the integrity of the ballot, safeguards an important freedom for the citizen, and celebrates the inclusion of all Americans, unlike the earlier days of the Republic.
Surprisingly, and remarkably, this is not a view shared by the Republican party and at least 26 of the 50 US states. Efforts to stop people voting in the US vary but historically they have been used for racial, economic, gender, age and disability discrimination.
President Joe Biden is facing an uphill battle against a persistent Republican offensive designed to stop many African Americans, Hispanics, Asians and Native Americans voting in November. Much of the assault on this important freedom – the right to vote – is based on issues of poverty and literacy. Voter suppression on this scale is unique amongst western liberal democracies. This is America's shame.
Republicans in Congress and the states at all levels are turning their back on the importance of universal suffrage and using it as a political weapon. In most democracies, voting is made as simple as possible, with the absolute m