US election: America needs to make voting easier and ensure all the ballots are counted – Professor Joe Goldblatt
"Are you the son of Max Goldblatt?" Before I could answer with a proud "Aye!" the reporter from the New York Times said that in 1985 he had covered my father's campaign to become mayor of the City of Dallas, Texas, and wished to ask me some questions.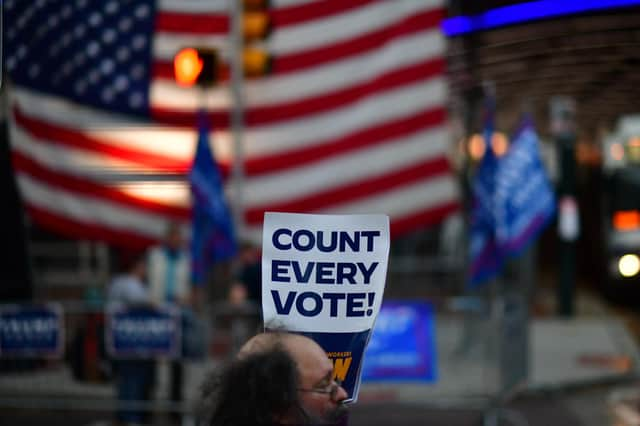 His call came in 2000 when the US Supreme Court would be hearing arguments about the outcome of the disputed election between Al Gore and George W. Bush. That election experienced computer voting irregularities in Florida and 532 ballots were ultimately determined by the US Supreme Court to be the winning margin required for Bush to be elected President.
The Times reporter explained that in my father's mayoral election 15 years earlier, computer ballots were also used for the first time in a local election and my father's very narrow loss could have been the result of the malfunctioning machines used to tally the final votes.
My father's campaign for mayor had been considered a long shot as he had only raised $20,000 and his opponent, the incumbent mayor, had over $400,000.
Despite this disadvantage, Papa had captured the imagination of the electorate and had come within a few hundred votes of winning. Upon the announcement of Papa's loss, he immediately invited his supporters to join him in front of the City Hall where he ascended a small platform and announced loudly: "This election was not won. It was stolen!"
As we have once again experienced an election that has experienced widespread controversy regarding the way we vote and also recorded the largest ever voter participation in a US federal election, it occurs to me and probably many others that we need to find new methods for ensuring our votes are indeed counted.
Was my vote counted?
In my 50 years of voting, I have never before experienced so much difficulty in casting my ballot as this year. I have the privilege and responsibility of voting in Scotland, the UK and the USA. In Scotland, I have served as a scrutineer for local and national elections and personally observed the counting of the ballots. This process, whilst never perfect, is quite straightforward with well-trained voting officials being closely supervised as they ensure that every eligible vote is counted.
By contrast, when I contacted the City of Philadelphia, Pennsylvania to ask them why I had not received my application to vote in the 2020 presidential election, they said: "We were closed for a few days due to a protest in front of City Hall so the postman could not deliver the mail. Your request may not have been received."
Therefore, once again, I made my application and this time I finally received my official ballot. However, when I tried to reach the City Hall officials by ringing them morning, noon and night to confirm my ballot had been received, I consistently received a line that was engaged and never was able to confirm that my vote, in perhaps the most important presidential election in my lifetime, would in fact be counted.
Myriad of systems
In a country the size of the USA, it would probably not be possible to use the same simple system we use in Scotland and the UK. In fact, the USA is so vast that each of the 50 states has their own individual voting systems and they vary widely.
These systems range from having extremely limited locations for drop-off ballots to simple vote-by-post systems. Some systems require personal identification to vote in person and others do not. One would suspect that with this wide range of different systems that voting fraud, as some in the US claim, would be rampant. Actually, during the past 20 years, out of millions of local, state and national election votes cast, there have only been 140 recorded instances of fraudulent activity.
I wonder if a voting system, similar to the one in Australia, would be more effective in both the USA and Scotland. Down under, voting is mandatory and if you fail to vote you are fined. As a result, over 90 per cent of eligible Australian citizens vote in every election. Australia also makes it easy to vote with early postal, mobile, telephone and in-person voting on election day. Perhaps there are lessons we may learn from this system and others to help increase voter participation and accuracy in our own future elections.
An inspirational firefly
When the reporter from the New York Times breathlessly asked me for a comment about my father's election campaign, I told him I preferred to remember what another reporter had recently written about Papa following his death. The reporter said that many pundits and opponents had described my father as a political gadfly who annoyed others and disrupted the system. However, this same reporter observed that in fact my father was a firefly, an erratic blinking source of light who evoked curiosity, interest and inspired people to follow him to see where he might be going.
After I read these words, I tried very quickly to forget about my frustration with Papa's lost election. Then one summer evening I drove through our city park and noticed that hundreds of fireflies started to appear among the trees. I suddenly was overcome with emotion and pulled my car over to the side of the road where I silently gave thanks for having a father whose bright light was still shining and inspiring others to stand up for what they believe in, to speak up and, absolutely, to vote.
Professor Joe Goldblatt is emeritus professor of planned events at Queen Margaret University and regularly votes in Scottish, UK and USA elections. He held elected office as an advisory neighbourhood commissioner in Washington, DC for one term. To learn more about his views visit www.joegoldblatt.scot
A message from the Editor:
Thank you for reading this article. We're more reliant on your support than ever as the shift in consumer habits brought about by coronavirus impacts our advertisers.
If you haven't already, please consider supporting our trusted, fact-checked journalism by taking out a digital subscription.
Comments
 0 comments
Want to join the conversation? Please or to comment on this article.