US approval of 'lab-grown chicken' could be game-changer for efforts to halt decline of nature – Philip Lymbery
Meat grown from stem cells promises to emit fewer greenhouse gases than traditional agriculture
Food history has been made in America this month with the US Department of Agriculture (USDA) authorising the sale of cultivated chicken – meat grown from stem cells in a bioreactor. For the first time ever, American diners will be able to tuck into chicken produced without harming a single bird.
It's produced from stem cells harmlessly drawn from donor animals, then raised in a soup of nutrients in a bioreactor. Compared to conventional meat, meat from stem cells promises to need much less land and emit far fewer greenhouse gases. In 2020, Singapore became the first country in the world to give the go-ahead to what is often described by the media as "lab-grown" meat.
However, approval for the commercial production and sale of meat from stem cells by the USDA is likely to send much greater reverberations around the world, setting the stage for similar approvals elsewhere. On hearing the news, Maarten Bosch, chief executive of the Netherlands-based Mosa Meats, an early pioneer of the technology, said: "With regulators in Asia and North America signalling that cultivating meat is a safe alternative to slaughtering animals, policymakers worldwide will be jumping into action so as not to miss out on the huge economic and environmental opportunity presented by cellular agriculture."
Race to market
Regulatory approval in the US means that two California companies, Upside Foods and Good Meat, will be able to offer lab-grown meat to the nation's restaurant tables and eventually, supermarket shelves. Good Meat has already started producing its first batch of cultivated chicken which will be sold to celebrated restaurateur and humanitarian chef, José Andrés, who runs 30 restaurants across the country.
During an opportunity to speak to Good Meat's co-founder and chief executive, Josh Tetrick, I asked him about his motivation and attitude toward competition, given that more than 100 companies are now clamouring in this field. "We have an urgency, and every single second we delay is creating more pain and more degradation and taking us further from who we are [as a species]… If you told me right now that some other company will solve this problem in the next handful of years, that more human beings will eat meat that didn't require killing an animal and it had nothing to do with us, sign me up – I'll just go on vacation in the mountains!" he told me.
Game-changer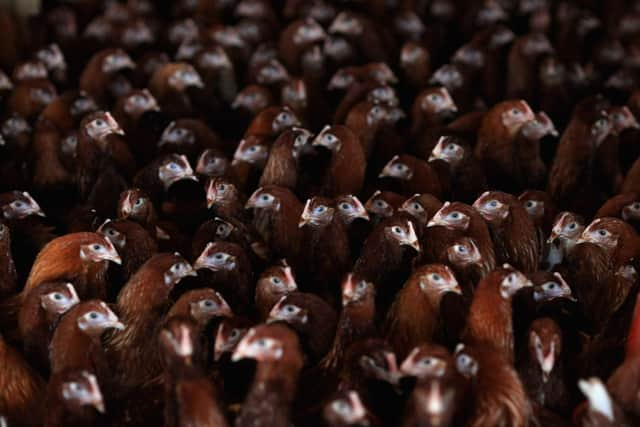 Today's reality is that meat remains king on many a plate, with more people eating more meat than ever before. However, its crown is slipping as concerns grow over the impact of animal agriculture on climate, health, and the decline of nature. To get the world back on track, scientifically based estimates suggest that by mid-century, the amount of meat produced from animal-rearing globally needs to reduce by more than half.
With so little time and such a massive challenge, the world really needs a game-changing solution. With the advent of chicken from stem cells today, and perhaps hamburgers, hotdogs, or steaks in prospect for tomorrow, the green light for cultivated meat could be transformative.
Philip Lymbery is chief executive of Compassion in World Farming, a former UN Food Systems Champion and an award-winning author. His latest book, Sixty Harvests Left is now out in paperback. He's on Twitter @philip_ciwf
Comments
 0 comments
Want to join the conversation? Please or to comment on this article.