UK's post-Brexit replacement for EU structural funds must be devolved to ensure value for money – Professor David Bell
The UK Internal Market Bill has achieved international notoriety. Most observers did not think that breaking international law was part of the UK Government's policy repertoire. Yet the implications of the Bill for the devolved governments are also troubling.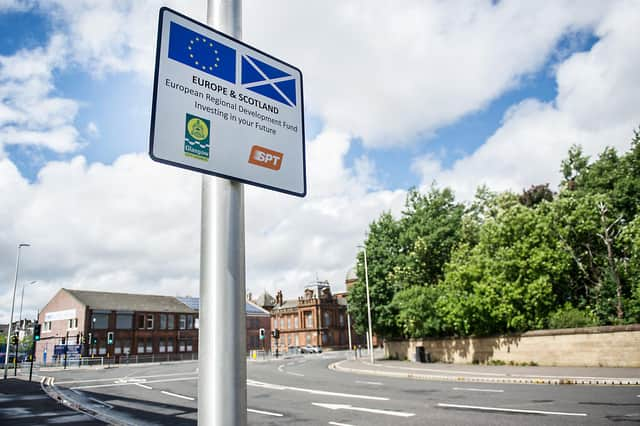 The refurbishment of Dalmarnock train station and a bus lane to Queen Elizabeth Hospital were partly funded by money from the European Union (Picture: John Devlin)
Part one of the Bill has provoked anger because it substantially limits the devolved governments' ability to regulate goods and services within their own borders. Yet part six also has significant implications. It permits UK ministers to spend in areas such as economic development, training, culture and sport in any part of the UK. It also enables them to spend on infrastructure projects ranging from transport to electricity to prisons.
A press release from the Department for Business, Energy and Industrial Strategy (BEIS), launched simultaneously with the Bill, argued that it would allow the UK government to deliver on its promise to replace the EU Structural and Investment Funds with the "UK Shared Prosperity Fund" (UKSPF). It included a commitment that the UKSPF would, at a minimum, match the 2014-2020 EU Structural Funds provision for each UK nation.
Between 2014 and 2020 Scotland received £856 million, Wales £2,195 million, Northern Ireland £467 million and England £6,463 million (at today's exchange rates). For Scotland, this only amounted to £23 per person per year: for Wales, it was much more important – £100 per person per year. Nevertheless, although its share of the EU Structural Fund pot has declined over the years, EU funding has played an important role in improving Scotland's infrastructure, environment and business competitiveness.
Top-down decisions don't work
The Scottish Government has also built up a considerable expertise in the appraisal, implementation and evaluation of EU Structural Fund projects, as have the governments in Wales and Northern Ireland. The Internal Market Bill does not reference the devolved administrations at all: they might reasonably conclude that the UK Government does not wish to involve them in the design or implementation of the UKSPF.
It is also not clear whether the UK Government is willing to adopt an equivalent to the EU's "subsidiarity principle" which is intended to ensure that powers "are exercised as close to the citizen as possible". The UK Internal Market Bill makes no reference to any notion of subsidiarity, nor of any legal framework within which UK government spending powers might be constrained. We learned in the 1970s and 1980s that top-down decisions on regional and local development from London don't work.
The heated debate around control of the UKSPF has largely ignored the fact that these funds are ultimately taxpayers' money. The authority in charge, whether in London or Edinburgh, has a duty to ensure that the funds are spent wisely.
There is no evidence that the UK government has given any thought to how to use the funds to achieve best value for the taxpayer. A report this month from the Welsh Affairs Committee argued that "there is still no substantive detail from UK ministers about their plans and a range of issues remain unsolved".
Objective, apolitical criteria
The National Office Audit has previously been very critical of the way that the UK government has gone about spending money intended to boost regional and local growth because of inadequate planning and lack of focus on outcomes.
The Scottish Government has been keen to ensure that any successor to EU funding in Scotland is properly spent. Along with colleagues from academia, local government, development agencies, the business sector and third sector, I have been involved in a wide-ranging consultation about how to organise the UKSPF.
This has involved meetings right across Scotland and the synthesis of views from many interested parties. There has been no assumption that project decisions should be delivered from Edinburgh on tablets of stone or that they would be based on anything other than objective, apolitical criteria.
Instead, consideration has been given to how to balance the interests and capabilities of communities, local authorities and regional economic partnerships to achieve outcomes that are consistent with the Scottish Government's National Performance Framework, which highlights issues such as productivity, opportunity and sustainability. There has been an emphasis on local influences over decision-making so that funding will be allocated in ways that reflect local interests.
Our objective is to propose a structure for the implementation of the UKSPF to Scottish ministers. It assumes that the fund will be broadly of the same scale as current EU funding. This scale is insufficient to enable significant infrastructure spending, and certainly not a bridge to Northern Ireland.
Time running out
We are keenly aware that the economic development effects of extra spending on roads, rail etc do not always work out as planned: providing new routes to access isolated communities also provides these communities access to goods and services provided elsewhere. The net effect on the economic prosperity of the isolated community is not necessarily positive.
Timing is now critical: there are less than three months to go until the end of the transition period and therefore of the existing EU funding schemes.
In Wales, Conservative, Labour and Plaid Cymru MPs have been calling for reassurance that the UKSPF will be ready to replace EU funding. But at present, there is no signal of interest from the UK government, nor of any design proposals that would constitute an appropriate use of taxpayers' money.
EU Structural Funds were based on a policy framework set by the EU, but with implementation undertaken by the Scottish Government in ways that met Scotland's needs.
A future UKSPF similarly needs to be devolved: Whitehall doesn't know best when it comes to understanding the needs of communities and businesses in Scotland.
David Bell is a professor of economics at Stirling University and chairs the Scottish Government Steering Group on the replacement for European Structural Funds
A message from the Editor:
Thank you for reading this article. We're more reliant on your support than ever as the shift in consumer habits brought about by coronavirus impacts our advertisers.
If you haven't already, please consider supporting our trusted, fact-checked journalism by taking out a digital subscription.
Want to join the conversation? Please or to comment on this article.