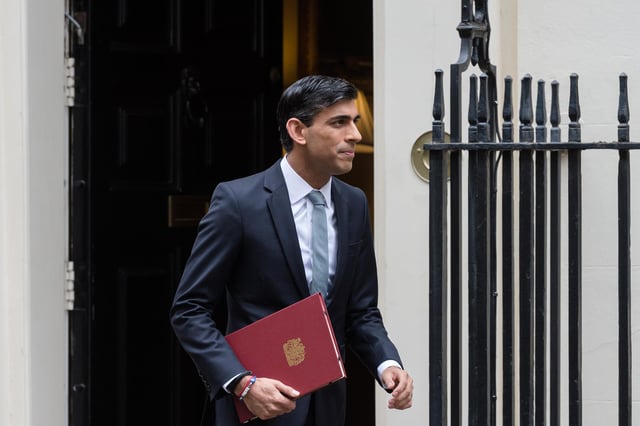 Chancellor Rishi Sunak has some big decisions to make in his Budget tomorrow and over the coming months (Picture: Wiktor Szymanowicz/Barcroft Media via Getty Images)
While he is planning to continue to support firms as the lockdown eases, Sunak has to be thinking about how to start paying the staggering bill for the furlough scheme and other forms of state aid, a subject that is going to become one of the major political debates over the next few years not just in Britain but all over the world.
It should be obvious that it is not in anyone's interest to pull the rug from under businesses that need help to survive the current crisis but have a viable future when life returns to relative normality.
After all, supporting them now will mean greater tax revenue in the future and that will help pay off the government's debts; failing to do so would reduce revenue while simultaneously increasing the cost of unemployment and other benefits.
It seems likely that taxes will eventually have to go up and public spending may also need to be cut to pay off the national debt, but ministers must make sure this is done in a way that is both smart and fair.
Tax rises tend to have a dampening effect on the economy and adding significant spending cuts would create something of a double whammy – the last thing the country needs as it attempts to get back on its feet.
So, ministers need to take care and look beyond the usual methods of raising revenue – such as straightforward increases to income tax, VAT and corporation tax – to balance the books.
The closing of tax loopholes should be one area to look at. For example, there have long been calls for global internet giants to pay their fair share of taxes in countries where they make vast profits. Some of these firms have prospered during the lockdown as life moved online for many during lockdown.
What was once an issue about fairness now feels more like an economic necessity. As countries all over the world ponder the road to recovery, they need to make sure that everyone is doing their bit and paying their way.
A message from the Editor:
Thank you for reading this article. We're more reliant on your support than ever as the shift in consumer habits brought about by coronavirus impacts our advertisers.
If you haven't already, please consider supporting our trusted, fact-checked journalism by taking out a digital subscription.