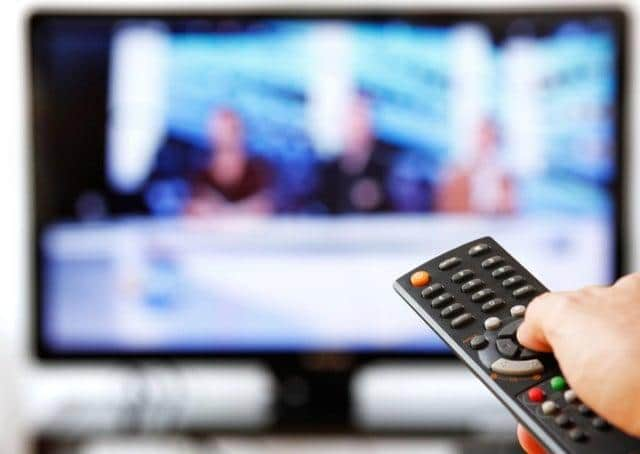 Viewers will have an increasing number of repeats to look forward to due to the shutdown of television productions.
The legacy of a worldwide shutdown of television and film productions may not be immediately obvious to viewers cosied up on the couch, but there are creeping signs of how the gaps in the schedules are already being filled with beige stodge that is cheap and quick to produce.
A case in point is the once hallowed Saturday night primetime slot on BBC One, where 'Total Wipeout: Freddy & Paddy Takeover' is currently halfway through its run. In total, it amounts to just six episodes, but it already feels like it has been going on longer than the Ottoman empire.
Even allowing for the exceptional challenges faced by production companies and broadcasters, the very concept of the programme shows up the decision-making process of television executives at its sneering and complacent worst.
If you've never had the pleasure of watching the original Total Wipeout, rest easy in the knowledge that it was already a knowingly ironic offering; a repurposed It's A Knockout style physical game show, complete with mocking commentary as insurance underwriters from Great Yarmouth toppled from giant, primary-coloured inflatables into sludge-filled pits.
It was innocuous, throwaway stuff, ideal for the entire family - an increasingly rare quality - even if its one-note joke wore thin after a few weeks. Miraculously, this formula was enough to sustain it for six series at the turn of the last decade, as well as a slew of now customary celebrity-based spin-offs.
But in the dark days of lockdown, new depths have been plunged. Its format has been exhumed, with the death rattle drollery of Paddy McGuinness and Freddy Flintoff dubbed over the original soundtrack of old episodes.
The duo, each armed with a microphone and a laptop, recorded their partly scripted barbs in separate booths in a voiceover studio. The results of this hermetically sealed banter harvest are about as nourishing you might expect, a dehydrated quick fix served up to teatime audiences hungry for comic distraction. It's enough to have you pining for inner city sumo on ITV4.
This meta gagfest will no doubt find favour with some, and let's face it, we could all use some levity. But at the same time, let's hope that the continuing restrictions surrounding productions and filming will not encourage others to be quite so indolent.
Even a slew of repeats would be preferable to this kind of cynical repackaging of old shows, and rest assured, there will be repeats, and plenty of them. Back in April, ITV's director of television, Kevin Lygo, was asked what viewers will be watching in early 2021 "They will be watching a repeat of Midsomer Murders," he replied. "I can tell you that now in great confidence."
Such evergreen programming - already the staple of channels in the boondocks in the electronic programme guide - will keep broadcasters ticking over, but there is a finite amount of quality shows to reheat, and the cupboards stocked with newly filmed episodes or those in post-production are emptying at pace, especially with the need to plug the holes left by the absence of major sporting events such as the European Championships and the Tokyo Olympics.
The knock on effect of all this is not just a lack of choice and quality for viewers; it threatens to have a long lasting and detrimental impact on creative industries. Channel 4, hit hard by the rapid downturn in advertising revenue, has slashed its budget for 2020 by £150m, while ITV has committed to less scripted drama and more lower cost-per-hour content to fill the schedules.
With the BBC facing its own cuts, and a renewed bombardment against its very existence by the Conservatives, these are dispiriting times for viewers, accentuated perhaps by the fact we have become accustomed to programming - drama in particular - of outstanding quality in recent years. As for independent production companies, it is potentially disastrous. There has been some financial support on offer, though even the most successful firms have been forced to tighten their belts, with Firecrest Films closing its London office.
Folk in telly love to wax lyrical about new forms of storytelling and disrupting the medium. It is often empty bluster, but the advent of Covid-19 means that such things will have to become reality. The pandemic was not responsible for the shift away from linear viewing towards streaming services, but it has significantly intensified the rate of that transition.
The likes of Netflix are now outbidding commercial channels to satisfy the demand for new content and feed their ever growing libraries and customer bases. With production yet to recommence on big name shows like Line of Duty and Peaky Blinders - or restarting with social distancing and other measures in place - the picture on the small screen will look somewhat different for the next year, if not even longer.
When the UK government gave to go-ahead for productions to resume, subject to strict safety guidelines, the Thick of It screenwriter, Simon Blackwell, summed up the quandary facing writers, producers, and directors, floating an imaginary pitch on Twitter: "A film exploring the fraught relationship between two town criers who live in a quarry."
What better time, then, to take risks on new talent and new scripted ideas which are not only innovative, but practical to make? Ironically, one of the best examples of this was Limmy's Homemade Show, filmed pre-coronavirus, and broadcast on the BBC Scotland channel just as lockdown tightened its grip over the nation.
It demonstrated that, with the right talent and concept, it is possible to make memorable television without a crew, a studio, or for that matter, a budget. It only ran for three episodes, but Brian Limond's bleak and black-hearted ruminations, which he filmed and edited on a smartphone, proved essential viewing.
Encouraging such ideas would probably result in more misses than hits. Even so, it's surely preferable to listening to Freddy and Paddy riff over who'll be first to take a header into the sludge.
A message from the Editor:
Thank you for reading this story on our website. While I have your attention, I also have an important request to make of you.
The dramatic events of 2020 are having a major impact on many of our advertisers - and consequently the revenue we receive. We are now more reliant than ever on you taking out a digital subscription to support our journalism.
By supporting us, we are able to support you in providing trusted, fact-checked content for this website.