Turning rewilding vision to reality helps people and nature - Rory Fyfe
In 2018 I turned my back on my life as an economist in Qatar and returned to St Andrews, Fife, to help run the family wedding business, Kinkell Byre. Not long after this move the pandemic struck, and the business had to close due to lockdown. The pandemic gave me a lot of time to soak up the natural beauty of our location on the Fife coast and think about how we could best use the former farmland, home to our converted barn wedding venue.
I was conscious of the two significant environmental issues – climate change and the increasing loss of biodiversity in the UK. I wanted to do right thing, and also saw there might be an opportunity to enhance the experience of couples getting married at Kinkell and for people staying in our cabins, by using the land to create a beautiful and interesting environment for couples and wedding guests to enjoy - envisioning stunning backdrops for wedding photos and walks.
At the time, the rewilding movement was beginning to gain momentum. I read a book by Isabella Tree on her pioneering rewilding project in West Sussex started some twenty years ago, and it made me look at the Scottish landscape in a totally different way. Suddenly, our big, majestic hills seemed to appear barren. I realised our landscapes could be much richer, teeming with wildlife and diverse species of plants.
I began to explore the possibility of rewilding our former farmland, which covers 100 acres, including 70 acres of grass fields and 30 acres of cliffs, and links up to the Site of Special Scientific Interest that runs along the coast at Kinkell. We joined the Northwoods Rewilding Network and subsequently received several grants from the Scottish Government's Nature Restoration Fund, managed by NatureScot, and from the Woodland Trust.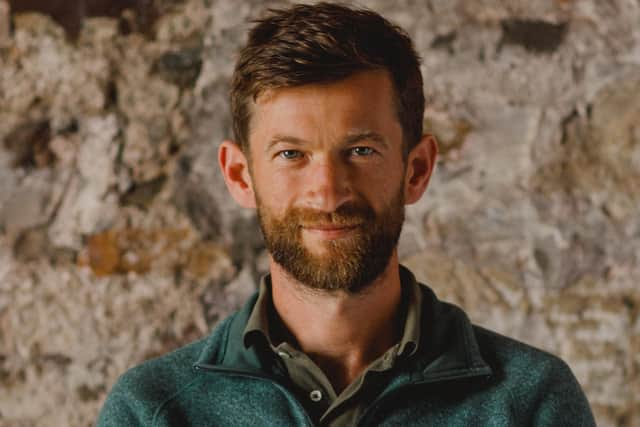 This money has allowed us to turn our rewilding vision into reality, with over 10,000 trees planted, 10 wetlands created, 130 fruit trees planted to encourage bees, insects, and other pollinators and 981 metres of fencing erected to enable free roaming conservation grazing in future. Natural processes will be allowed to take hold once again, reversing the loss of biodiversity caused by intensive farming and encouraging the return of native plants, insects, bees, birds, and larger animals. At the same time, an increase in plantlife will sequester carbon from the atmosphere.
We know that consumers are increasingly concerned about the environment, which is influencing their purchasing decisions. This is the case too for couples looking to get married; we recently signed up to the Sustainable Wedding Alliance, an organisation launched to link couples up with venues who have sustainability at the heart of their operations.
The rewilding project, as well as being beneficial for the environment, has opened up a world of possibilities for us. In addition to our target of becoming planet positive by 2030, we strongly believe in business as a force for good. Our vision is to see Kinkell Byre become a hub for the local community offering allotments, a community garden, a seed bank, an education center, and ultimately connecting with other landowners to establish a large network of rewilded land with an enormous amount of re-established wildlife, which attracts visitors locally, nationally, and internationally as a unique tourist destination.
Rory Fyfe, owner of Kinkell Byre, the converted barn wedding venue, located on the coast by St Andrews.
Comments
 0 comments
Want to join the conversation? Please or to comment on this article.