Is Humza Yousaf now more interested in fixing the NHS than being a social justice warrior? – Susan Dalgety
Return of special adviser Kevin Pringle may see a list of stupid policies and daft promises being dropped by the SNP-Green government
Making good laws is hard work. It requires patience, forensic attention to detail and a willingness to listen to people you may not agree with, but have something to say on the subject at hand. Making bad law is easy. Just ask the Scottish Government. Its ministers are masters of the art.
Government lawyers may attempt to mount an argument based on fine points of law, but underpinning the Scottish Government's demand for the section 35 order to be overturned lies a crude political argument. Big, bad Westminster is trying to stop the plucky Scottish Parliament from passing progressive legislation. It's an attack on democracy. We demand a referendum now. Freedom! Or words to that effect.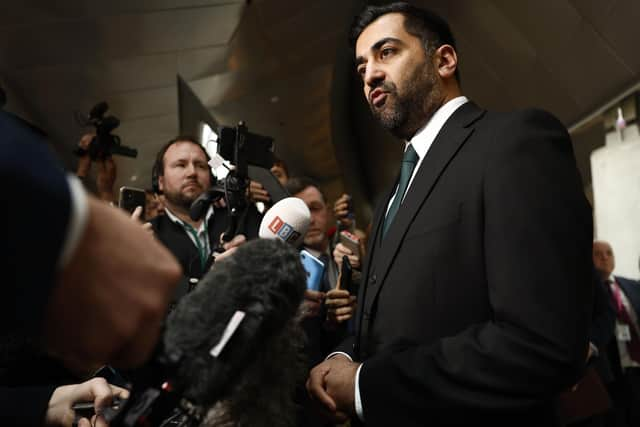 But incisive analysis by a small team of women, published this week, exposes how bad a piece of legislation the GRR Bill really is. I hope the three members of the policy collective MBM Policy won't mind me saying this, but they are part-time, poorly paid, freelance policy analysts. They have impressive CVs, but the machinery of government is not at their disposal. Just their laptops and big brains. And a commitment to good governance.
Their work on the GRR Bill shows a process that at best could be described as amateurish – at worst, deliberately contemptuous of convention. Their extensive analysis focuses on meetings in 2022 between the Scottish and UK governments to discuss the possible impact of the Bill. The Scottish Government claimed in parliament that meetings were held fortnightly. Information obtained under Freedom of Information shows this is not true. There were ten meetings, not even one a month. And the Scottish Government took up to four months at a time to answer questions about the Bill, so stopping the UK Government from scrutinising it properly.
Trust. Honesty. Accountability. Words that are perhaps not readily associated with Scottish ministers these days. Let's turn for a moment to safe drug consumption rooms. For years now, ministers have insisted that they could not sanction their use, even as drug deaths soared to the highest in Europe. Westminster won't let us, they insisted. It's an attack on democracy. We demand a referendum now. Freedom! You get the picture.
"The Scot Govt will run this pilot on the basis that this evidenced-based treatment could save lives. Therefore, every year it has failed to do this, citing constitutional obstruction, may have cost lives. You wouldn't shrug that off if it was a Tory or Labour government performing this 180 manoeuvre. Would you?" he challenged SNP loyalists.
But do I detect a change of approach? In yet another display of her uber-progressiveness, former First Minister Nicola Sturgeon had previously promised a bill to ban conversion therapy – much to the delight of trans activists who had campaigned for such a move. The bill would, rightly, stop therapists from attempting to turn gay people straight.
But it would also prevent people – including parents – from attempting to dissuade their child from changing their gender. As Helen Joyce, director of women's rights organisation Sex Matters pointed out, the bill conflated two quite different things. "The first is the historic abuse of gay people in an attempt to turn them straight – which is already illegal… the second is careful, ethical treatment for gender distress, which may have many causes and which often resolves," she said this week.
Last week's Programme for Government – the first by Humza Yousaf – did not include the bill. Instead, there will be a consultation which will not report until 2024. And who knows what the political landscape will be like then.
The delay of one controversial bill does not a good government make, but it is possible that the new First Minister is more interested in bread-and-butter issues – like fixing the NHS – than posturing on the global stage as a social justice warrior. Or it could simply be the wise counsel of one Kevin Pringle, the much-admired and skilful special adviser who helped secure an SNP majority in 2011 and so lay the ground for the 2014 referendum.
In a surprise move, Pringle returned to government soon after Yousaf became First Minister. No doubt Pringle has a list of stupid policies and daft promises that he wants to ditch, which would explain the Lord Advocate's change of mind and the delay on conversion therapy.
He, and presumably the First Minister, will want to fight next year's general election on issues that matter to people, not causes popular only in the bars around Holyrood. But even the most masterful spin doctor can't overturn years of bad governance in a matter of months. It will take years – and a change of government – before that can happen.
Comments
 0 comments
Want to join the conversation? Please or to comment on this article.