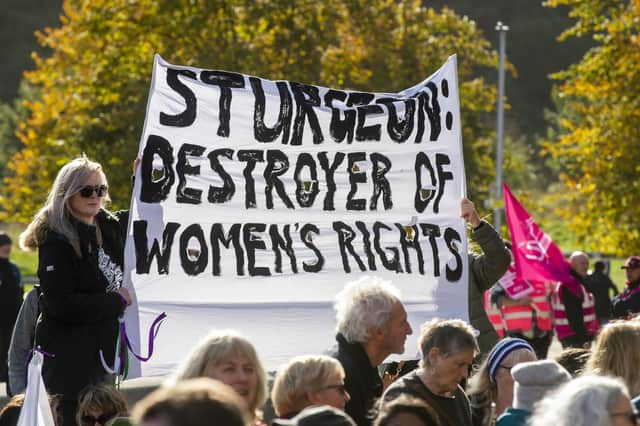 "She does not yet know about the gender pay gap, under-representation or the barriers such as high childcare costs that make it so hard for so many women to work and pursue careers," she said, adding, "My fervent hope is that she never will and that, by the time she is a young woman, she will have no need to know about any of those issues, because they will have been consigned to history."
On Thursday morning, hundreds of Scottish women, young and old, stood outside the Scottish Parliament booing Nicola Sturgeon in a protest organised by the grassroots campaign group For Women Scotland.
The women heard speeches criticising the First Minister from, among others, a former leader of Scottish Labour, a former governor of Scotland's only women's prison, and a founding member of Scotland's Rape Crisis movement.
At the same time, one of the most famous women in the world donned a black t-shirt bearing the legend "Nicola Sturgeon: Destroyer of Women's Rights" and posted the image on her Twitter feed. "I stand in solidarity with @ForWomenScotland and all women protesting and speaking outside the Scottish parliament. #NoToSelfID," tweeted JK Rowling.
And 48 hours before the protests, the Equality and Humans Rights Commission (EHRC) – the public body that "upholds equality and human rights ideals and laws" across Britain – sent a letter to the Scottish Government.
The Commission expressed its concerns that plans to introduce self-ID, where anyone over 16 will be able to change their legal sex by simple declaration, will adversely affect the 2010 Equality Act.
That law, just in case the First Minister needs reminding, was designed to protect the very rights that, eight years ago, she promised to uphold for her niece and every young girl in Scotland. A promise, many women argue, she is about to break in her desperation to appear progressive.
At the heart of the EHRC's carefully worded, but powerful, criticism lies a conflict of rights. By making it easier to change legal sex than it is to get a driving licence, the very basis of women's rights – our sex – is reduced to a mere inconvenience, to be changed on a whim.
But there is another, equally important issue at stake in this debate, one that several of the speakers at Thursday's protest touched on – the fundamental purpose of the Scottish Parliament.
Johann Lamont, one of the first tranche of MSPs elected to Holyrood in 1999 after two decades of campaigning for both women's rights and devolution, told the rally that its founding ideal was "a parliament where policy, where action, where law was shaped by an understanding of what created division and inequality".
And she pointed out that the role of the parliament's committees was to allow the people of Scotland to help shape the country's laws. "That has not happened," she said, more in anger than sorrow.
Lisa Mackenzie of MBM argued that there is a void in Holyrood: "That void is the space where political leadership should be. With a few honourable exceptions, our elected representatives are ducking the issue, desperate to keep their heads down until the storm has passed. Desperate to deny that a conflict of rights exists, let alone address it. Well, women are watching."
Women may be watching, but is Nicola Sturgeon listening? In an interview with Mishal Husain on BBC's Today programme yesterday morning, she insisted that she was "a real feminist", a mean-girl sideswipe at women's rights campaigners including, I have to presume, JK Rowling and Johann Lamont.
There has been a concerted effort by supporters of self-ID to paint women's rights campaigners as old-fashioned, out-of-touch, grumpy old women, not "real" feminists. Unfortunately for the First Minister, this caricature is as ill-thought through as her gender recognition reforms.
As many of the speakers at Thursday's rally pointed out, there are thousands of young women who disagree with the reforms but are frightened to speak out because the prevailing culture in Scotland is hostile to those who dare to express a gender critical view.
Nina, who works in education, is just one of those young women. Her open letter to Nicola Sturgeon, which she tweeted on Thursday night, is a masterclass in feminist campaigning. It's a terrible indictment on contemporary Scotland that she is too nervous to reveal her identity, but that doesn't detract from the power of her words.
"Maybe I am screaming into the void, but in the event you do hear me, all I am asking First Minister, is that you do what is right, and admit you were wrong. That you lead," she pleads with the most powerful woman in the land.
Nicola Sturgeon may feel able to ignore the women who stood outside the Parliament on Thursday. She may feel able to ignore Scotland's most famous woman. But surely, she must listen to Nina and the generation of young women she promised to protect only eight years ago. That is what a real feminist would do.