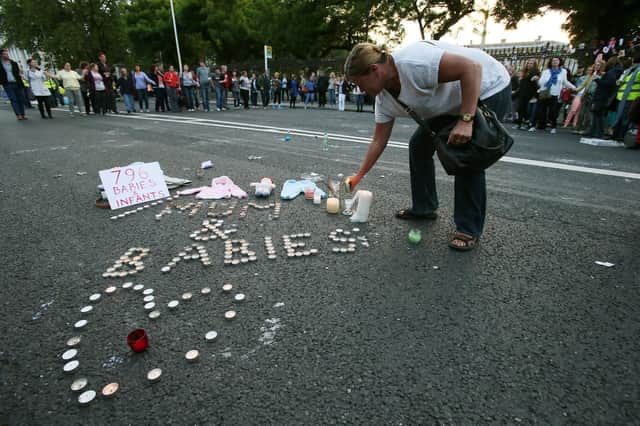 The Sensational Alex Harvey Band headlined a concert in Celtic Park and All The President's Men, the story of Nixon's downfall, was the season's box-office hit. It was an unforgettable three months.
But while my peers frolicked in the sun, pretending Portobello was Marbella, I lay sweating in a hospital bed. Sedated by drugs to calm my soaring blood pressure, poked and prodded by medical students, pitied by the brisk nursing staff, I spent six weeks in hospital waiting fearfully for the birth of my first child.
In the tabloid slang of the 1970s, I was a unwed teenage mum, the first in my family to go to university and the first to drop out. My life changed irretrievably from the moment I felt the baby, now a father of three, kick for the first time.
My dreams of becoming a journalist were put on hold as I got to grips with broken nights and dirty nappies. But I was lucky. My parents hid their disappointment and baby and I were welcomed back home. Many young mothers were not so fortunate.
Scotland in the 1970s was a harsh place for single mums, with many forced to give up their baby for adoption. The cultural revolution that, in 2015, saw more babies born outside marriage than in it, was in its infancy. Unmarried mothers were, by definition, bad girls.
The 3,000-page report describes what happened to 56,000 young women and their 57,000 children who were forced, usually by their families, to give birth in institutions run, mostly, by the Catholic Church.
Nine thousand babies died during their first year of life – about 15 per cent of births. In a damning understatement, the report described this very high rate of infant mortality as "probably the most disquieting feature of these institutions".
The report did not find a single cause for the appalling death rate, citing overcrowding, poor infection control and a lack of ante-natal care as contributing factors.
And in a few lines that took me straight back to the spring of 1976, it noted that most of the mothers "were poor" and "their diet during pregnancy would have lacked essential nutrients, and this may have been exacerbated by efforts to conceal the pregnancy".
It is impossible to adequately describe the feeling of fear when, as a teenage girl, you miss your first, then a second, period. Or the shock as your tummy starts to swell and your breasts become plump. For the first few weeks it is easy to hide your changing body under a large t-shirt, and by the fifth month it becomes impossible, but that doesn't stop you from trying.
The hardest thing of all is to connect the nights of fun you enjoyed a few months previously with the human being growing inside your ever-stretching belly.
But the harsh fact of life is that for every one of those 56,000 young women in Ireland who were treated so cruelly because of their biology, there were 56,000 men who suffered no consequence because of theirs.
The report was published a few days after one of Scotland's top judges, Lady Wise, was asked to consider the legality of the Scottish government's decision to expand the definition of the word "woman" to include trans women – men who identify as female.
The case was brought by feminist organisation, For Women Scotland, which argues that the government's plan to redefine "woman" breaches the Equality Act 2010.
As she retired to consider the case, Lady Wise said: "This is an important case. It is a difficult case. I have got to the stage of understanding what the question is but I certainly don't have the answer."
Instead, Mr Halliday encourages organisations to pose questions on the basis of gender identity. What matters in 2021, it seems, is not whether someone has a cervix or a penis, but whether they "feel" male or female.
Now if I had only had known this clever trick during the summer of 1976, I could have self-identified as a burly bloke instead of a scared pregnant girl.
It is easy to mock, but the Scottish government's apparent determination to erase sex and replace it with gender identity could have serious consequences.
The economic and cultural oppression of women and girls throughout history and across the world is predicated on biology.
The girls in the Irish Mother and Baby Homes were treated harshly because of biology. Girls in Somalia have their clitoris cut out with rusty knives because of biology.
UN Women reports that, "across every sphere, from health to the economy, security to social protection", the effects of Covid-19 are much worse for women and girls "simply by virtue of their sex". Not their feelings, but basic biology.
If sex no longer matters when collecting data for public services, then the distinct needs of women and girls – rooted in our biology – can be ignored, just as those 56,000 Irish girls were hidden away for the sin of being female.
Is that really the kind of country the Scottish government wants?
A message from the Editor:
Thank you for reading this article. We're more reliant on your support than ever as the shift in consumer habits brought about by coronavirus impacts our advertisers.
If you haven't already, please consider supporting our trusted, fact-checked journalism by taking out a digital subscription.