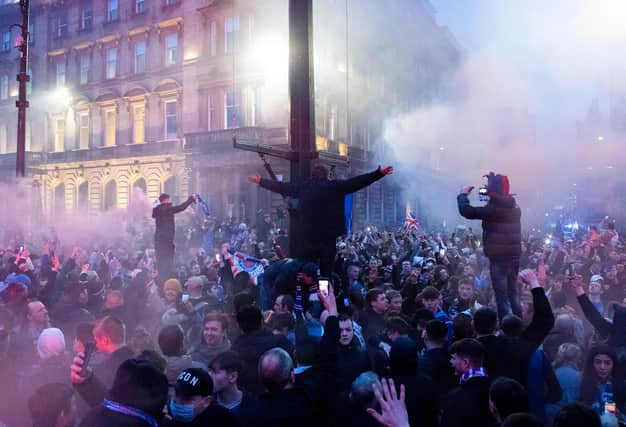 A lack of proactivity in one matched by over-zealousness, if not aggression, in the other. It's right as police reps have said that it's easy to criticise from your armchair. But neither the policing of Rangers fans celebrating the title win in Glasgow nor the handling of a vigil for Sarah Everard in London was a good look for the service and both caused concern for many who'd routinely consider themselves steadfast supporters of the boys in blue.
It's hard to fathom why there wasn't greater awareness of what might happen at the football and why, when the results came up, earlier action wasn't taken. Warnings to stay home should have been demanded from the club before the game, not promises made for the next Old Firm one. Likewise as match commanders spot troublemakers at games, some early interception should surely have been made, as folk began to gather.
Marshalling the crowd thereafter to channel it made sense to avoid dispersal and mini riots breaking out across the city. But interceding in some instances may still have been possible.
Moreover, where's the promise to track them down and hold them to account? George Square's not a remote part of the country and surely surveillance evidence's available. So that's what Police Scotland need to answer for and should do now.
As for the Metropolitan Police, it was in many ways the opposite. There was no need to channel the crowd and a more relaxed view could have been taken.
For sure, there may have been some hoodlums there intent on trouble. But they were a small minority and were the ones to "kettle" as the tactic of surrounding's termed, not frightened women who should simply have been left alone. That's not condoning the risk with coronavirus but accepting reality, nevermind acknowledging that "kettling" is far from pleasant and was entirely inappropriate.
The Met need to remember it's policing by consent and you alienate those you serve at your peril.
Kenny MacAskill is SNP MP for East Lothian
A message from the Editor:
Thank you for reading this article. We're more reliant on your support than ever as the shift in consumer habits brought about by coronavirus impacts our advertisers.
If you haven't already, please consider supporting our trusted, fact-checked journalism by taking out a digital subscription.