I have never been a fan of 'I told you so'. But it took every ounce of my strength not to use it this week in the Commons when the government had to admit that it couldn't scrap all EU-era laws by the end of this year. From the moment that they fired the starting gun for our exit from the EU, we have tried to warn the Brexiteers that none of it was going to be easy. That you can't simply wipe 4,000 laws off the statute book without something to replace them.
And when I say 'we', I do not just mean those of us camped on the opposition benches at Westminster, but academics, commentators, indeed anyone familiar with the scope of EU legislation. Businesses across the country could have told them, and in many cases did, that this was no simple technical or administrative exercise. That it was no more realistic than the sums on the side of that infamous red bus that nobody wants to talk about these days.
But it took until Wednesday of last week for the Conservative Secretary of State to come to the abrupt realisation that you can't just do away with all that health and safety legislation and business regulation without having something in its place. Uncertainty is not something with which the business community is comfortable. It would have been as if someone in the office decided to shred all the files and then halfway through somebody else had asked: "Has anyone read these to check we don't need them?"
There was, of course, a bit of a parliamentary 'stooshie' over the fact that the Secretary of State Kemi Badenoch had not had the grace to inform parliament before announcing the u-turn in the media. And after she was dragged to the despatch box by an urgent question from one of her own Brexiteer MPs, she suggested that all her opponents were a bit dim and didn't understand what she was doing.
Not the way for an aspirant to party leadership to win friends and influence people. But to get drawn back into that graceless melee is to miss the real significance of the hole into which this government has dug themselves. This policy, Brexit, the separation of the United Kingdom from the economic union which had underpinned our prosperity and growth for 40 years, is the mast to which this Conservative party nailed their colours.
For the past seven years, it has dominated not just British politics and parliament but every section of life, society and commerce. Just last week I visited a women's fashion retailer in South Queensferry – one of my favourite businesses in the community and a landmark in the High Street. But like so many who have survived the effects of the pandemic on the economy, she has also had to overcome the obstacles created by Brexit.
After 40 years of integration, there are few commercial operations, of any shape or size, which have not interacted with EU suppliers or customers. In our conversation last week, I discovered that not only are businesses having to deal with huge hikes in energy bills and meet often crippling business rate charges but shipping costs from Europe have rocketed. It's a conversation I have had with other businesses in the constituency, with business organisations and, constantly, with members of the government for years.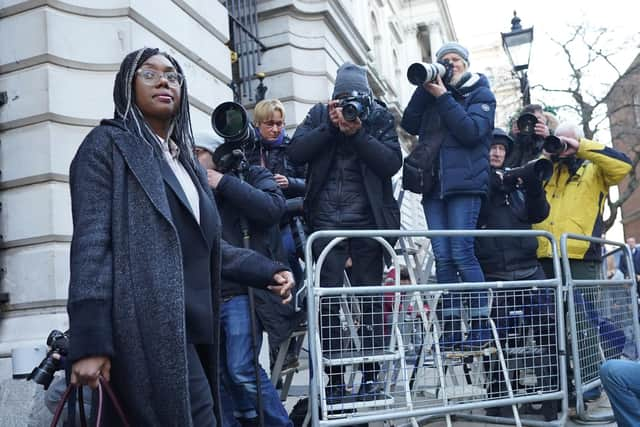 Even an iconic British product like the Mini has been hit as many of its parts are manufactured in various parts of the EU before final assembly in Oxford. The troubles created for our fishing, seafood processing and farming industries by the impact of being deprived easy access to EU markets are well documented. And in Edinburgh, as in many other areas, the loss of freedom of movement has contributed to the difficulties that sectors like tourism have faced in finding staff.
Yet the government has continued to bleat on about the so-called Brexit bonus. Even as the queues at ferry terminals and airports across the country during our first full holiday season post-EU exit and Covid thickened into gridlock which held up vacations and crippled haulage, the government continued to deny the obvious.
Even as they signed the Windsor Agreement, compromising on Boris Johnson's border up the Irish Sea which threatened to cut off part of the United Kingdom, they held their eyes firmly shut to the emerging picture of their own incompetence. Brexit isn't as easy as they thought. And that bonus? Not so much that anyone has noticed.
For too long, those who expressed any doubts about the wisdom of having taken us careering out of the EU were dismissed as moaning Remainers, or problems were blamed on the effects of the pandemic and then the war in Ukraine. But really that doesn't cut the mustard anymore.
We are all feeling the economic impact and now the government has been brought face to face with the sheer impracticality of what they have done. For the moment, there is, unfortunately, little we can do but try to make the most of it, maximise any opportunities which come along and gradually rebuild a positive relationship with Europe.
But perhaps finally there is a chink in the Brexiteers' unanimity and a recognition, by some at least, that the uncertainty for business has to end. By 'postponing' the sunset clause on all EU regulation and limiting their cull to 600 pieces of legislation, the Conservatives have bowed to the inevitable.
And every time Kemi Badenoch told MPs last week that we simply did not understand what she was doing, I couldn't help but have a wry smile to myself. Oh, we understand, and always have, the difference now is that perhaps she and her Cabinet colleagues are beginning to.