Tories have no stomach to save Holyrood from SNP - Brian Monteith
There is only one political party in Westminster that wants to destroy devolution and it is not the Conservative and Unionist Party, nor is it even the backbench peer, Lord Frost – it is the SNP. So why all the confected outrage at what he wrote last week calling for a more robust approach by the UK Government towards the way devolution is used as a means to break up Britain?
I have no idea if David Frost wrote the Daily Telegraph headline of his Daily Telegraph column (normally that is left to newspaper editorial teams) but it is clear from reading the article content that in calling for a "reverse" of continually granting more powers to Holyrood that Frost was not calling for its abolition. Quite the contrary, he argued Conservatives should consider what aspects of the devolution settlement are not working well and look to reform them.
Nevertheless, the reaction from Scottish politicians was predictably Pavlovian. The SNP saw it as an opportunity to deflect from their own troubles and condemned the attack on devolution, as if they are guardians of it rather than its greatest enemy. Labour sympathisers treated it with their usual partisan scorn, for they can never bring themselves to admit their model of devolution might have some failings that made it, to put it politely, sub-optimal.
The Scottish Conservative MSPs were no slouches either in seeking to distance themselves from any idea of reversing any aspects of devolution. Yesterday the Scottish Conservative Party Chairman, Craig Hoy, belittled Frost for being of no more importance than any other backbench peer and saw no need to respond – before then responding by saying he fundamentally disagreed with him and would "always stand up for devolution."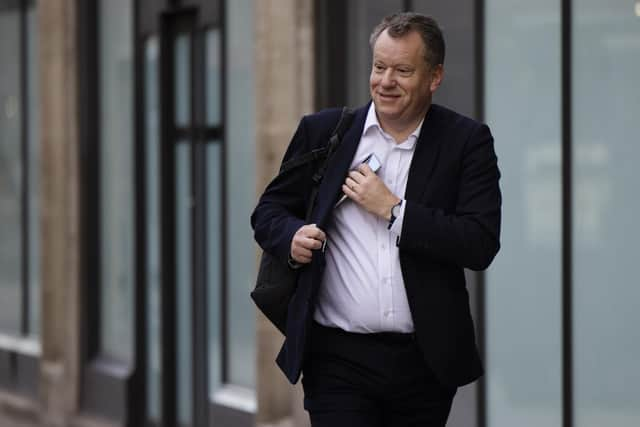 These reactions belie the inconvenient truth that there are now many people who profess to regret voting for establishing a Holyrood Parliament and now prefer to wish it had never happened. The reason for this is not especially partisan, because I know both Liberal Democrat and Labour voters who tell me their position has changed and it has happened over the past 16 years of the SNP being in power and the damage they have done to Scotland's public services, the economy and societal harmony more generally.
I am referring to people who were comfortable with devolution when it did what it said on the tin; it sought to administer Scotland's laws and public services according to the democratic wishes of the Scottish people and make those governing more accountable for their actions. That did not immediately change with the SNP coming to power in 2007, for Alex Salmond in the main sought to demonstrate through devolution that Scotland could better govern itself and therefore would benefit from having full sovereign powers.
That all changed from 2014 after Nicola Sturgeon became First Minister following the rejection of independence in the referendum. She took a far more abrasive approach and adopted a grievance-mongering strategy that resulted in devolution being tested to destruction. As competence was left behind in preference for decisions being taken through a prism of how they might play in building up support for another referendum, service levels began to fall relative to where they had been before the SNP took power and in some cases before devolution itself.
Part of the SNP's devo-death wish was to centralise as much power in Edinburgh at the expense of localised institutions, such as the fire service, ambulances and police forces while council authorities were systematically starved of the finances that allowed them autonomy.
The end result has been a catastrophe for Scotland – claims that devolution has been responsible for delivering better standards of healthcare, education, standards of living, policing, access to justice, housing availability, quality of roads and many more benchmarks are not the lived experience for far too many Scots. The answer of giving more powers to Holyrood has not brought proportionate benefits, indeed it has led to a revenue black hole as estimates of tax revenues repeatedly fall short.
Meanwhile the Scottish Government continues to spend millions of taxpayers' money pursuing the independence Holy Grail the public has already rejected while stretching the limits of the Devolution Act to breaking point with faux embassies and pushing gender recognition reform in conflict with UK equality legislation.
It is in this context that Lord Frost actually wrote, "Ministers should make clear that, if re-elected, they will review and roll back some currently devolved powers. In particular, Scotland does not need to be an independent actor on the world stage; it should not be able to legislate to disrupt free trade within the UK; and it does not need to have most tax-raising powers currently available to it."
That's not a proposal to abolish or repeal devolution – it is an appeal for reform so it is made to work and does not present a threat to the existence of the UK. The truth remains the only party at Westminster committed to end devolution is the Scottish National Party and the Conservatives are not about to join them in that desire.
Their problem is simple, if effective reform of devolution is to be obtained it requires support from Scottish politicians at Holyrood, not just those at Westminster – but that would mean the Scottish Conservatives providing some ideas of what could and should change for the better – and they fear being honest about Holyrood's failings would electorally be too high a risk to take. Better to allow the SNP to abuse Holyrood's limits by leaving Holyrood unreformed.
For those wanting to see devolution reformed so it can succeed, the Scottish Conservatives are now part of the problem, rather than the solution.
Brian Monteith is a former member of the Scottish and European Parliaments and editor of ThinkScotland.org
Comments
 0 comments
Want to join the conversation? Please or to comment on this article.