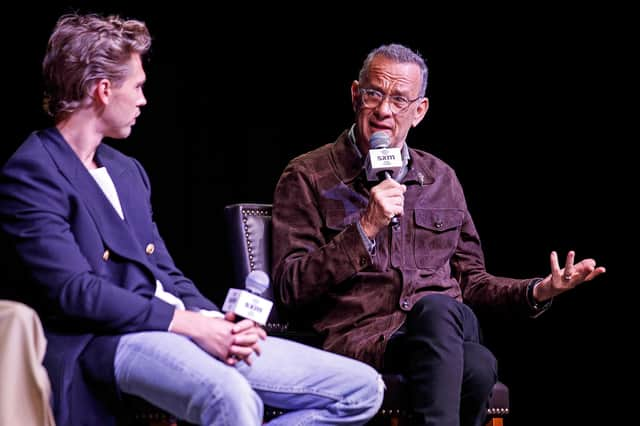 Hanks has been a staple of western cinema for decades. Along with Tom Cruise, he belongs to the last coterie of all-rounded blockbuster film stars who made movies for entertainment's sake.
But Hanks has become the latest actor to speak up about the issues of diversity and representation in Hollywood – and as usual, logic is abandoned in favour of 2D virtue signalling.
Hanks said in an interview with the New York Times that he would not play the role of Andrew Beckett, a gay man with Aids if the film Philadelphia was made today. When asked whether a straight man could play the role now, he said: "No, and rightly so."
His performance in the 1993 movie won Hanks his first Oscar and was a commercial and critical success. It belonged to the great tradition of hard-hitting commentaries like American History X and Born on the Fourth of July that pushed the frontier of audience experience to open their minds.
Hanks notes the only reason he played Beckett back then was that people wouldn't be so "afraid" of a movie about a gay man with Aids if a straight man played the starring role.
He concluded that people nowadays would not accept "the inauthenticity of a straight guy playing a gay guy".
Hanks is smart, old, and ugly enough to know that audiences are not stupid. You cannot expect an actual gangster to play the Godfather any more than you can expect an actual robot to play the Terminator. Films are fundamentally entertaining, and any cultural, artistic or social message they have is incidental.
This makes comments by an experienced hand like Hanks bafflingly stupid and almost criminally hypocritical.
Hanks acknowledges that Forrest Gump was another of his "timely movies". But no, sir, life is not like a box of chocolates. Where is the profound embarrassment of playing a character with cognitive disabilities presented as a kind-hearted dimwit?
By the mid-90s, sensitives had evolved enough to know that certain words and attitudes were grossly offensive towards people with mental impairments.
Rain Man with Dustin Hoffman did far more awareness raising. "Rain Man was the best thing that ever happened to autism," wrote psychiatrist Dr Darold Treffert. "No gigantic public education or PR effort could have produced the sensational awareness that Rain Man brought to the national and international radar screen."
If Hanks was as apologetic as he suggests, he would take a picture of his Academy Awards and return them in the name of his discovered principles.
Laurence Olivier played Muhammad Ahmad in blackface in Khartoum. He played Othello that way, too. No one in their right mind would suggest that this is appropriate now. In 2012, David Leonard, chair of Washington State University's department of critical culture, gender, and race studies, explained: "Blackface is part of a history of dehumanisation, of denied citizenship, and of efforts to excuse and justify state violence."
And yet "the magical negro" is a pervasive trope, as director Spike Lee called it. In films like The Legend of Bagger Vance, a "super-duper magical negro" is a stock character who goes around selflessly helping white people. This also includes The Green Mile, another movie with Hanks.
It is increasingly dire for thin actors with no experience of obesity to use prosthetics to transform into wholly unrecognisable, overweight characters. Contrary to Christian Bale's weight gain for American Hustle and Vice roles, Gary Oldman used a fat suit to portray Winston Churchill in Darkest Hour. Colin Farrell did the same for the Penguin in The Batman, as did Chris Hemsworth in Thor – and so did Tom Hanks in this year's Elvis movie.
If we look further in the Hanks catalogue of rank double standards, nothing is more awful than The Terminal.
Hank's character Viktor Navorski is a generic, Eastern European stereotype stuck in a New York airport terminal when he is denied entry to the United States because of a military coup in his home country.
Good-natured, in shoddy clothes, Navorski is a loveable half-wit with broken English and trouble handling western mores. It is disgusting.
Worse, it is actually based on Mehran Karimi Nasseri, an Iranian refugee who lived in the departure lounge of Terminal One in Charles de Gaulle Airport from 26 August 1988 until July 2006.
Director Steven Spielberg and Hanks double down on their own stupidity and write Navorski from Krakozhi, a fictional country that resembles every western misconception about post-Soviet Republics or the Eastern Bloc with civil wars, coups and carnage.
Every action movie in the last 30 years has monosyllabic bad guys from the Balkans and Eastern Europe, usually covered in prison tattoos, shooting Vodka at 10am and cradling an AK-47 rifle. If they're not criminals, they're Borat-esque.
Hanks' character speaks Bulgarian as his native Krakozhian with a concocted Russian accent. In one scene, a map of Krakozhia is displayed on one of the airport's television screens during a news report on the ongoing conflict. Its borders are those of present-day Macedonia.
Attitudes change, and if Hanks insists on saying sorry for some of his past roles due to present sensibilities, he should apologise for every insensitive trope which has made him money.
A backwater man stuck in a New York airport, surviving off mustard sachets, bathing in a sink, "who speak like this, about Ameerika" is more of an offensive stereotype than the moving triumph of a story about a gay man in 1990s Philadelphia.
One wonders, if Hanks will be lamenting that any time soon.