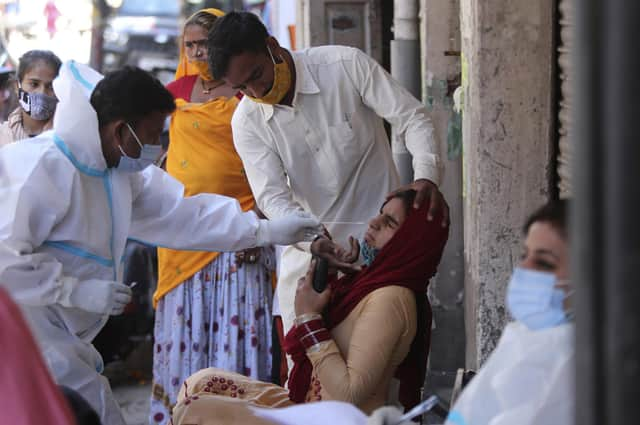 A health worker takes a nasal swab sample to test for coronavirus in Jammu, India, where authorities are scrambling to get medical oxygen to hospitals where COVID-19 patients are suffocating from low supplies. (AP Photo/Channi Anand)
Of course we have been here before. Last year we were encouraged to "eat out to help out" until a dreaded second wave materialised and we entered a bleak coronavirus winter. But, with the success of the vaccination programme, this time feels different. More than half the entire UK adult population have received a first dose and more than 12 million people have had two. Our political leaders have made many mistakes in handling this crisis but the vaccination programme is not one of them.
However this is no time for complacency or self-congratulation. We must continue to be cautious and observe the restrictions that surround today's reopenings. And we must also maintain a global perspective as Covid is a global problem that requires a global response. The well-worn phrase "we are all in it together" could not be more apt. While the virus continues to ravage countries on the other side of the world the risk of lethal new variants remains potentially devastating .
In India a catastrophic new surge of infections has left crematoria and burial grounds overwhelmed and glowing funeral pyres light up the night sky in badly hit cities. The nation whose prime minister declared victory over the virus in January has been caught very much off guard.
As our own population becomes increasingly inoculated our focus must switch to countries such as India that desperately need the help of the global vaccine-sharing initiative Covax. The scheme is aiming to ensure that at least a fifth of the populations of all nations are vaccinated by the end of the year, but in countries such as Bangladesh there are reports of doses drying up with no prospect of imminent resupply.
Today we take a big step towards living the way we once took for granted, but we must not lose sight of the fact that we are citizens of the world and that the world remains a very long way indeed from anything that remotely resembles "normal".