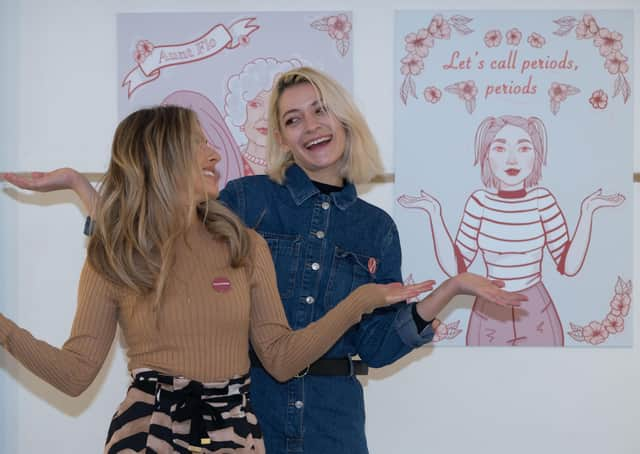 It's time to stop being woolly about menstruation
Susan can't work today. The menstrual cramps are so bad that she cannot leave the house. She phones to cancel the first cleaning job that she has had in months. That eagerly awaited income disappears. She has to buy two boxes of tampons and three packs of pads. Money is tight, her son cries when she tells him he still can't have those trainers.
Fifty-one per cent of the population will experience menstruation. In the past, multiple pregnancies and long spells of breastfeeding meant those who menstruate would experience about 40 periods in their lifetime. Today, that figure is closer to 400 and equivalent to seven to eight years of life actively menstruating.
Menstrual problems are common. One in four will experience heavy menstrual bleeding. If you are lucky enough not to have menstrual problems, it is extremely likely that your partner, friend, boss, employee, daughter or sister will. The resulting anaemia can be so severe it may require blood transfusion. Some people cannot leave the house for one week out of four. Besides the significant physical impact, the negative effects on quality of life are multiple. Menstrual problems can affect education, work, family, mental health and finances. During times of crisis, like the current coronavirus pandemic, these negative effects are even more overwhelming, especially for those already living in deprivation.
Dr Jackie Maybin, Consultant Gynaecologist, University of Edinburgh
Yet we rarely talk about it.
A recent survey found that there are over 5,000 euphemisms for the word "period". Words that accurately describe menstrual problems, such as heavy menstrual bleeding, are not being used. If people cannot talk openly about menstruation, then how can they function at their best in school, university, work or at home? If people cannot clearly and accurately describe the problems they are experiencing, then how can they get the precise investigations and treatments they require? All of society is affected by menstrual health and we need to start having open, respectful, informed conversations.
Mention periods in an open forum and most people will shift uncomfortably in their seats. But overcoming that "icky" feeling can provide huge health benefits for millions of people. Normalising this physiological process will increase awareness of menstrual health issues, allow society to adapt and accommodate menstruation, prevent delays in seeking help and improve treatments.
Here in Scotland the menstrual tide is starting to turn. Firstly, the Royal Society of Edinburgh's Young Academy of Scotland, in collaboration with the Medical Research Council (MRC) Centre for Reproductive Health at the University of Edinburgh, has developed the HOPE (Healthy, Optimal Periods for Everyone) website (www.ed.ac.uk/hope). This site was developed by consultant gynaecologist Dr Jackie Maybin alongside academics, business leaders and teachers to provide ac information on menstruation, menstrual disorders and treatments.
The website allows people to access reliable menstrual information from the comfort of their own home. It also details some of the latest research in this area. Employers can find tips on how to create a menstrual-friendly workplace and teachers can access lesson plans for teaching pupils about menstruation. It links with other resources, companies and charities working in this important area to create a menstrual information hub.
Secondly, the Royal Society of Edinburgh recently ran a popular "Tea and Just Talk" series, including a conversation with Professor Hilary Critchley, a global expert in menstrual health from the MRC Centre for Reproductive Health, University of Edinburgh entitled "Tackling taboo: menstrual misery." This was so popular that a similar series is planned for the summer. These discussions lead to a BBC Brainwaves programme "Talking taboo by getting personal about periods!" available on iplayer (https://www.bbc.co.uk/programmes/m000f012).
Finally, the Scottish Government has made menstrual products freely available in schools and universities and has launched a ground breaking #TalkPeriods campaign with the call to action "Let's call periods, periods."
As these exciting initiatives raise awareness of menstruation, the hope is that periods are destigmatised, normalised and accommodated.
Making sure everyone, including Nicola and Susan, can function at their best.
Dr Jackie Maybin, consultant gynaecologist, University of Edinburgh