Time has come for a vote of no confidence in Nicola Sturgeon - Brian Monteith
There are times when opposition parties need to take a deep breath and do something that they may expect to be futile but is for the good of the country that they act rather than in their own self-interest. Now is one of those times.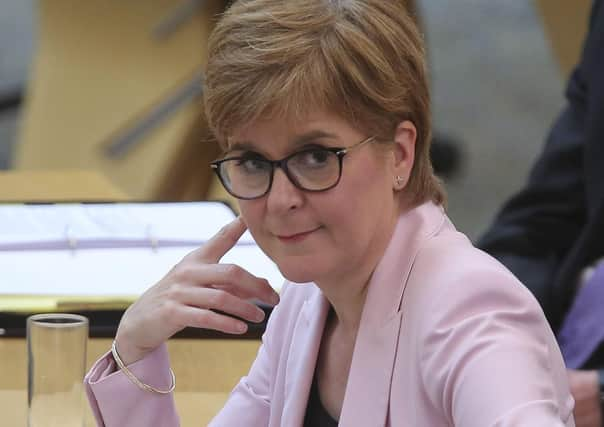 The role of the opposition parties is chiefly to scrutinise and oppose the ruling administration so that its decisions are tested and its ministers know they will be held to account. The public deserve no less than a highly alert and active opposition. Without a strong opposition those without a voice will remain unheard.
Opposition should not mean opposing for its own sake; the opposition parties have to weigh up the evidence available of any ministerial failing – knowing there may be details they are not privy to or there is information they cannot reveal because it might expose their source to punishment for, say, leaking damaging but vital evidence.
When there is sufficient evidence of a ministerial failure – such as a government policy delivering dreadful unintended consequences like a collapse in cancer treatments, or a minister has misled the parliament in an answer to a question – opposition parties have to raise objections to the minister's behaviour, demanding answers and possibly proposing a motion of censure or calling for the minister to resign.
It is not enough for the minister to respond by saying this or that inquiry or committee meeting are already or will in the future deal with an egregious breach of behaviour or reckless policy. Oppositions need to act immediately, for to do otherwise can mean the bad behaviour or incompetent policy can continue as if no one had objected. Crucially, oppositions need to press their case even though they will be outvoted, and that it will appear futile. Bringing to the attention of the public any partisan, malicious, self-aggrandising and serially incompetent behaviour of ministers – even if such motions are defeated – allows the public to make their own decisions and hold the party to account at the next election.
It also shows that an opposition is prepared to do the heavy lifting of sometimes being unpopular and not just chasing headlines for being nice. Sometimes consensus is not possible, sometimes consensus is the enemy of good government and delivers bad results.
If anyone doubted the job of oppositions a classic example has just passed us by when it was vital that a motion of no-confidence be moved on the failed education secretary John Swinney, even though it was entirely predictable that the representatives of the Green Party would vote to keep him in his job.
The motion of no-confidence forced the SNP government to admit it had made a dreadful error and should with urgency change its approach.
The job of opposition worked in large degree even if the motion failed. The political reputation of Mr Swinney is now seriously damaged – and so too is that of his boss, the First Minister, for failing to sack him or move him on. Such damage to their political reputations is wholly justified for it will mean all but the most sycophantic followers will now question the decisions of Mr Swinney and Ms Sturgeon.
I write all of this to argue that the time has come again for the opposition parties to take the brave pills, go into difficult territory and do their job. The time has now come to move a motion of no confidence in the First Minister herself. Over these last months I have drawn the attention of readers to a number of decisions taken by the First Minister which – despite all her denials to the contrary – I believe have been taken with a view to advancing the interests of herself, her party and the cause of independence at the expense of delivering the best outcome for Scotland during the pandemic.
Quite often these decisions have involved a delay, or the rebranding of an initiative that was not necessary.
The most obvious example of this scandalous behaviour was the needless delay in halting the practice of sending patients from hospitals to care homes without tests for Covid-19. The practice, which undoubtedly led to Covid-19 infecting otherwise unaffected care homes, was halted in England by Health Secretary Matthew Hancock on 15 April – but it continued in Scotland until 21 April. The difference of ten days, I believe, undoubtedly led to deaths that could otherwise have been avoided. I have yet to hear of a legitimate reason for Scottish Health Secretary Jeane Freeman's delay.
This indefensible decision does not end there, for it has since been established that patients who had been tested – but whose results had not yet been confirmed – were being moved from hospitals into care homes.
Worse still, some patients who had tested positive were still moved into care homes – a clinical decision that appears inexplicable. Is it really the case that the best place to put Covid-positive patients was a care home when they were already in hospital?
As if this episode was not bad enough, we now have an example of the First Minister telling parliament that the decisions that would result in patients being discharged from hospital into care homes did not involve ministers because these were clinical decisions.
Unfortunately for Ms Sturgeon, a letter signed by Ms Freeman has been made public that makes it quite clear her ministers, by setting a target for discharges, were influencing clinical decisions.
Pressure was being put on clinical staff to meet discharge targets and we know that, as a result, patients were moved when they should not have been. After all, how could a clinical decision be taken when patients were not being tested or, when they were tested, the results were ignored?
Misleading parliament about life-and-death decisions is the most grave offence possible. The opposition must force the First Minister to explain herself.
Comments
 0 comments
Want to join the conversation? Please or to comment on this article.