There is a Scot who could save the BBC from right-wing takeover - Lesley Riddoch
After losing the proxy battle over Nicola Sturgeon's TV Covid briefings, the British Government looks set to exert greater control over the BBC – and not just in troublesome Scotland.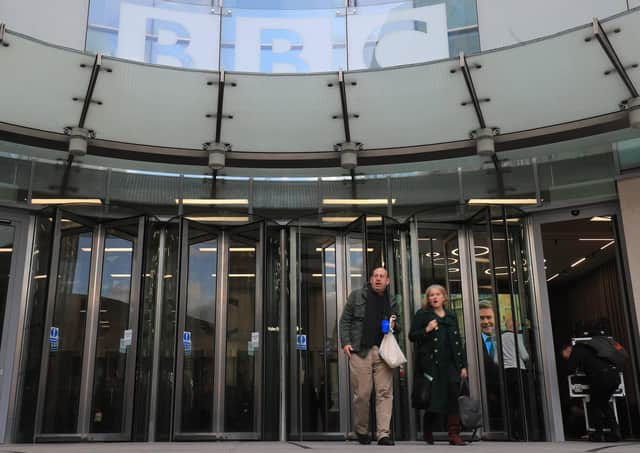 Weekend papers were full of speculation that the former editors of the Daily Mail and Daily Telegraph are being prepared for top jobs which will essentially put public service broadcasting under the control of the Brexiteer right.
Paul Dacre, editor of the Daily Mail until 2018, is apparently Boris Johnson's choice to become chairman of the broadcast watchdog Ofcom and Lord Charles Moore (Thatcher's biographer) is reportedly set to become BBC chairman.
The news has prompted outrage – and not just from the usual suspects. Labour peer Andrew Adonis said such appointments would be "disgraceful" since neither man "believes in the mission of the BBC" and Charles Moore was taken to court for refusing to pay the licence fee. Actor and campaigner Hugh Grant tweeted: "Coffin. Nail. UK."
Even Jeremy Clarkson was up in arms, tweeting: "I'd rather drive my lambo off a cliff than see Charles Moore as chairman. BBC will go up in flames."
Of course, the toothsome twosome may not finally be chosen. But with poll ratings plummeting, Mr Johnson must find some way to "moderate" critical analysis of Brexit and its unfolding tale of chaos, unpreparedness and uncertainty. You'd think nothing could push Covid off the front pages as cases continue to surge.
But the bizarre story about passports for Kent lorry drivers nearly succeeded last week, challenged only by news of the non-synchronising NHS England Covid app.
Stories of jaw-dropping ineptitude like these will haunt Mr Johnson all winter long, so it would be no surprise if he's decided to control the public's main messenger with Trump-style warnings about imminent, radical BBC "reform".
Well, it silenced dissent in the Civil Service.
But would the threat of control by libertarian, right-wing Brexiteers really change news content and journalistic behaviour? Slavish adherence to Dominic Cummings' priorities isn't generally a predictor of promotion among BBC channel controllers or news chiefs. That, after all, is why the government's fed up with them.
Indeed, it's quite possible these rumours were deliberately leaked by No 10 to distract from the likely Covid Commons revolt within Tory ranks this week. Furthermore, Culture Secretary Oliver Dowden yesterday denied any plans to have the controversial duo "installed" without due process.
So, a fuss about nothing?
Far from it. In March, Mr Dowden said the BBC must avoid providing a "narrow urban outlook" and ensure "genuine diversity of thought and experience".
Last week, his words were precisely mirrored by the new director-general, who was deputy chairman of the Hammersmith and Fulham Conservative Party during the 1990s. According to Tim Davie, "The BBC is not delivering for everyone in Britain because metropolitan organisations are distant from the populations they are meant to serve."
So, who's missing out? Messrs Dowden and Davie are referring to the Brexit-supporting Midlands and north of England where BBC viewing figures have fallen (albeit not as dramatically as in Scotland). But their words are code for all producers – make sure Brexiteers get prime-time news slots, even in Remain-voting Scotland.
If that's the plan it could easily backfire.
Any blatant attempt to manipulate the mix of political opinion delivered by BBC Scotland will only further damage associated causes like Brexit, Mr Johnson and (increasingly) the Union itself.
But political pressure on broadcasters is often subtle – not blatant.
So in fact all this media speculation about the possible promotion of Messrs Dacre and Moore and a single Boris-dictated view of "correct" BBC balance, means the process of "self-editing" has already begun.
It's happened before – most obviously when director-general Greg Dyke was made to walk the plank over the "dodgy dossier" during the Iraq War – but less obviously in 1986, when Marmaduke James 'Duke' Hussey was Margaret Thatcher's choice as BBC chairman.
The Guardian observed in 2006 that he was "a shining example of the widespread belief among the British establishment that corporate management is a profession which can be practised without technical knowledge".
Hussey sacked Scots-born, Gaelic-speaking, pibroch-loving Alasdair Milne as director-general and installed Sir Michael Checkland, the first accountant to run the BBC, swiftly followed by John Birt, who introduced an internal market, giving programme-makers the option of using BBC facilities or buying them in.
Working in BBC Scotland at the time, I vividly remember the impact of these "reforms".
BBC studios became too expensive to hire by producers, so the excellent drama studio in Edinburgh was mothballed, limiting BBC Scotland's capacity to record complex radio dramas.
Birt's internal market also made the BBC's own extensive library more expensive than buying records in shops on Byres Road.
In short, Baron Birt's changes were widely hated by BBC staff. But he forced acceptance of his internal market as the only way to see off the greater threat of privatisation.
Now of course, this is not the 1990s, Lord Moore is not Hussey and Mr Johnson is not Thatcher.
But the same rationale is at work.
Yesterday, the Sunday Times reported, 'Allies of [Dacre and Moore] insist their appointments could … help save the corporation from extinction as it grapples with the streaming giants Amazon and Netflix.'
Once an even bigger existential threat is presented, public service broadcasters will be made to tolerate right-wing editorial interference, cost-cutting and gobbledygook about "market rebalancing" – all in the name of survival.
Of course, the rise of subscription TV questions a century of BBC supremacy. Change is necessary. But how does public service broadcasting adapt? Who has the respect, experience and life skills for the job?
Does anyone in Scotland trust right-wingers with a Brexit agenda and other regressive axes to grind?
There's one man who could speak out on behalf of anxious BBC colleagues.
Scot Ken MacQuarrie is standing down as director, nations and regions on 1 January and has nothing to lose by speaking truth to power right now.
Is it all right for Mr Johnson to install political appointees to oversee the BBC?
If not, it's time for veteran managers to shrug off the in-built reticence of several lifetimes and put up a fight for Aunty.
Want to join the conversation? Please or to comment on this article.