There are valid questions over the cost of Edinburgh's big new cultural projects –  Brian Ferguson
Edinburgh is a place full of terrific vantage points to consider the changing face of the city.
The old Royal High School on Calton Hill is one of the grandest, but also one of the most neglected. It has overlooked the city's Old Town for nearly 200 years but, for more than half a century, has been all but deserted. It is maybe 20 years since I first set foot inside, for briefings with a company pursuing future visions for Edinburgh city centre.
A decade or so later, I had a guided tour of the building by a developer pursuing plans for a luxury hotel at the site, a project that increasingly became a lightning rod for controversy due to opposition from Edinburgh's heritage bodies, particularly over the prospect of modern extensions being added onto either side of the landmark.
By a strange coincidence, my visit the other day was almost exactly eight years since a bold new proposal emerged for it to become home to a specialist music school and new concert venue. The scheme, which blindsided the hotel developers who had spent the previous five years drawing up their proposals, had a stamp of credibility due to the involvement of arts philanthropist Carol Grigor, one of the biggest modern-day backers of the Edinburgh International Festival.
A lot has happened since then, not least a bitter tussle over whether the city council would stick with the hotel plan or support the building being returned to its original purpose. The stakes were raised significantly higher after the Scottish Government rejected the hotel project and Ms Grigor's backers expanded their vision to propose the building as a national music centre.
By the time it went onto the open market two years ago, the council was heavily involved in another project backed by Ms Grigor's Dunard Fund, which was first announced around six months after her initial Calton Hill concept. The philanthropist suddenly emerged as a white knight pledging to bankroll plans to create Edinburgh's first new concert hall for a century.
Earmarked for a site off St Andrew Square, a short walk away from the former school, the proposed new home for the Scottish Chamber Orchestra was opposed by a developer, this time the one behind the new St James Quarter project, over concerns that it would impact on views from its luxury hotel.
There is no doubting the significance of the work on both two sites getting underway in recent weeks. Although £25m worth of public funding is tied up with the concert hall, it would simply not be happening without a £35m pledge from Ms Grigor to underwrite the project. She has pledged even more, £55m, for the Calton Hill scheme.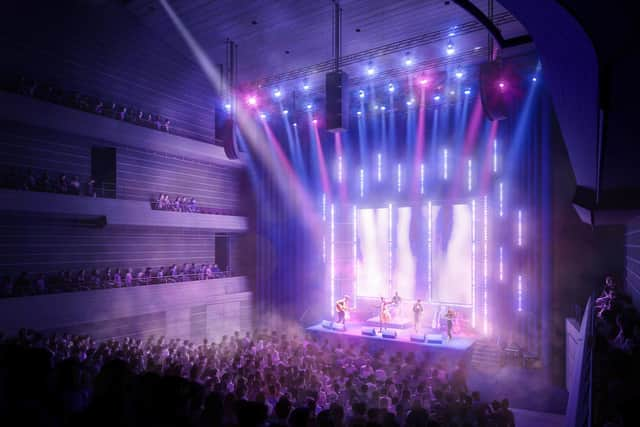 However there is no hiding the fact that there is real uncertainty over how much these projects will cost to actually deliver, particularly as previous estimates are at least a couple of years out of date. That may not be anything like as big a deal as it would be if these projects did not have such a wealthy backer.
But that does not mean that they should be beyond scrutiny or that their combined costs, which are expected to easily top £150m, will not be of interest elsewhere in the cultural sector.
Comments
 0 comments
Want to join the conversation? Please or to comment on this article.