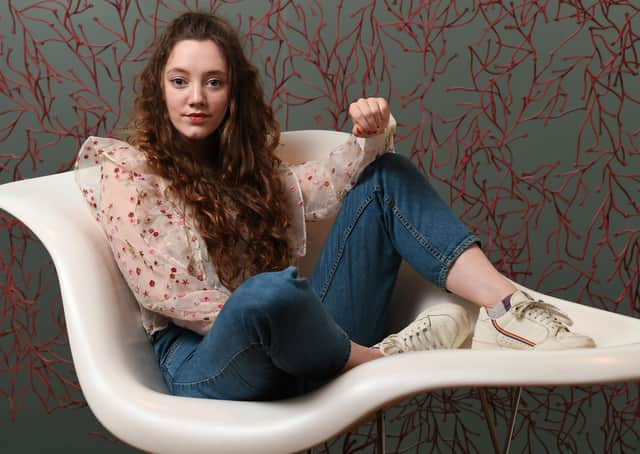 Mirren Mack is one of the stars of the new BBC One drama The Nest (Picture: John Devlin)
With the Scottish cultural scene starting to grapple with life under lockdown in recent weeks, amid a never-ending tsunami of postponements, cancellations and closures, it's been a bit of a godsend to have something both exciting, new and entirely home-grown to get to grips with. With a starry cast, a fast-rising newcomer in the lead role and a script by one of the nation's fast-rising writers, a BBC One drama depicting two vastly different sides of Glasgow was always going to be a contender to be one of the highlights of the year.
But The Nest found itself launching against a backdrop of closed-down theatres, concert venues, museums, galleries and other attractions across Scotland – and in a prime Sunday night slot. It may sound unlikely, but the twists and turns of the surrogacy thriller have been the perfect distraction to the ever-increasing tensions and anxiety caused around the country by the coronavirus lockdown and its impact.
While there has been anger, frustration and even paranoia over the real-life social-distancing rules, it has been strangely refreshing to watch a gripping drama unfold on the familiar streets of Scotland's biggest city.
The Nest went into production last autumn on the back of an impressive run of drama series set wholly or partly in Scotland, including baby abduction mystery The Cry, which saw stars Jenna Coleman and Ewen Leslie film in Glasgow and Melbourne, and The Victim, a courtroom drama about a mother accused of trying to unmask a child killer with a new identity.
Critics were also full of praise for Guilt, the last big BBC drama made in Scotland, which went out before Christmas and drew comparisons with Twin Peaks thanks to Neil Forsyth's blackly comic script. A possible new series of Guilt was one of several big new projects in development when I visited BBC Scotland's Pacific Quay headquarters in February, a year on from the launch of its new Scottish channel.
While Forsyth presumably has time on his hands to work out how to take forward the story of troubled siblings Jake and Max, the current lockdown has given The Nest an even higher profile than it might otherwise have had.
The production hiatus is clearly as bad for the industry in Scotland as it is everywhere else in the world. But The Nest will hopefully act as a real impetus for the screen sector – and may just inspire stories as powerful as the one which has unfolded over the last three weekends, and will reach a climax with a double-header on consecutive night over the Easter weekend.
A year on from the success of The Victim, which brought film stars Kelly Macdonald and John Hannah to the small screen with newcomer James Harkness, The Nest has given Mirren Mack her first major TV role, starring opposite Line of Duty favourite Martin Compston and Peaky Blinders star Sophie Rundle.
With big names like David Hayman, Kate Dickie and Shirley Henderson fleshing out its cast, some stunning overhead filming above Glasgow, a spectacular location on the Clyde coastline where much of the drama has played out and Frightened Rabbit on its soundtrack, The Nest has a lot in its locker. But it is the script by Taylor, a relatively unknown writer in Scotland until last year's Glasgow-set country music drama Wild Rose, that has done most to help The Nest set a new bar for TV drama in Scotland, with two episodes still to come.
We can only hope there is not too long to wait in Scotland until there is anything of similar quality to lap up.