The lack of understanding of autism across all services is dumbfounding - Charleen Morton
My story doesn't start with a three-year-old boy who doesn't speak. My story starts many years ago with a four-year-old girl who would only speak to her family. My amazing mum knew something was wrong and I was sent to a child psychologist. I can remember that appointment to this day, I played in the sand pit as the doctor spoke with my mum, telling her "this child is just shy, make her play and join in more, force her to socialise".
I knew even back then I was different. I struggled to communicate, struggled with food, noise, even chewing holes in my bedsheets and clothes. "That's just Charleen" was often said about my little 'quirks'. This went on for many years and I learned how to cope, how to mask. I have lived a life copying, trying not to stand out, trying to be the same as everyone else, trying to be anyone but me.
My eldest daughter Megan had lots of behavioural "issues". She punched, kicked, bit everything and everyone, and was very defiant and aggressive. I believed I was a useless mother, that I couldn't cope, that I had failed. Age seven I sought help from our GP, and we were seen at CAMHS. Five years later and diagnoses of PTSD, IBS and depression were all thrown out and at long last, we got an autism diagnosis. Due to my lack of understanding about autism I questioned this, surely it was more than that? My child would fly into the most violent rage in a few seconds, would put her foot through a glass door, would refuse to go to school, even spending a full day hidden in the boot of my car. However, I came to understand that this is in fact everything to do with my girl being autistic. Nothing was going to change this behaviour except understanding. From me, from Megan and yes, from you.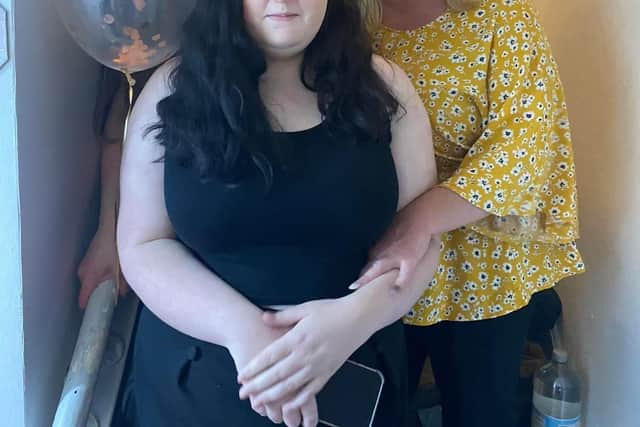 Next it was Shannon, who spoke a few words. Then suddenly, at the age of thirteen months, nothing. She fell into a silent world.
I asked for help. "She will come on in her own time", they said.
Eventually aged two we saw a speech therapist, their diagnosis? Delayed speech. Autism was never mentioned. I knew it was more than just delayed speech, but no-one would help. She started to speak at age seven but only to very close family. Eventually at age eleven, ten years after I raised concerns about my daughter, she was seen at CAMHS, and within two visits she had her autism diagnosis. I came to realise this diagnosis, autism, was so very different in both my girls. The more I understood about them, the more I understood myself.
Finally, we have Demi-Leigh. I knew, I just knew. I can't explain why but I did. Six weeks into nursery the teacher called me to the side.
"You're going to tell me she is autistic", I said.
"No," she replied, "but I am going to refer her to a paediatrician".
"It's learned behaviour", said the paediatrician.
I was told to come back when she was seven if I still had concerns. Four years and two CAMHS appointments later and my youngest daughter had her autism diagnosis.
During all this time my understanding grew further. I approached my GP, who told me I can't be autistic, as I can drive a car and I work! I was then sent to the mental health team for depression and anxiety when I finally got my autism diagnosis, 38 years after my first visit to the doctor.
Four females, 38 years and nothing has changed. I support other parents during the autism diagnosis process now, and it remains the same. "She is fine at school", "she can play with friends". The lack of understanding across all services from schools to CAMHS is dumbfounding.
Why am I telling my story? Because people need to understand, and changes need to be made. If I don't, who will?
Chrleen Morton, Chairperson of National Autistic Society Dundee Branch
Comments
 0 comments
Want to join the conversation? Please or to comment on this article.