My commute to the office in Glasgow city centre has been a delight – and so much more liberating, and fun, than travelling in a mobile metal box by road or rail. But my experience has been massively enhanced by being able to use a combination of segregated cycle lanes and off-road paths for most of my three-mile journey.
Many riders are not so fortunate, although I'm happy to elongate my routes to avoid busy roads, which is preferable to having to contend with the stresses of cycling in heavy traffic. That got me thinking about how I knew where to go to find these quieter and safer options, and realised many are far from obvious for those who have not used them before.
My oracle in that respect is The Glasgow Cycle Map, which was actually published by Spokes, the Lothian cycle campaign. It's been an invaluable companion, guiding me to hidden paths and cut-throughs between streets that I never knew existed. It's almost like a reverse road map, highlighting cycle lanes in purple, bus lanes usable by cyclists in orange, and quieter streets in yellow, leaving the busiest roads (in white) all but invisible.
The design reminded me of the railway maps of a century ago in which companies depicted their routes as thick red lines but those of their rivals so thinly as to be virtually imperceptible, giving the impression there was just one route between Scotland and England.
Without my cycle map, I may never have found some of the shortcuts I now use. I doubt they are on any road map, while Google Maps often directs cyclists via main roads, apparently unaware of new segregated stretches, which is far from ideal for many riders.
In addition, as Spokes pointed out to me, relying on a map on your small phone screen can be difficult to see in bright sunlight and depends on the device not running out of power. I've always found my water- and tear-proof, plastic-covered paper map far handier. It's also ideal for walking.
However, the map is now seven years old, may be out of print and no new edition has been produced. Spokes has no plans for another. But it still produces maps for Edinburgh, East and West Lothian, and Midlothian, and has sold an impressive 150,000 copies. Quite a lot has changed over that period, including many additional segregated lanes being added as part of the Spaces for People programme during the Covid pandemic.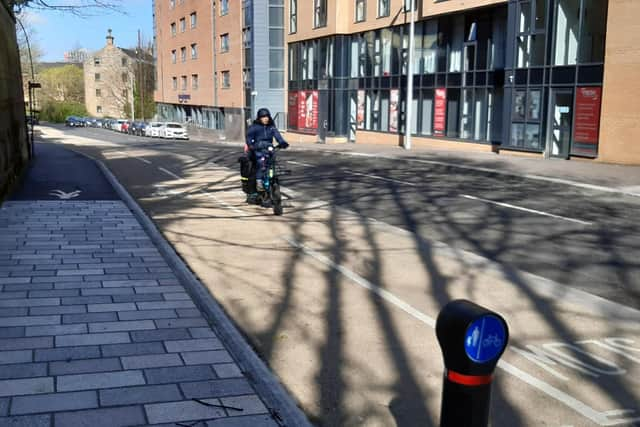 Unlike in Edinburgh, I'm not aware of any of Glasgow's being removed since. Significant additions include on Clyde Street and Broomielaw along the river in the city centre, and Kelvin Way, which bisects Kelvingrove Park and is almost entirely traffic free.
With Glasgow having a huge cycle-hire scheme – around 1,000 bikes – in addition to many indigenous cyclists, there must be a market for a cycle map of the city. I'd love to get a new one. This is surely an opportunity for mapmakers, geographers, students?