[English-language version below]
Gu cinnteach, leis an Riaghaltas air a ràdh gum bi casg air càraichean ùra peatrail is dìosail ann an 2030 –chan eil sin ach nas lugha na seachd bliadhna air falbh – tha feum aig a' mhargaidh air gluasad gu luath. Agus tha sin a' tachairt.
B' e càraichean dealain a bha ann an 17% dhe na carbadan ùra a chaidh a cheannach ann an 2022. Bha barrachd a bha sin nan càraichean dìosail – son a' chiad uair a-riamh – a' comharrachadh gluasad bunaiteach anns a' mhargaidh agus daoine a' gabhail rin dleasdanasan air an àrainneachd.
Ach, math 's gu bheil seo, cha bu chòirear cus a dhèanamh dheth. Tha gu leór a' cheistean ann fhathast agus gu leòr ri dhèanamh fhathast.
Sa chiad dol a-mach, ged a tha e ciallach gu leòr càr beag dealain a bhith agad sa bhaile mhòr – dha-rìribh, 's ann a chanadh cuid gur e sin an rud a bu chòir a bhith ann a thaobh cogais – ma tha thu a-muigh san dùthaich agus air an iomall, mar a tha gu leòr againn, chan eil e idir cho tarraingeach gu practaigeach.
Tha an dragh mu dè cho fada 's a sheasas bataraidh a' cur mòran dhaoine dheth bho bhith a' dol sìos rathad an dealain. Ach, smaoinich an dràsta ma tha thu tric a' siubhal còrr air fichead mìle 's gun na h-innealan teàirrdseadh poblachd mu thimcheall ach gu math gann agus glè thric gun a bhith ag obair.
Gu cinnteach, mar as fhaisge a dh'fhàsas sinn air 2030, nuair a tha coir cur as do chàraichean ùra peatrail is dìosail gu tur, 's ann as fheàrr a bhios an teicneòlas, ach tha e gu math follaiseach anns na sgìrean iomallach gu bheil slighe fhada ri dhol ann an ùine gu math gann mus bidh gu leòr deònach cùlaibh a chur ri peatral is dìosal, gu mì-fhortanach.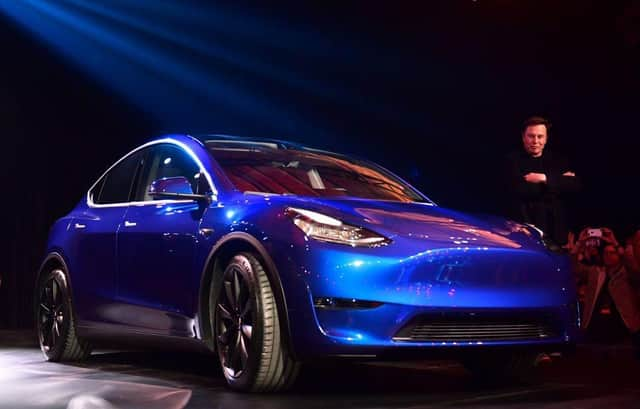 Ach, tha adhbhar eile carson a bu chòirear a bhith rudeigin faiceallach mu dheidhinn a h-uile càil a tha seo.
Ged a tha na duilgheadasan fhèin aig càraichean dealain, nuair a thig e gu carbadan a chuireas feum air tòrr chumhachd – làraidhean mòra gu sùnraichte – 's gann g' eil an teicneòlas fiù 's air sradag a dhèanamh.
An-uiridh, dh'fhoillsich Riaghaltas Bhreatainn sgeama luach £200 millean airson obair a dhèanamh air làraidhean mòra le einnseanan dealain.
Gu cudromach, chaidh a dhèanamh soilleir aig an àm gur e dìreach pròiseact dearbhaidh a bha seo agus le sin, nuair a thig e gu bhith ga chur an sàs ann an dòigh coimeirsealta, tha sin fhathast pìos math às.
Tha na làraidhean mòra seo an urra ri 19% dhen truailleadh a tha a' tachairt timcheall siubhail agus ged as e càraichean beaga a' siubhal gun sguir an siud 's an seo as miosa, tha e fhathast na chnap-stàrra mòr.
Chan e g' eil an roinn air a bhith na thàmh. Tha na h-einnseanan dìosail a gheibhear ann an làraidhean an-diugh gu math nas glainne na bha agus leanaidh an t-adhartas sin. Sin an rud a tha a' ghniomhachas ag amas air an dràsta agus chan e einnseanan dealain.
Tha obair gu leòr a' dol, mar a tha sgeama an Riaghaltais a' sealltainn, ach 's e fìrinn na cùise gum bi peatral is dìosal againn airson deagh ghreis, bhon as e an aon roghainn chiallach a tha fhathast ma choinneimh cus.
Agus 's e a' cheist a rèisd le sin: cò às a tha an t-ola air a shon dol a thighinn?
English-language version:
With sales of electric vehicles now out-stripping that of new diesel cars, there is a temptation to jump to the conclusion that the end of the combustion engine is in sight.
Certainly, with the government setting themselves a target of banning all new sales of petrol and diesel engines by 2030 – less than seven years away – there is an incentive for the market to move at pace. And it's responding.
According to the Society of Motor Manufacturers and Traders, in 2022 electric cars accounted for almost 17 per cent of new sales in the UK, for the first time making them more popular than diesel versions. That represents a significant shift in the market as consumers embrace their social responsibility towards the environment
But excitement needs to be tempered. Firstly, while a small electric car in the city is a realistic option – indeed some would argue the only real one from a conscience point of view – if you happen to live out in the sticks, as many of us do, it becomes rather less appealing in a practical sense.
"Range anxiety" is currently the biggest factor that puts people off from going down the road of electric, but try coping with that when you have to make regular journeys of 20 miles or more and in the knowledge that the public charging infrastructure is virtually non-existent.
For sure, the closer the 2030 deadline looms into view, the better the technology and infrastructure will become, both in terms of charging and engine capability, but from a rural point of view it's quite clear there's an awful long way to go in a very short space of time before we can comfortably turn our back on petrol and diesel, no matter how unpalatable that may seem to some.
However, there's an even bigger reason why excitement should be tempered. While electric cars have clear limitations in terms of battery life, for vehicles that require considerable pulling power – namely HGVs – we are hardly even on the starting grid.
Last May, the UK Government announced a £200 million investment programme to develop electric-powered freight lorries. But, crucially, it was billed as a "demonstrator programme", meaning its commercial deployment is some way off.
HGVs remain the UK's second-highest emitting transport mode, accounting for 19 per cent of emissions, so while people zipping about in their private cars remains the biggest contributory factor, our economic reliance on road freight remains a big obstacle to net zero.
It's not that the sector has stood still. The diesel engines now found in HGVs – and you can add vans, tractors and pick-ups to that – are today much improved in terms of damaging emissions and that trend will certainly continue.
As the government's scheme last May shows, there is investment in terms of researching the potential of electric HGVs, but the reality in the market right now is that they are concentrating on combustion engines that are more environmentally friendly, just like the consumers in rural areas are required to due to lack of infrastructure.
So, petrol and diesel look destined to be with us for some time yet, with the "just transition" out of reach for far too many in a practical sense. So the question with that is: where will the raw material of crude oil come from? The journey in front looks far from clear.