Tartan Day: Will Scotland ever learn to embrace it? – Martyn McLaughlin
It is that time of the year when the skirl of the pipes will be heard echoing through Manhattan thanks to Tartan Day.
This year marks the 25th anniversary of the event, which has long commanded a week-long programme of events. In the US, it has carved out a role as a popular tourist draw, with the annual parade in New York attracting around 50,000 spectators every year, in addition to the 3,000 participants in the march itself.
Such figures are impressive when you consider the myriad heritage celebrations vying for attention in the US, although they pale in comparison to the St Patrick's Day parade held in the city in mid-March. That event, which dates back to 1762, attracts around two million people, with a further 150,000 taking part in the parade; by some considerable distance, the Irish remain the masters of cultural soft power.
It is easy to ask what more the Tartan Day organisers can do to help grow the event and raise its profile. A better question, however, is whether they would want to. The committee's president, Kyle Dawson, a burly, bearded IT specialist who is among a handful of volunteers involved in the parade's delivery, has said the event is special because it is like a family reunion, allowing loved ones and friends to catch up and toast their shared heritage.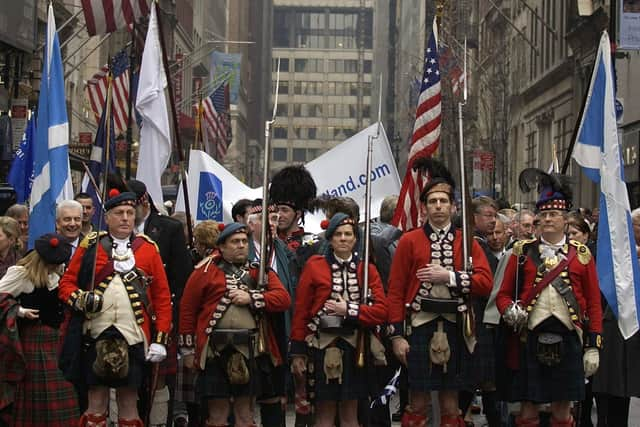 He and his fellow Scots-Americans seem perfectly content with the event's scale and standing, and rightly so. It is an established fixture that has stayed true to its founding goal of acknowledging the role played by Scottish immigrants and the diaspora in American life. If there is any unease about the celebrations, they emanate almost exclusively from this side of the Atlantic.
Mention Tartan Day to most people in Scotland, and the likeliest response will be Jack McConnell's kilt. Nearly two decades have passed since the former First Minister donned a pin-striped kilt and Jacobite shirt at the long-defunct Dressed to Kilt fashion show, but to this day, his attire is still seized upon as the visual manifestation of that long-standing national ailment known as the Caledonian cringe.
The mocking of Mr McConnell may have focused on his dubious sartorial choices, but it also betrayed a Pavlovian grievance at the very idea the head of Scotland's devolved government should be embarking on official foreign trips in the first place. That unease over how Scotland projected its identity coincided with the early years of the post-devolution era, when the then Scottish Executive was still wrestling with how best to leverage the nation's history and heritage for wider political engagement.
It is hard to gauge how things have changed since then. While such suffocating self-loathing occupies a far less prominent position in the Scottish psyche, it has yet to be excised altogether. The disdain which greeted Nicola Sturgeon's decision to attend COP27 in Egypt last November is a case in point. There remains a vocal minority of Scots who believe its leaders have no place on the world stage.
Unsurprisingly, Tartan Week and the Tartan Day parade have been regular targets of such sneering. This has not been helped by the tenuous history underpinning the event's genesis, which sought to draw a direct link between the Declaration of Arbroath and the American Declaration of Independence. For the most part, its critics regard it as little more than a festival of kitsch, a place where shortbread-tin cliches and couthy, Balmoralised tropes are rolled out without a hint of irony. Such observations are not without merit – after all, this year's parade attendees include a phalanx of West Highland terriers and a 100-plus strong continent from a Bay City Rollers fan club.
Few people would hold up such imagery as representative of our modern-day nation, especially one with the first Muslim leader of a national government in western Europe. But crucially, it is all part of the mix. It is also easy to overlook, or dismiss, how sentiment and nostalgia are powerful forces that underpin the constructed identity of the Scottish diaspora. The Irish have no quarrel with the aggressive marketing of shamrocks, harps, and other mawkish and performative representations of their national identity. Why should we be so uptight about it?
It is for this reason, perhaps, that Scotland has never quite known how to engage with Tartan Week. Famously, Alex Salmond moved to rechristen the event as Scotland Week in an attempt to sidestep away from all the twee White Heather Club stuff, and focus instead on brokering business deals. At the time, it seemed like a strange hill to die on; in hindsight, it demonstrates a barely disguised insecurity. In any case, the rebranding decision was not Mr Salmond's to make, and it remains known as Tartan Week.
In recent years, the Scottish Government has been a low-key patron of the event. Whereas it and VisitScotland once thought nothing of contributing £750,000 to the gathering, its involvement has been scaled back to a fraction of that expense, around £13,000 last year. Typically a Cabinet Secretary and the government's US-based Scottish affairs counsellor will use their visit to press the flesh with the congressional Friends of Scotland caucus and tour some inward-investing businesses.
No doubt such meetings bear fruit, but given the myriad post-Brexit challenges we are facing, it feels like more could be done to engage with one of our largest export markets. No doubt Donald Trump's time in office waylaid the strategy – a government source told me that even though Trump never exploited his Scottish heritage, his ties were a "nightmare" for diplomacy – but there is an opportunity now, surely, to revisit how the old country looks at Tartan Day.
It is a happy coincidence that an exhibition devoted to tartan has just opened at Dundee's V&A museum. Maybe we are increasingly comfortable about confronting our contested iconography. Maybe, just maybe, we could soon embrace it.
Comments
 0 comments
Want to join the conversation? Please or to comment on this article.