Survey hopes to paint accurate picture of native hare population - Ross Macleod
Volunteers are being sought for the first on-the-ground national survey to find out more about the state of the mountain hare population across Scotland.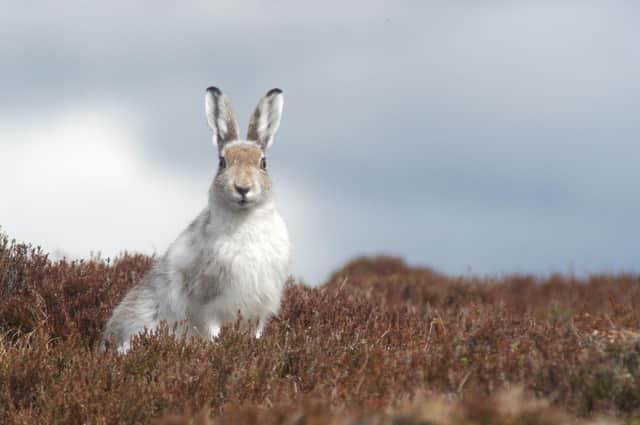 The mountain hare – Lepus timidus – Scotland's only native hare and Great Britain's only native lagomorph,
The survey, launched in March, is urging as many hillwalkers, amateur naturalists and outdoor enthusiasts as possible to take part. No previous experience is necessary to get involved.
The mountain hare – Lepus timidus – Scotland's only native hare and Great Britain's only native lagomorph, is an important species in the Scottish hills. But counting them can be challenging, and gathering accurate information is important to target conservation efforts. They are also distinctive as their fur changes colour from winter to summer.
Beyond the UK, mountain hares have a very wide, virtually circumpolar distribution extending throughout the tundra regions of eastern and northern Europe, with the closely related Arctic hare (Lepus articus) in Canada and Alaska. A world-wide pattern of restriction by both habitat and other species of hare explains the distribution of the mountain hare within Britain.
After the introduction of the brown hare to England in Roman times, mountain hares became restricted to upland regions where they were able to hold their own, feeding on heather and other moorland plants, while the brown hares fed on lowland grasses and agricultural crops. By the early 19th century mountain hares were found only in the Scottish Highlands.
Towards the middle/end of the 19th century - accompanying the development of grouse shooting and the management of heather for grouse - some landowners released mountain hares across the remaining British uplands. Many of these re-introduced populations have died out, leaving the large core populations in the Scottish Highlands, a well-established population in the Southern Uplands and a small one in the Peak District. The population in northern Wales has probably died out in the last two decades. The most recent estimate suggests that there are approximately 135,000 hares across this range.
In recent years however, there has been concern about the state of the mountain hare population in Scotland and the possible effects of control measures in some upland areas. Available sources of information present a mixed picture of their conservation status, making it difficult to draw firm conclusions on population size and trends. The picture is further complicated by their naturally cycling populations, which can fluctuate quite dramatically over periods of about four to 15 years.
As mountain hares are more active after dusk, the Game & Wildlife Conservation Trust has developed a night-time counting approach that is used chiefly on managed moorland, but this method is not suitable or even advisable in other areas of Scotland, particularly for reasons of safety. The extension of survey work to daylight 'citizen science' approaches and encouraging members of the public to submit reports of sightings and numbers will help to develop a broader picture of mountain hare status across its whole Scottish range, alongside understanding the influence of different land uses and managements.
This project is a partnership of NatureScot, the British Trust for Ornithology, the Mammal Society, the Game & Wildlife Conservation Trust and the James Hutton Institute. It builds on previous work to develop better counting methods and seeks to complement these other counts to allow improved monitoring of mountain hares across their range in Scotland.
Volunteers will need a smartphone with the recently upgraded free Mammal Mapper app to participate. Participants can sign up online through the British Trust for Ornithology website and access training and other support materials on how to identify hares and also some optional upland bird species: www.bto.org/our-science/projects/volunteer-mountain-hare-survey
The survey information will be collated and verified by the British Trust for Ornithology and the Mammal Society.
Ross Macleod, Head of Policy Scotland, Game & Wildlife Conservation Trust
Want to join the conversation? Please or to comment on this article.