Almost on cue, a picture of a Spanish TV star, 68-year-old Ana Obregón, holding a newborn baby went viral. She was in Miami to take delivery of a child, born by a surrogate mother. "Ya nunca volveré a estar sola. HE VUELTO A VIVIR (I will never be alone again. I HAVE LIVED AGAIN)" she gushed on Instagram, smiling beatifically through her fillers and Botox at her new purchase, swaddled in designer pink.
Obregón, whose only child, Aless Lequio, died from cancer three years ago, has caused a sensation in Spain, where surrogacy is illegal. The country's equality minister, Irene Montero, a Podemos MP, was adamant. "It [surrogacy] is legally recognised in our country as a form of violence against women."
Other ministers weighed in. "Women's bodies should not be bought or rented to satisfy anyone's desires," said Felix Bolaños, the minister for the presidency. The budget minister, María Jesús Montero, described it as "yet another way to exploit women's bodies".
But Obregón will not face any judicial censure when she returns home with her instant family. Surrogacy may be illegal in Spain – as it is in France, Germany and Italy – but people who buy babies abroad are never penalised. Indeed, in the last few years, the 'intended parents' of more than 2,500 children born to surrogates abroad have been granted legal parenthood in Spain.
That phrase, 'intended parents', dominated the Scottish Law Commission's report. Surrogacy has never been illegal in this country. The 1985 Surrogacy Arrangements Act established a legal framework for the practice, but even with a law in place, surrogacy agreements were unenforceable. And crucially, the mother of the child remained its legal parent until a court decided otherwise, a process that can take up to a year.
The law commissions' central recommendation is that the 'intended parents' should be able to get legal parenthood from the point of birth. The current practice does not reflect the best interests of the child, argues the report. It goes on: "Because the intended parents are not recognised as the legal parents of the child until a parental order is granted, the intended parents cannot… make any decisions in respect of the child, such as decisions in respect of medical treatment."
A 'regulated surrogacy statement' will be signed by the 'surrogate' (birth mother), the 'intended parents' and a new organisation, the Regulated Surrogacy Organisation, before conception. And as soon as the mother gives birth, her child will legally belong to the 'intended parents'. She will have six weeks grace to withdraw her consent, but the 'intended parents' cannot change their minds – just like parents who conceive outside surrogacy cannot walk away from their legal responsibilities, explains the report.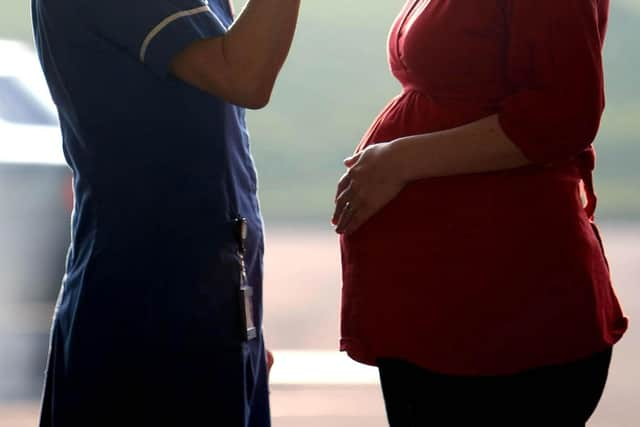 On the face of it, the changes outlined in the report seem sensible. They update a legal framework that is no longer fit for its intended purpose. The commissions consulted widely and, as Professor Gillian Black, the Scottish Law Commission's lead on the project, says, "the welfare of the child is paramount in all of our reforms".
But the glossy report, with its carefully crafted "new pathway to legal parenthood" hides a dirty secret. Surrogacy, no matter how well-regulated it may be, no matter how well-intentioned its proponents, is nothing more than the economic and cultural exploitation of women. And with these changes, a woman will lose the legal right to her child as soon as it leaves her womb.
I do not underestimate the pain of infertility. I understand why a male same-sex couple would want a child to complete their family. I have sympathy with women like Ana Obregón, whose grief at the loss of a much-loved child must be unbearable.
But surrogacy is morally wrong. It reduces low-income women to nothing more than incubators for rich folks. And pregnancy is not a passive pursuit. As the foetus grows, so does a mother's emotional connection with her unborn child.
As the grassroots feminist organisation, Women's Place UK, pointed out it in its submission to the law commissions' earlier consultation, pregnancy and childbirth remain a significant health risk to women, despite advances in obstetric medicine. In some cases, surrogacy itself can be life-threatening. The risk of pre-eclampsia – which can lead to strokes and sometimes death – increases threefold where donor eggs are used. And women who are surrogate mothers still run the risk of post-natal depression, a condition that affects more than one in ten women who give birth.
That is the reality of surrogacy. It may be a convenient way for celebrities to avoid the pain of childbirth – reality TV star Paris Hilton admitted a few weeks ago that she used a surrogate because she was scared of giving birth – but at its core, it is a luxury pursuit favoured largely by narcissists with too much money and too little emotional intelligence.
No one, not the most loving gay couple or broken-hearted infertile woman, is owed a child. A baby is not a designer handbag, a woman's body is not a convenience store. Some will argue that the Scottish Law Commission has produced a thoughtful, well-researched report, with recommendations that reflect changes in society's attitude towards surrogacy. But to many more, it simply confirms women's place in the world as second-class citizens.