With a sigh, an impotent shrug, at best a small added insight into what it must be like being a teacher these days, we move on to the next article. I've done it myself for years.
Yet seven years ago a revolutionary literacy project began that is already turning those statistics around. The Super Power Agency (SPA) started work at Leith Academy in 2016, and headmaster Mike Irving is quite open about the difference it has made in helping his school to improve to a point where, for the first time, his pupils' literacy and numeracy levels are ahead of those in comparable schools.
The SPA formula is simplicity itself. In both primary and secondary schools, for one lesson a week, typically for eight weeks, the charity runs a story-writing workshop. Adult volunteers sit alongside pupils, helping with grammar and encouraging creativity at the same time as suggesting how the story could be improved. The books thus produced are then professionally edited, illustrated, and published at no cost to the pupils.
Last month alone, the charity published six books by young authors – a guidebook and a book of essays by S2 and S3 pupils at Musselburgh Grammar School, a collection of essays from Currie Community High School, a guidebook to Portobello from Portobello High School and, from Tynecastle High School, a book of letters to and from adult penpals and a guidebook to Gorgie. Nowhere else in Britain and very probably nowhere else in Europe are books by children being published at such a rate.
Just think for a moment about what that means for the 4,000 or so pupils in schools across Scotland who have now become published authors. For a start, in at least one class a week, they'll find themselves sitting next to an adult volunteer with a protecting vulnerable groups (PVG) certificate, naturally. Someone who can, for example, go over again what the teacher had been trying to explain about punctuating dialogue – such as the difference between "its" and "it's" or how apostrophes work – when they should have been paying attention but weren't.
Kids aren't stupid. They know that if someone's giving up their time for their sake, they must be on their side, they must want to help. For the adult volunteer, the reward is immediate: you can tell when a child "gets it", when something they've never really been sure about suddenly becomes obvious, when they maybe leave a hitherto habitual mistake behind for good. Maybe they won't say anything but their eyes will widen for a microsecond, and then, often in the very next sentence they write, you can see them putting what you've just told them into practice.
If that's what the adults get from the encounter, what about the pupils? Well, whether you're ten or 14, when do you ever have a grown-up on hand to help you work out your own thoughts or write a better essay or story? How do you even begin to measure the confidence that flows from that?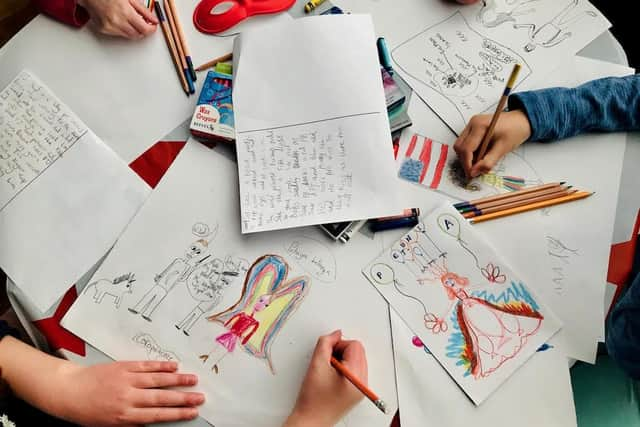 Because this isn't just a project for the classroom walls. It goes out into the world. You might come across it in your local bookshop – imagine, people buying a book you've written, just as, decades later, you might even track it down in the National Library of Scotland. If you want to start thinking of yourself as a writer, having a published book with its own ISBN number does the trick as well as anything.
I've been an SPA volunteer for the last four years and it's easily the best thing I've ever done. In my first afternoon at Leith Academy, I helped a girl write her first poem, straight after getting a boy started on an essay about how one day he wanted to run a boxing gym. At the end of the lesson, the teacher told me she'd never seen him write anything in class.
From that moment, I was hooked. The work the SPA does in helping to inspire disadvantaged pupils to write better and more imaginatively is so obviously beneficial that I can't understand why it has never received a penny from the public purse. If our schools have declined so much that our ministers have removed them from international rankings, why don't we encourage something similar to the SPA in every single one of our cities?
Although doing this would be revolutionary, it would hardly be a leap in the dark. After seven years, there's a strong statistical backbone to the SPA's work – just as there is to the educational charity 826 National, founded by leading American novelist Dave Eggers, which inspired it. That charity worked successfully in nine US cities and its former chief executive, Gerald Richards, was lured across the Atlantic to establish the SPA in Edinburgh.
The SPA works on a shoestring budget with just three hugely talented but overworked full-time staff. Last year, it expanded its operations into East Lothian, Fife, the Scottish Borders and Clackmannanshire, but it is finding it hard to keep up with soaring demand for its workshops.
After seven years, it is launching its first crowdfunding campaign, in the hope of reaching more schools and being able to publish twice the number of books it already has done so far this year. If you want to help the Super Power Agency make a difference, visit their crowdfunder page. Potential volunteers should go to superpoweragency.com.