Suggesting a referendum in recovery phase shows Nicola Sturgeon's chilling single-mindedness - Susan Dalgety
Edinburgh is tantalisingly close to my seaside flat.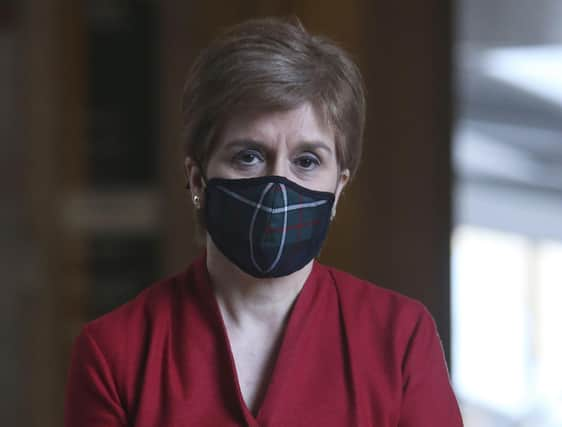 The outskirts of one of the world's greatest cities lie a mere eight hundred metres from my front door. Lothian Buses can whisk me into the city centre in less than 30 minutes. I can walk to Portobello in half an hour and idle away an afternoon on the promenade.
Yet for months now the city has been out of bounds, except for all but the most essential travel. Even today, as the lockdown starts to ease, Edinburgh, the city I think of as home, is a no-go area. Like every other Scot, I can travel in my own council area, but no further. We must to wait until 26 April for the rest of Scotland to open up to us. Our trusty campervan, and the Scotsman's guide to rediscovering Scotland, sit waiting. Only 23 days to go.
But as much as I am looking forward to visiting friends in the Highlands and family in Galloway, I yearn for something more adventurous. I want to struggle up the Acropolis in the late morning Athenian heat and stare, open-mouthed, at the Parthenon, the most perfect building in the world.
I want to wander along the shores of Lake Malawi, wriggling my toes in the hot sand, marvelling at the thought that I may be following in the footsteps of the first humans. And I want to sip rose wine with my friend Alison in the French autumn sunshine while we survey her new garden.
I love the serendipity of travel, those unexpected moments when you turn a corner in a Greek village and find yourself walking on a perfectly preserved 2,000 year old Roman road or drive past a sign in the middle of Washington state that boasts "Home to the World's Largest Egg", which is why at 3.00 am yesterday morning I found myself crying for one of the few times since the pandemic hit.
I had woken in the middle of the night, as I invariably do, and checked the news feed on my phone, as I invariably do, and read to my horror that government ministers are warning privately that international travel will be "severely suppressed" for another year at least.
As I sniffled under the duvet, I tried to calm my angst, but found I couldn't. In a few months' time I will be 65 years old. My opportunities for travel are time-limited, and before the pandemic, I had planned to pack in as much of the world as I could before my body, and savings, ran out.
Instead, I feel trapped, my life petering out in an endless routine of daily walks to the discount supermarket and incessant clips of Nicola Sturgeon calling for a second referendum while exhorting us to stay at home, in a grotesque re-make of Groundhog Day.
Earlier this week, Michelle Obama, whom I consider to be one of the world's finest human beings, told the students at the Elizabeth Garret Anderson School in Islington that they should consider the pandemic to be a "great blessing."
She said, "…Right now you're learning how to get through something hard and uncomfortable and unpredictable. And as I have told my girls, that's what life is. No matter how high you get, or how smart you are, or how successful, life will throw you things that you're not necessarily prepared for and if you know how to get yourself through it, you will succeed."
I can see where the former First Lady is coming from. Her homily, a riff on Nietzsche's assertion that what doesn't kill you makes you stronger, has some truth to it. Resilience is one of the most useful lessons we can pass on to our children. But there are less painful ways to learn it than growing up in the shadow of a virus that has killed millions across the world.
Our lives, whether we are seven or 70, have been put on hold for a year, and it will be at least another 12 months before we get back to some kind of normality. And much longer for our economy to recover.
Many leading economists believe that Britain will lag behind its peers. "The UK will be among the last, if not the last, of the high-income economies to regain its pre-pandemic size," Adam Posen, president of the Peterson Institute for International Economics, told the Financial Times recently.
The Chancellor, Rishi Sunak, may have splashed the cash to mitigate the worst effects of lockdown, but I fear further austerity is just around the corner. The "great blessing" that Michelle Obama speaks of will mean that far too many young Scots face an uncertain future of unemployment, unaffordable housing and poverty wages.
My very real sadness at not being able to travel freely may seem self-indulgent compared to the plight of our children, or that of a cancer victim denied life-saving treatment, or a business owner watching her life's work collapse, but it is nothing compared to the selfishness displayed by our First Minister.
Not only has Nicola Sturgeon squirreled away Covid recovery money from the UK government to fund her election promises, as revealed by the respected Institute for Fiscal Studies on Wednesday, but she has threatened to hold a divisive referendum on leaving the UK while Scotland is trying to recover from the pandemic.
It could happen "when we are clearly in the recovery phase", she said on the campaign trail this week, revealing a chilling single-mindedness that puts her political objective before our country.
Sturgeon clearly thinks that Covid will be the "great blessing" that will help her realise her teenage dream of independence. But I am not sure the people of Scotland have the resilience to cope with something as "hard and uncomfortable and unpredictable" as a second referendum in the wake of the pandemic. A more empathetic politician would understand that.
Comments
 0 comments
Want to join the conversation? Please or to comment on this article.