Stewart McDonald: Every day – and every delay in support by West – matters to Ukraine
This week Ukraine celebrated its 32nd Independence Day. In a speech marking the anniversary, President Zelensky thanked the men and women of Ukraine – the soldiers, the parents, the children, the farmers, the sportspeople, the journalists, the electricians – who have all, in whatever way they can, played their part in defending a free and independent Ukraine.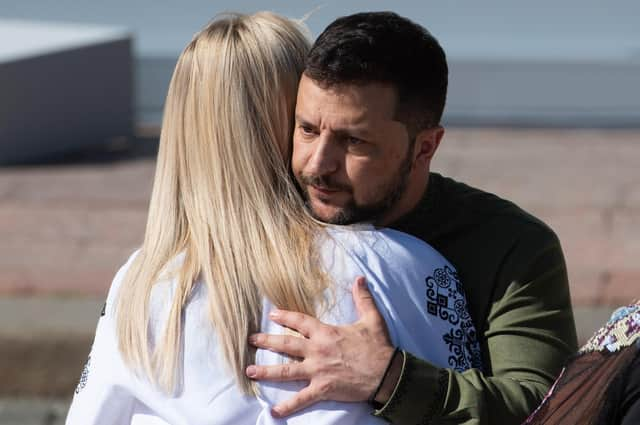 The full-scale war has now raged for a year and a half. A few weeks after Russia formally invaded Ukraine, Phillips O'Brien, Professor of Strategic Studies at the University of St Andrews, warned that the West must do all it can to ensure a quick and decisive Ukrainian victory. "Not delivering what Ukraine needs now", he argued, "is far more likely to lengthen this war and make it bloodier in the end."
His words ring as true this week as they did when they were first written – more than half a million Ukrainian casualties ago. In an article written last week, Dr Jack Watling, an expert on land warfare at the defence think RUSI, argued that government prevarication and institutional foot-dragging over the export of military equipment to Ukraine have exposed structural flaws in governments across the West which, he argues, have lost the "institutional memory of how to cohere the operational level of war".
We have watched these failures play out in real time throughout the war as countries across the West have dithered and debated about whether or not to send certain pieces of equipment to Ukraine – and have almost always decided in favour after months of delays.
In Germany, countless column inches and hours of parliamentary time have now been spent debating whether or not to send long-range missiles to Ukraine with several politicians, including the Chancellor, voicing their reluctance to send these weapons in case – wait for it – they were used to fire at Russia.
Chancellor Scholz even announced that he was even considering options to reduce the missiles' strike range – something the Ukrainian Ambassador described as being akin to "banning national team players from entering the opponent's half or taking penalties." It is likely, however, that these long-range missiles will eventually be sent, just like German Leopard 2 tanks were after a similarly long and painful period of internal debate.
Indeed, one frustrated Member of the Bundestag said that the debate around sending long-range missiles and the refusal "to hand over important equipment that will probably be delivered in the end" gave him an uncomfortable sense of déjà vu. Olaf Scholz, with the weight of his country's history pressing on him, had been reluctant to send these tanks to Ukraine – conscious that this decision would make him the first German leader to send heavy armour rolling across Europe since World War Two. And yet, after months of discussion, the tanks were sent – long after they could have and should have been.
It seems, despite Chancellor Scholz's much-praised Zeitenwende speech, that Western governments have still struggled to move at the pace that Ukraine needs to fight and win the war for its survival. Western governments do not all seem to have fully realised that limiting arms to Ukraine is doing nothing but dragging the war out, leading to thousands more deaths and driving up the economic cost of rebuilding the country.
Germany, however, is not alone in this and, despite the examples above, often unfairly bears the brunt of criticism in this regard. The United States spent months maintaining that its M1 Abrams tanks are not suitable for the Ukrainian battlefield, with one official at the Defence Department telling reporters in January that the vehicles are "very complicated, expensive, [and] hard to train on" and are "not helpful" to Ukraine in the long run. Less than a week later, the United States had changed its position: the tanks were useful after all.
The Abrams tanks are tentatively scheduled to arrive in Ukraine next month, long after the recent spring counteroffensive started and when they could have played a decisive role. As Ben Hodges, the former commanding general of all US Army forces in Europe noted, "the amount of time it took to get to this decision, and the way it is going to be implemented, does not convey a sense of urgency by the Administration or the Pentagon to help Ukraine win."
See also the debate around the supply of F-16 jets. Earlier this year President Biden ruled out allowing F-16s to be supplied. Yet in recent days, after another shift in policy from Washington, Denmark, The Netherlands and Norway committed to supplying well over 100 F-16s after getting the green light from the Biden administration - who also signed up to providing US training for Ukrainian pilots alongside NATO allies.
The UK MoD has, to its credit, been something of an outlier here. It was the first state to provide long-range missiles to Ukraine and the first to supply Ukraine with Challenger 2s, the main modern western battle tank. After the United States, the UK is the largest provider of military support to Ukraine – something that we can be proud of, even if its response to Ukrainian refugees was wanting.
This, I believe, is in no small part due to the strong cross-party support for Ukraine and for the defenders fighting for our freedom – something that I hope will endure for as long as this terrible war continues. But the war will drag on until Ukraine has been given the equipment it needs to defeat Russia on the battlefield – something that Western observers and politicians who complain about the pace of the counter-offensive would do well to note.
In a recent press conference on the prospect of sending long-range missiles to Ukraine, Germany's Green Party Foreign Minister Annalena Baerbock urged her colleagues in government to come to a speedy decision, reminding them that "every day matters." As the Ukrainian defenders continue their counter-offensive, governments across the West would should heed her words.
Comments
 0 comments
Want to join the conversation? Please or to comment on this article.