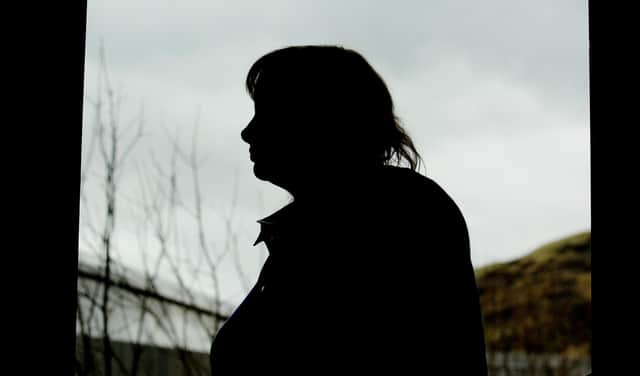 A woman who gave evidence to MSPs about what it was like to be stalked but who wished to remain anonymous (Picture: Neil Hanna)
This is a caricature and like many caricatures it bears only a small resemblance to the truth. The fear and vulnerability evoked by some of these images is very real for those who experience stalking, but in the modern age stalkers have many more – often very sophisticated - tools at their disposal than an oversized hooded jumper.
Coronavirus has forced many of us to rely on technology more than ever before - our connectivity has become a coping mechanism, a means of survival for social creatures isolating to try to make sure that as many as possible live to see the lockdown end. Yet this skill of exploiting the potential and reach of technology has already been mastered by many stalkers who abuse both it and their own power as they do so.
With tech, stalkers are gifted the power of heightened surveillance, location monitoring, voice control and even activation through features like Alexa and Siri. In real time, they can hack, follow, record, track and terrorise their victims. Even in a global pandemic, recent advances in technology ensure that the threat of stalking never really goes away.
Attention has rightly been drawn to the impact of lockdown on those experiencing domestic abuse, but this intimate terrorism and stalking are far from mutually exclusive experiences.
Robbed of a sense of peace or safety
Stalkers are often – though not always – partners or ex-partners, which gives them detailed knowledge of someone's routine, habits and often even passwords and digital devices. This knowledge is power, which they choose to abuse.
In lockdown, regardless of who the perpetrator is, many of those experiencing stalking are subject to the same insidious tactics. They must sit with the knowledge that restricted movements mean that the perpetrator is likely to know where they are at all times, and if they leave their house for daily exercise or to go to the shop, they know that there is a risk that they are being watched, tracked or followed.
At its core that is what stalking does. It robs victim-survivors of any sense of peace or safety. It takes what in ordinary circumstances should be the most ordinary interaction – a knock at the door, or the ping of a message notification – and clouds it in terror and anxiety.
The drip, drip, drip nature of the crime means that from the outside the impact can seem exaggerated to those who don't understand the trauma of stalking. Those who experience it often have to work hard to explain how what can seem like small gifts – a bunch of flowers left on the doorstep, an unwanted subscription to a magazine – feel less like a droplet and more like an overwhelming tide that threatens to sweep them away each time.
Ten years ago the law changed to reflect the nature of stalking as a course of conduct – a pattern of two or more incidents that create fear and alarm. This landmark legislative change was welcome, and did bring change, but the lived experience of victim-survivors tells us there is still an extraordinarily long way to go before public, police and prosecutors see stalking clearly, and truly understand its impact.
Though there is a clear will to treat stalking with the seriousness it deserves, too often we hear from those who have reported that there is 'nothing' police can do. More often than not it is that victim-survivors who are advised to change their behaviour – to come offline, to leave social media – as though the onus is on them to protect themselves, and they must simply accept that the perpetrator's behaviour is inevitable – 'just ignore it'.
The pattern we see in police responses – but also what we know from victim-survivors – is that public understanding of stalking relies heavily on the caricature painted by Google Images. This is a problem when most behaviours we see now are not reflected in this caricature, and when so many of them involve technology.
Of course, innovation in technology also brings the potential to equip victim-survivors with a better awareness of their rights and with FollowItApp – an app developed by the Scottish Women's Rights Centre and Media Coop – the ability to record and safely store incidents and their impact. This can support reporting if that is what they choose, but it can also bring the peace of mind of knowing that there is some kind of documentation. Tech isn't the problem in all of this – only how it is used.
Progress has been made – but it is not enough. As Stalking Awareness Week draws to a close we must seek greater awareness and attitudinal change but also action, in particular specialist training so that organisations and institutions likely to respond to stalking are equipped to see stalking clearly.
Sandy Brindley is chief executive of Rape Crisis Scotland