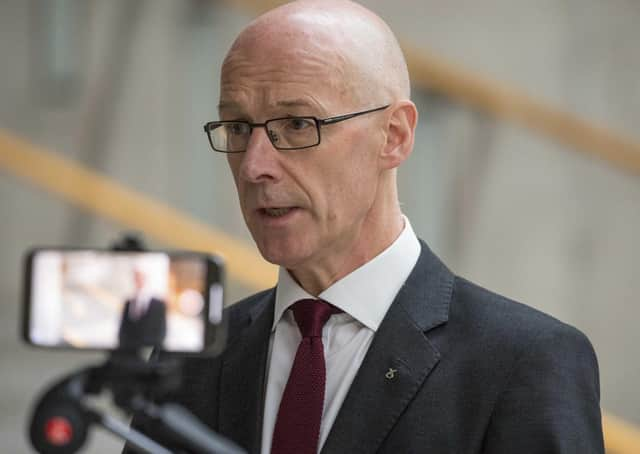 The Scottish exam results fiasco has brought to light a glaring management problem that now exists for Nicola Sturgeon and lies at the heart of her government.
Like all good leaders, the First Minister is aware of the need to delegate responsibility to her so-called trusted lieutenants but how long do you give people like John Swinney and Jeane Freeman if they keep messing things up?
By no means first offenders, the ministers responsible for health, education and Aberdeen respectively passed the what should have been the three mistakes and 'yer oot' mark ages ago.
Swinney has doubled down on his U-turn of just two months ago where he changed his mind on allowing pupils back into schools next week – having previously stated it could take a year to return to normal.
His blended learning contingency measure was deemed a failure by angry parents and came on the back of declining subject choice and the scrapping of the named persons scheme.
And you thought parents were angry then...
On current form Oor Nicola shouldn't trust him to nip down the shops for the rolls and a copy of the National although he could be given that task on appeal.
It's hard to imagine that for years he was regarded as the other competent one alongside Nicola but then again the ability to walk and chew gum at the same time would get you a ministerial post at Holyrood.
Swinney has now been sent to Aberdeen by way of punishment, the nationalist equivalent of being sent to Coventry in the hope that by doing the job of Joe Fitzpatrick, the actual Minister for Public Health, the heat might die down.
Of course hindsight is the columnist's best friend, dear readers, but it looks like the decision to cancel this year's exams was taken because in true Scottish fashion it would have been too much hassle to organise them and the will to even contemplate tackling this task was never there.
More thought and attention went into opening the boozers and we've seen where that's led us.
Postponing exams to September seemed like a sensible solution but England had already chosen to go down that road and heaven forbid we... well let's just leave that there.
The problem for Swinney is he managed to come up with a terrible solution that has hit the poorest kids the hardest and where transparency and fairness are strangers.
Teachers now have to add appeals to their already gargantuan workload and provide further evidence for recommendations that have already been overlooked first time around.
Footage has emerged on Twitter of Nicola boldly stating that young people 'should know that if they have the talent and they work hard enough they should be able to fulfill their potential, they should be able to achieve their dreams'.
That particular nugget that the First Minister insists she be judged on now looks as Lorraine Kelly might say… 'really, really, bad'.
The word count won't permit me to go through the Jeane Freeman catalogue of errors that include care homes, infection deaths of children in hospital, 18,000 shielded Scots being given the wrong letters, the Nike conference and half the countries health boards being placed under 'special measures' for starters.
But it may actually be a shrewd move on Nicola's part to keep her on, thus fulfilling a potential need to throw someone under the bus at a later date.
"In case of emergency break glass."
To be fair the health gig is the worst brief of the lot with the occupant being on a hiding to nothing – something Nicola knows all too well having filled the post for a number of years.
This competency vacuum, and it's been less than six months since former finance secretary Derek Mackay resigned (remember him?), undermines the First Minister who has come to resemble Alec Guinness playing nine parts in the Ealing Studios 1949 classic Kind Hearts and Coronets.
Derek Mackay's successor, Kate Forbes, actually got a clap for being able to stand up and read out loud the budget with joined-up writing planned for later in the year.
Oor Nicola is like Jurgen Klopp giving a rousing half-time team talk to herself then having to run out for the second half and play all the positions. At least Joanna Cherry seems capable of carrying out the fundamental task of any politician worth their salt, which is plotting to overthrow the leader, but the rest of them appear happy just to have jobs.
I struggled to name six Scottish MPs at Westminster but got there by remembering the one with the pony tale and the guy who ran the comedy club.
But there's 59 of them who might be better getting themselves up the road to add to the MSP gene pool.
Regards the opposition – well, you may ask what opposition – although staunch Hertz supporter Ian Murray tries his best to stir things up and time will tell if Douglas Ross the lino can 'put the boot in'.
As for Swinney, well, it's likely he'll hang on – they always do – but the Dear John letter should be in the post.