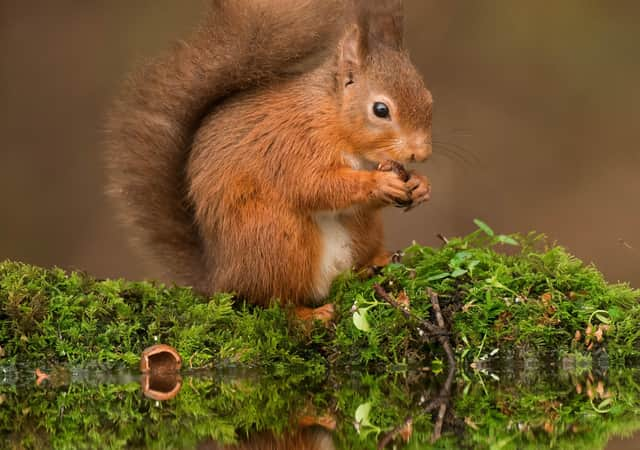 Red squirrels thrive in managed forests in Argyll (Picture: SWNS)
Lockdown has had a curious intimacy. Video conferencing gives us glimpses of friends' houses and colleagues' spouses. We swap curiosities cleared from cupboards on WhatsApp. Old photos of a bright red jumper featuring the WWF panda my grandpa knitted me in primary school caused great hilarity. Saving the world's wildlife was my calling then; our holiday glen, with mossy rocks and squirrel-nibbled spruce-cones, was my own rainforest.
Fast-forward the growth of a conifer tree, and I'm working for Confor, the Confederation of Forest Industries. I understand timber markets, carbon flows and sustainability auditing, which barely existed when I wore that jumper. Climate and nature emergencies are national concerns, but positions have polarised. I'm often told those spruce forests, from which I now draw my livelihood, are "lifeless", and forests should not be "exploited" for timber.
This polarisation doesn't fit with my experience of those working forests' singing green labyrinths. Nor does it fit with my knowledge of what's required to hand on this planet to the next generation; replacing vast quantities of plastic, concrete, steel and oil with low-carbon, renewable wood. We need a great reforestation, but it mustn't be lifeless, and surely it already isn't? Was this just my hunch, or was there science to prove it? Researching Confor's report Biodiversity, Forestry and Wood gave me the chance to find out.
Dr Eleanor Harris is Confor's Policy Researcher
There is science. Ecologists have spent thousands of hours listening for birdsong and bats; counting plants in squares and butterflies along lines; fishing beetles and spiders from pitfall traps, or shaking them on to sheets; crunching data on woodcock or dormice submitted by thousands of volunteers. Hundreds of comparative plots – old, young, native, non-native, managed, unmanaged, open, afforested – reveal the difference forests and their management make to wildlife.
The results are clear. Spruce is far from lifeless, and harvesting far from disastrous. Our working conifers support abundant life, and have allowed threatened forest specialists such as wood ant, crossbill, ferns, fungi and lichens to recolonise from tiny ancient woodland fragments.
Native trees are undoubtedly of vital importance. Oak hosts an incredible 555 species never or rarely found elsewhere. So it's vital all working forests include a native component, a piece of universal practice adopted around the panda jumper era.
Yet the difference between native and non-native was far less marked than I expected. For most wildlife, it's the presence of a forest that's important. Management matters more than tree species.
Biodiversity, Forestry and Wood is not just a literature review. Confor has 1,500 members working in forests across the UK. My childhood forest exploration was life-changing, so how much could be learned from their wealth of daily experience over decades, with forests growing around them and wildlife part of their office?
One such practitioner is John Little, a forest manager with Tilhill, who has worked in Argyll for 30 years. He has seen hen harriers and sea eagles colonise as forests mature, along with red squirrels and signs of their predators, pine marten and wildcat. He is always struck by the contrast in birdsong between forest and the rough grazing it replaced. His new woodland schemes and harvesting and restocking plans ensure microhabitats such as ancient woodland, wetland and species-rich grassland are identified, protected and expanded within forest designs. "My observation, as a working forest manager over many years, is that forestry delivers a significant improvement for biodiversity," says John.
I don't have that experience: my forest impressions have been glimpses of green brightening my urban life. But through practitioners' experiences and ecologists' studies, I have found those glimpses were true. Reforestation does solve two problems at once: supplying the renewable, low-carbon wood we so desperately need, and restoring nature.
Dr Eleanor Harris is Confor's Policy Researcher