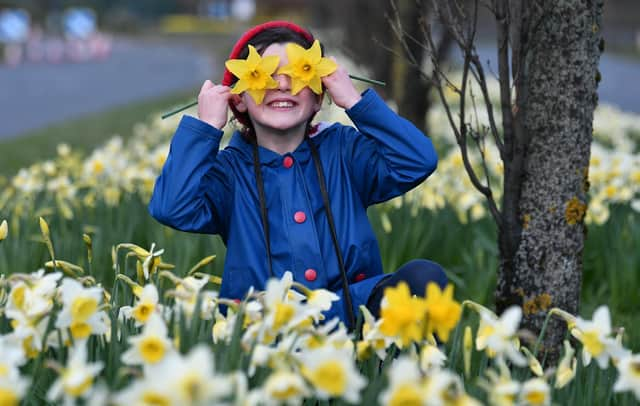 Spring has sprung and brought new hope
It might be because of Coronavirus. A lot of what we think and feel right now seems to be at least partly attributable to the virus and its effects. Maybe it has encouraged a new appreciation for the beauty that can be found in ordinary things.
Or perhaps it's just that we have more time to notice it.
I don't remember paying attention to seasonal changes when I was young. When midges arrived it was Summer and when the Christmas tree went up it was Winter.
There wasn't a real sense of anticipation between each. And there certainly wasn't any of the rampant sentimentality I've found myself noticing this month, as the dark grip of Winter finally loosened.
In recent weeks, my daughter and I have started leaving for school earlier in the morning.
The fact that I'm trying to get fit before lockdown ends has definitely incentivised our morning wanderings. But the light and colour of Spring also wills us to get outside.
On our route to school, there is a huge bush (Monty Don I ain't, so that's as specific as it's going to get) that hangs over a wall. It might even be a tree. Or a potted plant that has gotten out of control.
Whatever it is was covered in buds - huge, artichoke-like things that have been growing plumper in recent days.
In what is surely a sign that we've spent too much time together, we found ourselves checking every day to see if they had opened.
In the meantime, we tried to guess what colour they were going to be. I thought yellow, she thought pink. Then, on Thursday morning - our last walk to school before the Easter break - we turned the corner and saw the bush was ablaze with beautiful red flowers.
I felt a bit emotional, in that overwrought, lockdown-fatigued way that will be familiar to many.
It is such a daft thing to get excited about, let alone nearly shed a tear over. I usually only cry in the most deserving of circumstances: deaths, stubbed toes and when I see videos on social media of wee ducklings being rescued from drains.
If going deep is your thing, you could say that Spring is a metaphor for the Great Unlocking that we are all waiting for. That Spring signifies new life, renewal and hope. Maybe.
But I'm more inclined to believe that this last year has just done some odd things to my brain chemistry. I've not seen my friends or most of my family for a long time so it's no surprise that I now form emotional attachments to other people's bushes.
It could be worse, I suppose. If I had such strong feelings towards any of the plants in my own garden. I'd never get anything done.
As we edge towards the end of lockdown we do so with a fervent hope that it will be the last. When the UK was slow to close schools and cancel events at the very beginning of the pandemic, some experts said that we couldn't go too early because a prolonged period of full lockdown wouldn't be sustainable.
Yet here we are, more than a year on. Those brief months of respite between lockdown one and two didn't really offer any chance to recharge and reset. We were on edge, knowing that it couldn't last and waiting for the breaking news alert that would herald the start of a new stay at home order.
All things considered, we've done more than any government could expect of us. At the very least, we've earned the right to fully enjoy and embrace whatever comes next.
On Friday, Scotland's stay at home restriction was lifted and replaced with guidance to ''stay local''. We are on track to move into the next phase of easing, with hospitality venues, gyms and non-essential shops expected to open on April 26.
While Boris Johnson has been explicit in stating that England's easing of lockdown has to be ''irreversible'', Nicola Sturgeon has been more circumspect. Cautious optimism is perhaps more appropriate for the times we live in and it is not her style to over-promise unless she knows she can deliver.
But what a difference a new season makes.
Coronavirus case numbers, hospitalisations and deaths continue to fall. The vaccination programme has been a huge logistical success. Nearly 2.5 million Scots have received their first dose and 400,000 have had their second. As Spring gets into its stride, new shoots will grow and those little blue letters of hope will continue to land on doorsteps.
It might be a tad un-Scottish to romanticise such things but after the year we've endured, I think we should. Scotland is getting its colour back and with that will come so many of the things we longed for in the harsh days of Winter.
Nicola Sturgeon has said she can't commit to a firm date for when life will go back to something resembling normality.
It will be a gradual process, anyway. It starts with haircuts and discovering new parks in a different local authority area and ends with long-anticipated hugs with loved ones.
While politicians are rightly wary of making predictions, the rest of us are free to do so with gleeful abandon.
Spring is going to be restorative and full of small pleasures. It will be a soothing balm for the soul and a promise of what's to come. Things will get better. Slowly but surely, like the bud that is waiting to bloom. We don't know the precise moment it will happen but it will be so beautiful when it finally does.