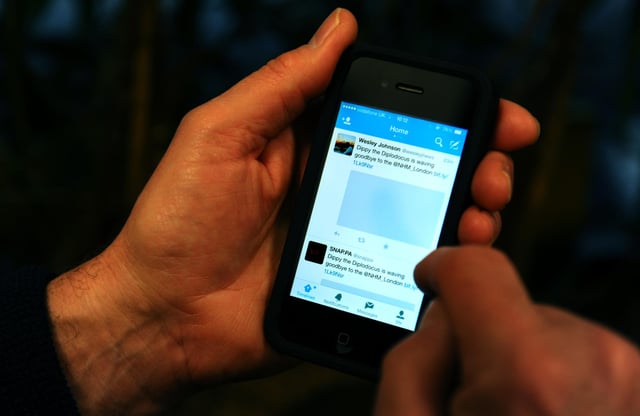 After a two-year break, Jim Duffy has returned to Twitter (Picture: Lauren Hurley)
We reach out, strike out or cut a communication link. We buy something, sell something or shout at someone. Usually we regret it.
It highlights our human frailties and emotional decision-making that really just makes us who we are – human. I've had plenty moments of weakness in my life. And even as I get older, they still occur on a frequent basis. So, in one of those moments of weakness, having spent two years off social media, I jumped back on to Twitter The results have been interesting…
Having been social media free for 24 months, I did not miss it one bit. I dumped Facebook, LinkedIn and Twitter from my life as I did not feel I was getting anything from them. Yes, there were family and friends, but my real family and friends just text me or call. There were business acquaintances and ex-colleagues, but funnily enough, none of them have reached out to wish me Merry Christmas in the last two years. Go figure.
Then there was the aggro and tensions on Twitter as folks essentially said what they felt and did not mince their words. It seems nothing has changed. In fact, the intensity and tribalism has dialled up. I was even "blocked" by a bigwig on Twitter whom I criticised. Heck, I wasn't even vituperative or nasty.
The majority of my time "online" with Twitter is spent researching articles and learning from people in the space that interests me. As you know, I am a cryptocurrency student, therefore 99 per cent of what I read or tweet about is in that discipline. I don't follow celebrities, TV stars, politicians or influencers. Not entirely true. I do follow George Galloway as I find his tweets funny, sharp and intellectually astute. Don't shoot the messenger, it's just my guilty pleasure. It is crypto, macroeconomics and finance that are my bag and so far Twitter has given me a decent enough education.
It is fair to say that I have been sucked into the social media vortex again. Like many of you who have spent hours glued to a phone or tablet, I find it can be quite addictive. Especially, when a follower or random likes your tweet. Suddenly the dopamine rushes and I feel good. I want more. Checking back in five minutes, I see have five likes. Gosh! Even more dopamine rushes into my brain.
I've sent a few tweets out that have had hundreds of likes. Waking up and checking the phone to see that adoration is just the business, even though in the grand scheme of things it means diddly-squat. In effect, what it means is that when I send the next tweet out I get very disappointed when I only get 15 likes. And so the cycle goes on. I'm kinda hooked again. The social engineers have done their job well and the "stickiness" of Twitter is still real, tangible and mood effecting.
Donald Trump used Twitter to great effect. Ostensibly he ran the country using it and it's quiet without him. I think he too was addicted to a greater extent than most of us. Putting out a tweet and having hundreds of thousands of likes must make one feel unstoppable, magnificent, omnificent even. But, then when the likes stop and the rush slows, the darkness must set in. And that is what scares me the most about shutting it all down again.
Many of us probably know an alcoholic, recovering alcoholic, smoker who cannot quit and a Twitter junkie who craves likes. The intense struggle not to take the first drink or cigarette is a daily mental workout for so many. And now we have 21st-century addictions to deal with. My short time back on Twitter has made me realise just how vulnerable I am to becoming addicted, while the lure of social media is even more compelling for my kids. Herein lies the real danger for us as parents.
From Twitter to Instagram, there is an endless stream of dopamine-inducing content to keep the kids busy and hooked. Even worse is the need to feel that they must have a certain look, vibe and voice, personas that are just not them, but they feel they need to portray to be liked.
It truly worries me. If I look at my own daughters on social media platforms like Instagram, I hardly recognise them, such are the lengths they have to go to "play the game". It seems they are all just memes and cardboard copies of each other. The pressure must be intense and it makes me feel sad as this is not "real life", is it?
I'm not yet ready to switch off Twitter. I'm enjoying it for now. As long as I remain firm in using it as a learning tool, I can handle any addiction problems. Can't I?
Who cares if I have 1,000 followers or 5,000 followers? And if I tweet, do I do it to say something meaningful or simply to induce more dopamine in my synapses? The proof is in the pudding and I'll follow up on this in six months. This way you can check in on me.
Anyway, I have to go now, my phone has "pinged" and it looks like a "like".
A message from the Editor:
Thank you for reading this article. We're more reliant on your support than ever as the shift in consumer habits brought about by coronavirus impacts our advertisers.
If you haven't already, please consider supporting our trusted, fact-checked journalism by taking out a digital subscription.