SNP's woes mean Scottish Conservatives could double their seats at next general election by taking marginal constituencies – Murdo Fraser
Scottish Conservatives gather in Glasgow this week for our annual conference, with party activists in a better mood than I have seen in a long time.
There is a sense of optimism, but never schadenfreude, with the SNP in turmoil, the police erecting tents on Nicola Sturgeon's lawn, and allegations of missing funds. And then there is the new First Minister, Humza Yousaf. How he must regret labelling himself the "continuity candidate".
There is a real opportunity for my party to make gains at the expense of the nationalists in coming contests. The event is essentially an opportunity for a reset of the Scottish Conservatives' agenda after what has undoubtedly been a difficult period. Last year was one for elected representatives and supporters to forget.
Most Scottish Conservatives were never fans of Boris Johnson to start with, and could only shudder as the pantomime of the last few months of his leadership played out in the media. The ongoing revelations about Partygate, dripping out week by week, affected not just the party's poll ratings but also our morale.
That they had a negative impact on public perceptions of the party, despite the best efforts of Scottish Conservative leader Douglas Ross to put distance between himself and Johnson, was made evident in the results of last year's local government elections, when we lost ground in various parts of Scotland.
It continues to be a huge source of frustration for Scottish Tories that we are judged not on our performances, those of our leader, or the policy platforms we put forward, but rather on the actions of our sometimes wayward brethren in Westminster, who cannot always be guaranteed to give us the most positive backdrop for electoral contests here. The defenestration of Boris Johnson was followed by the lengthy leadership contest over the summer months, and then by the election of Liz Truss as Prime Minister, an opportunity that promised much but ended abruptly, damaging the Tory brand even more in the process.
Since then, the backdrop has been much more positive, with Rishi Sunak restoring stability and credibility to the government, making steady progress on issues such as the economy, the Northern Irish Protocol, and halting illegal immigration. The Prime Minister is due to address the conference and will be thanked by those present for the good start he has made to his premiership.
But ultimately, the fate of the Scottish Conservatives will be determined by what is happening in Scottish politics, and here the door of opportunity has swung open following the events of the last two months. Nicola Sturgeon has lost office as First Minister, and her sainthood looks like it is being rescinded, too. Her reputation and that of the SNP is in tatters and support is on the slide. As for Humza Yousaf, a YouGov poll last week disclosed he is viewed as incompetent, weak, and out of touch by Scottish voters, with an approval rating of minus 25.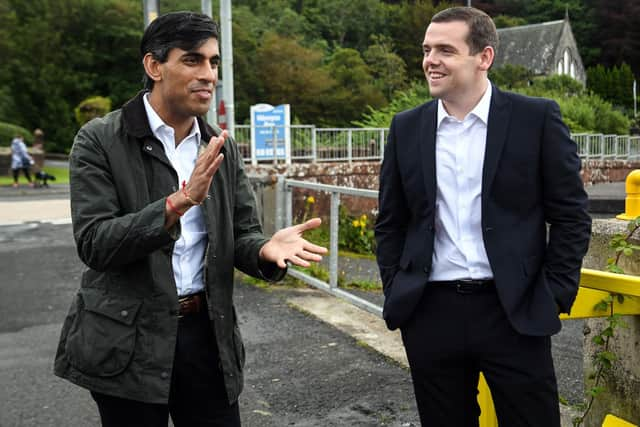 With the next major electoral contest being a general election, expected next year, current polling would suggest that Scottish Conservatives are on course to retain the six seats we currently hold at Westminster – a performance which puts us well ahead of what the expectations are for our colleagues south of the Border. With that base to build on, the party is eyeing a number of other constituencies which we lost by relatively narrow margins to the SNP in 2019, and where, if we can capitalise on their failures, we can potentially double our Scottish Westminster representation. None of this will happen by itself, and it will require a great deal of strategic thinking and hard work to make it happen.
Scots Tories have benefitted ever since 2016 from having a very simple message of asking people to vote for us in order to stop another independence referendum and, as the strongest pro-Union voice at Holyrood, we are best placed to stop the SNP re-running the 2014 vote. Even with the nationalists' current troubles, the threat of independence has not gone away. Continuing to maintain a strong stand on the Union will always be part of the Scottish Tories' electoral appeal. But it may not anymore simply be enough to say "no to Indyref2". Our message needs to be broadened with positive reasons to vote for us, and that is exactly the message that will be coming out from the conference this week.
Most Scots, we know, don't want independence, and don't want another divisive referendum any time soon. But they also want to see a Scottish Government that focuses on what really matters to them: tackling the cost-of-living crisis, growing the economy, sorting out the problems in the NHS, improving the quality of education, making people feel secure with a robust justice system, safeguarding the environment, and building a decent transport infrastructure. It is policies in these areas that will be outlined at the Scottish Conservative conference, setting out how we can be the next government for Scotland, and address the public's real concerns.
Helping this process will be a new group being launched at the conference – the Buchan Policy Network – a meeting point where Scottish Conservatives and supporters can explore ideas, policies and thinking in support of a proudly patriotic Scottish Conservative and Unionist party. Named after the author and Scottish Unionist politician John Buchan, it takes its inspiration from his belief that being proudly Scottish is not a contradiction to being a Conservative or Unionist. A successful Scottish Conservative Party will always have at its heart the interests of the Scottish people and champion what is best for them.
After many years of SNP hegemony, Scottish politics has suddenly become interesting again. It is a time of great opportunity; an opportunity which the Scottish Conservatives are ready to grasp.
Murdo Fraser is a Scottish Conservative MSP for Mid-Scotland and Fife
Comments
 0 comments
Want to join the conversation? Please or to comment on this article.