The British Medical Association's Lailah Peel has given the stark warning that patients' safety is being put "at risk every day" in our A&E units across Scotland. Given the astonishing pressures on our cherished public services, you would expect ministers to make this the first item on the parliamentary agenda.
But not the SNP/Green government. Instead, on Tuesday, ministers chose to prioritise their obsession with the constitution, with breaking up our country, with having a referendum or a de facto referendum that we do not want or need. Just how detached from reality have they become? What an astonishing dereliction of duty.
At the end of this week, when SNP and Green MSPs hold their weekly surgeries with constituents who can't afford their energy bills or can't get access to a GP, I don't know how they will be able to look them in the eye. They should be thoroughly ashamed.
In case it wasn't obvious how out of touch Nicola Sturgeon, Patrick Harvie, Lorna Slater and their colleagues have become, it has been confirmed in a new opinion poll from Survation. Asked to choose the three most important issues that the Scottish Government should prioritise, 62 per cent said the cost-of-living crisis. That was followed by the NHS (57 per cent), energy bills (44 per cent), and the economy and jobs (27 per cent).
Where did an independence referendum rank? Only eight per cent of people put it as one of their top three issues. That is why so many people across Scotland will be astonished with the government's decision to select independence as the first parliamentary topic of the year.
For the seasoned political spin doctors behind the SNP's slick operation, it makes sense to avoid any focus on public services of course. A&E statistics published last week included the worst ever monthly performance on record in November 2022, while only 56.9 per cent of patients were seen within four hours in the week up to Christmas Day.
The images of ambulances lined up outside hospitals tell their own story. Hundreds of people waiting more than 12 hours to be seen. Some of Scotland's hospitals are "beyond catastrophe", a leading doctor has warned. Lives are being lost as winter pressures further expose the deep and long-running problems in our healthcare service.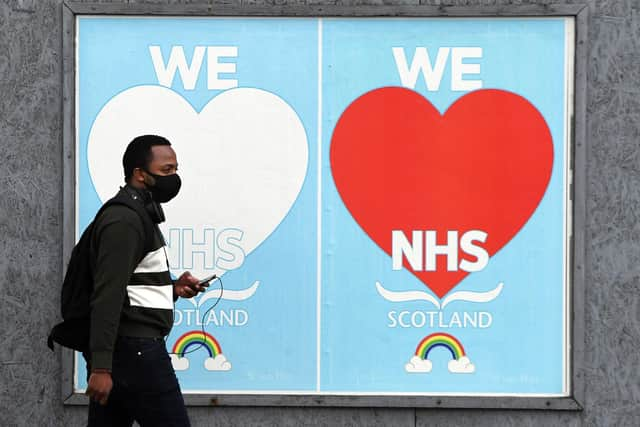 It's no wonder that Health Secretary Humza Yousaf is facing calls to resign – or be sacked. And it must be remembered that the SNP have now controlled our NHS for more than 15 years. However, not only does the SNP want to avoid having to face up to reality, it also wants to avoid questions about the public's verdict on its handling of the NHS.
Because the latest opinion poll paints a very stark picture. Only 34 per cent of people in Scotland, barely a third, think the SNP is performing well when it comes to the devolved health service. That's down four percentage points since the question was last asked in September. It's a similar story across most other public service areas. For the economy, only 32 per cent think the SNP is performing well, while it's 31 per cent for social care, and just 22 per cent for ferries.
That's the people's verdict on 15 years of SNP rule. As we enter 2023, it's surely time for our government to focus on the people's priorities, not the SNP's? That means tackling the cost-of-living crisis by using all the tools available.
More than two-thirds of Scots (67 per cent) believe the Scottish Government could do more with its powers to address this crisis. And 73 per cent want the Scottish and UK governments to work together more closely.
Devolution shouldn't be about confrontation and grievance; it should be about co-operation and delivery. When we are facing an emergency on this scale it's time to work on behalf of all the people of the country – not pursue an obsession with separation supported by a minority of the people.
The latest poll shows that 59 per cent of people in Scotland would vote to remain part of the United Kingdom in another referendum, not that that should even be contemplated right now. And only one third of people think that next election should be used as a de facto referendum.
Before the recent draft budget announced by the Scottish Government, Scotland in Union called on John Swinney to repurpose the millions of pounds earmarked for a repeat vote on separation. We said the £20 million put aside could double the fuel insecurity fund for the most vulnerable householders. Fortunately, Swinney listened to us and adopted our suggestion.
But we know the Scottish Government continues to spend public money on its plans for another referendum, with civil servants tasked with drawing up a series of documents in a desperate and futile attempt to make the case for leaving the UK. There simply is no positive case for breaking apart the UK, but the work still costs taxpayers millions of pounds.
The Survation poll makes it clear that the people of Scotland don't want this to continue: 62 per cent said the government should stop spending money on its plan for a second referendum. There is no shortage of vitally important matters the SNP/Green government should be spending public money on.
And there is no shortage of vitally important issues that the government should be focused on. That is what the people of Scotland expect from their politicians in 2023.
Pamela Nash is chief executive of pro-UK campaign group Scotland in Union