SNP rebels should call Nicola Sturgeon's bluff to save their cause - Brian Monteith
The fate of Nicola Sturgeon's tenure as First Minister lies in the hands of SNP rebels. Sturgeon and her loyalists would have them stand down at the next election – instead they should call their bluff and force by-elections against her leadership now.
Humility is not the only attribute absent from the First Minister's personal strengths, so too is a willingness to find consensus, show contrition or craft a workable compromise. These are gaping holes in a national leader's job description. To borrow from one of the greatest movies ever made, such implacability is not what is required in a peacetime consigliere.
A full month ago, when I considered what 2023 might hold for the First Minister I argued that such was her caustic divisiveness and so great were her mounting policy failures that had it been the Conservative or Labour parties Nicola Sturgeon would already be occupying the back-row of Holyrood's executive swivel chairs.
The problem was, at that point, there was no political incentive within the SNP to remove her, nor were there obvious figures who could play the role of a "stalking horse" candidate, nor is there an equivalent of the Tories 1922 Committee that can reveal the lack of confidence amongst sitting members not on the Government payroll.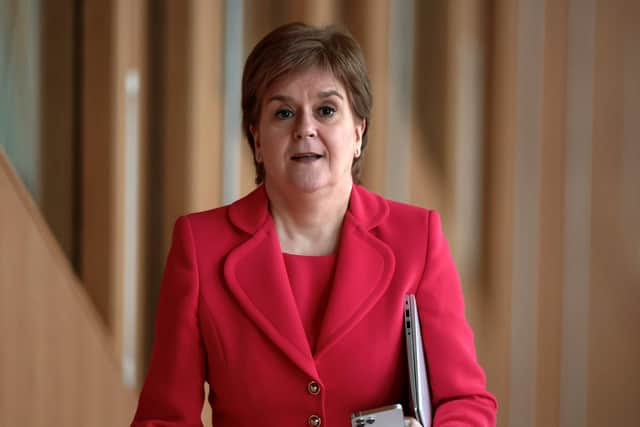 So devout is its personality cult, so monolithic and tectonically slow is the SNP to accept its own faults – and so at odds is Scotland with modern governance standards by allowing a husband and wife team as leader and chief executive of its governing party – that the message was put out that instead of learning lessons from the grievous errors of judgement those SNP politicians who had warned against the faults of the GRR Bill – they, yes they – should not stand at the next election.
This is Stalinism on stilts.
There were nine SNP MSPs who put their principles before their party loyalty and voted against Sturgeon's GRR Bill in December, all of whom represent a constituency rather than a list seat, but how far do their principles go?
Ash Regan (Edinburgh Eastern), Stephanie Callaghan (Uddingston & Bellshill), Annabelle Ewing (Cowdenbeath), Fergus Ewing (Inverness & Nairn), Jim Fairlie (Perthshire South & Kinross-shire), Kenny Gibson (Cunninghame North), Ruth Maguire (Cunninghame South), John Mason (Glasgow Shettleston) and Michelle Thomson (Falkirk East) cover a wide spread of Scotland and her people.
The SNP/Green Education Secretary and Sturgeon loyalist, Shirley-Anne Sommerville gave an interview at the weekend – which would have been prepped and rehearsed in advance with her and the First Minister's many media advisers – where she challenged SNP rebels (no doubt including others such as Joanna Cherry MP) to retire unless they give obedience to Sturgeon's mantra that transgender women are women (unless they are rapists). She has taunted them that if they believe in defending women's' spaces from sexually abusive males, who would be given the backing of the proposed GRR law to enter once-safe spaces, they should stand as independents.
But why wait? Why should elected SNP politicians not bring the matter to a head and create by-elections in their seats where the public can demonstrate their support for Nicola Sturgeon and Shirley-Anne Somerville's policy through democratic endorsement? There's nothing like having a backing of a public mandate for a politician – so why should we wait until the next Holyrood elections in May 2026?
Some of the nine may have their own reasons to not bring forward such a defining public test – but all of them? Really?
From an SNP perspective it is the one route back to saving the party from Sturgeon's disembowelling of its democratic legitimacy.
When David Davis MP, then Tory Shadow Home Secretary, resigned his parliamentary seat to force a by-election in 2008 he did so because he disagreed with the Labour Government's extension of detention without trial from 28 to 42 days. When MPs Douglas Carswell and Mark Reckless resigned the Conservative Whip and joined UKIP in 2014, both forced by-elections to legitimise their change. All three, Davis, Carswell and Reckless won their by-elections and demonstrated that the public would reward politicians being honest in seeking endorsement for a singular political principle.
The context the SNP rebels operate under is as simple as it is stark – the First Minister represents an existential political threat to both the SNP and the cause of independence. On current polling trends and considering Sturgeon's iron-rod rule over her party (including, no doubt, her eventual succession) the SNP will lose office before any further independence referendum. As the credibility of the SNP falls through the floorboards into a dark dungeon of ignominy below, the road to independence travels down a low road to irrelevance.
It is time the SNP rebels took the high road and sought to save the cause of nationalism by defending the cause of women and children. By calling one or more by-elections and allowing the public to express its opposition to Sturgeon's GRR Bill Scottish democracy will be strengthened, the relevance of the Scottish Parliament in protecting the rights of women while still providing support for people changing their genders can be restored and the First Minister will be held to account.
Losing even a single by-election would force SNP MSPs to change the SNP leader. Nicola Sturgeon would have to resign and a new leadership election be held.
The cause of an opponent to the GRR Bill to become the future SNP leader would be enhanced.
The question is simple enough: do SNP rebels wish to be cancelled and disappear as Sturgeon and Somerville wish – or will they put the cause of women and children's safety before the prospect of an independence referendum that is melting with winter snows?
Brian Monteith is a former member of the Scottish and European Parliaments and Editor of ThinkScotland.org​​​​​​​​​​​​​​​​​​​​​​​​​​​​​​​​​​​​​​​​​​​​​​​​​​​​​​​​
Comments
 0 comments
Want to join the conversation? Please or to comment on this article.