SNP must present a credible economic vision, rather than talk down our opponents, ahead of 'cost of living' general election – Stewart McDonald
SNP should outline a clear plan to improve people's lives within the Union, while making clear the benefits of independence in Europe
"The SNP are on a dangerous tack at the moment," warned George Foulkes in 2008. Live on air, he alleged that the SNP was "trying to build up a situation where the services are manifestly better than south of the Border". And if that wasn't enough, the noble Baron went on, "they are doing it deliberately!"
It's as easy to laugh as this today as it was 15 years ago. But Foulkes' inadvertent praise of the SNP reminds us that political parties win elections when voters trust them to deliver good government and good public services. It's as simple – and as difficult – as that. The past few elections have been aberrations in that sense, with the 2015, 2017, and 2019 general elections all fought with the issue of a recent referendum looming in the background. And while Brexit will undoubtedly continue to cast a long shadow over Scottish politics for years to come, the next general election will be fought with the cost-of-living crisis firmly at the front of voters' minds. It will be the living standards election.
But the cost-of-living crisis is just one of the many issues worrying people across this country. Scots today have no idea what their mortgage payments will look like in two years – or if they will ever be able to get their foot on the housing ladder – and household bills are continuing to skyrocket even as incomes and productivity stagnate. Just this week, BT announced that it intends to replace 10,000 jobs across the UK with artificial intelligence, and it has become increasingly hard to open a newspaper without being confronted with ominous predictions about impending waves of more job losses in the years to come. People living in Scotland today cannot reasonably predict what their lives will look like in ten years, if their children will have a better life than them, or if their grandchildren will inherit a liveable planet. These are existential problems that my party must face head-on.
The primary goal for my party must be to develop a truly national, cross-society platform that credibly responds to the economic, social and global insecurities of our time, and is underpinned by the aspirations of Scotland's voters. That requires us to confidently reach beyond our base and appeal to the country at large. And amidst mutterings from Sir Keir Starmer that voters are "coming home" to Labour, we must offer a platform which exposes that myth for the wishful thinking it truly is.
It is the SNP – not Labour – which won the largest proportion of the vote in an election in modern Scottish history. The 2015 general election saw us receive a record 49.97 per cent of the vote in a contest which, noted Professor John Curtice, saw "the highest turnout in any nationwide ballot in Scotland since the advent of the mass franchise after the First World War". Labour never matched that, even at its mid-20th-century peak. There's no rule that Labour must win in Scotland, despite past decades of doing so. In politics, you make your own electoral fortune. But my party must leave the job of basking in past glories to Sir Keir and focus on developing a positive policy platform to address the challenges of the future.
With the Conservative party in its death throes, lashing out at refugees and transgender people in a desperate attempt for votes, and Labour sharpening its swords to fight the economic battles of the early 2010s, my party has the chance to offer Scottish voters a policy platform ready to meet the challenges of the coming decades. We can do this by outlining a clear and credible plan to deliver economic prosperity, social justice, and societal resilience as far as possible within the confines of the Union, whilst simultaneously making clear that the only way to deliver the future Scotland needs is through independence in Europe.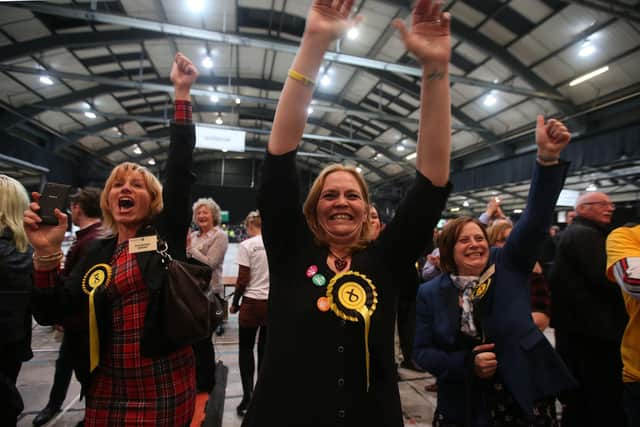 Despite this window of opportunity, one in four people who voted SNP at the 2019 general election have indicated in polls that they currently intend to vote Labour at the next election. We must seriously reflect on this. These people – who voted for an independent Scotland in Europe just four years ago – are not "red Tories". They are neighbours and friends who have believed in our party before, and we must always strive to hold their confidence.
It's no surprise that many Scots – including SNP voters – would rather a Labour Prime Minister in Downing Street than a Conservative one but, unlike in the past, Scottish voters can attach terms. Gone are the days when voters in Scotland must simply choose between the somewhat less unpleasant of two poor choices, when the SNP can offer them a progressive and transformative economic platform fit for our times and secure the second independence referendum that two-thirds of Scots believe there is a mandate for.
The SNP, unhindered by Labour's desire to placate Brexit voters in the north of England and dance to the tune of a Tory culture war, can offer Scottish voters a manifesto with aspiration running through it. But we must do it with the confidence and psychology of a national governing party that, even after 16 years in government, can still reach out across Scotland.
Rather than talk down our opponents – and the Scots who vote for them – we should let our policies speak for themselves. The SNP must go into the next election with a clear platform and credible long-term vision for improving the economic conditions experienced by people across this country. And we must do it deliberately.
Stewart McDonald is SNP MP for Glasgow South
Comments
 0 comments
Want to join the conversation? Please or to comment on this article.