Much has been made of the brewing "civil war" within the SNP. Forbes is widely seen as the party's socially conservative and economically centre-right candidate, particularly on tax and spending. Health Secretary Humza Yousaf is a continuity candidate who has yet to set out any discernible stall of policies beyond reforming social care. Former Communities Secretary Ash Regan is the outlier known best for quitting Sturgeon's government in protest at the gender reform bill.
In their early and late thirties, Forbes and Yousaf, respectively, have spent their professional lives working for the same SNP MSPs whose support they now count on to be their next leader. Regan is a PR and marketing specialist and the only one with a concrete claim to having worked in the real world for a sustained period outside the Holyrood bubble.
Youth is no bad thing. But it must be tempered with as broad a base of experience of the things you may, or may not, legislate on. Forbes achieved her first ministerial portfolio as Deputy Finance Secretary in 2018, only two years after being first elected. Yousaf held committee memberships and became a junior minister for external affairs in 2012, a year after being first elected. He has since been the Cabinet Secretary for transport, justice and health.
Tory leader Douglas Ross accused Yousaf of "failing upwards". Something must be wrong when the same insular talent pool vies to be First Minister. Young parliamentary assistants who become Cabinet Secretaries within a few years cannot all be wunderkinder.
One has to ask if Yousaf ever had the necessary experience to manage Scotland's top political jobs competently, never mind progressively. The hate crime bill and his handling of ambulance delays and NHS waiting times represent abject failures.
All of this is compounded by the leadership process itself. According to the party's constitution, the process should take months. Nominations closed yesterday; the ballot will open at midday on March 13 for the SNP's 100,000 members and close at noon on March 27.
Established, household name candidates will have a home-field advantage, even if they barely have any policy priorities or an independence strategy. The surprise of Sturgeon's departure compounds a triptych of problems for the country, never mind the SNP. The candidates have had little time to consider their vision, let alone to reflect on and cost their ideas. A few years of government experience is no supplement for the natural, career-made gravitas of Sturgeon and Alex Salmond (who brought Scotland within an inch of independence).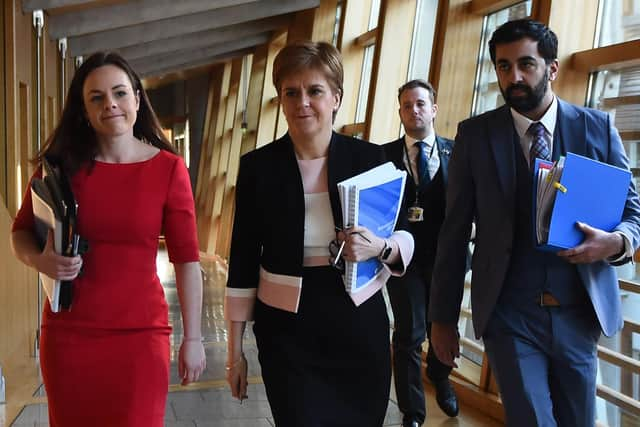 The First Minister's resignation was timely, for she was out of the road – she could no longer make calculated decisions without putting her foot in it. Bluster and soundbites alone cannot sustain a government and certainly not achieve independence.
The obsession with Forbes and her religion has less to do with her views on same-sex marriage and abortion and is more about damaging the SNP's global reputation as a progressive party. Candidates with no political successes that are exclusively theirs to showcase are also a problem. It isn't good for the PR optics. If Forbes had her own singular vision of a path to independence – a foolproof, 100 per cent cemented way to clear the road – I doubt her supporters would be turning on her.
The animus against Forbes is both a public witchhunt and a result of the fallout from the SNP losing its famous discipline without a strong centre. In 2015, the SNP banned its MPs from criticising the party, but it is hard to imagine a move like that now being remotely enforceable. Whoever wins, it is unlikely they will have that "big beast" persona to pull together a party which is as big an umbrella of views and political leanings as the Conservative party.
Constitution Secretary Angus Robertson "ruled out the chance to become First Minister… to remain First Dad". Robertson remains a steadfast and experienced choice, and his decision not to run, along with former leader and current deputy John Swinney, may be the precise moment the independence movement was set back for a generation.
An unlikely summation of the SNP's woes comes from James Bond. When 007 meets the youthful new "Q" for the first time, he is rebuked that "age is no guarantee of efficiency". Bond retorts "youth is no guarantee of innovation".
It was only a matter of time before a party which prided itself on the number of young people among its members and lowered the voting age would feel time creeping up. Now it is pushing out the kinds of experienced hands who could provide the necessary reassurance to undecided voters to convince them to shift to Yes. This is not just about the SNP but what happens when a second referendum is on the table, if ever again. Independence is being overshadowed by ambition with no plan.
It is unlikely that signature policy stalls will be set out in time to continue the relative stability the party found under Nicola Sturgeon. If there is a spark of hope, it is, ironically, Forbes' religion. Too many people have complained about the lack of values in politics. But Regan, too, has the distinction of resigning her portfolio on principle, which merits attention.
Whether youth transforms into innovation is another matter entirely.