SNP leadership contest: With Humza Yousaf set to fail, Kate Forbes may be the real winner – Murdo Fraser
That Scotland will have its first Asian Scot, a Muslim, as First Minister, is a great sign of the social progress we as a nation have made over the decades and one we all welcome.
But whether you can describe Humza Yousaf himself as progress might be a different thing. The SNP membership's own endorsement of the 'continuity candidate' was certainly a bit less than ringing. Really just a distant bong.
He got the same share of his party members' vote as the Leave campaign did in the Brexit referendum. He got rather less than the No campaign in the Scottish referendum. If our new First Minister is consistent then perhaps he'll call for 'Leadershipref2'.
But when you consider all the advantages he had over his leadership rivals Kate Forbes and Ash Regan, to win by just four points must mean he starts with his own doubts about his leadership, mirroring those his party's rank and file clearly have. This man was the SNP's establishment's choice to replace Nicola Sturgeon, who all but endorsed him. His Cabinet colleagues lined up to back him. So did those at Westminster. Even John Swinney – in the closest approximation to Sturgeon's views – gave his blessing.
And the rules, if not rigged in his favour – who could ever accuse SNP headquarters of rigging anything – certainly favoured him. At barely five weeks, the shortness of the campaign was remarkable. Spending limits were incredibly tight at just £5,000 a candidate. Donations were capped at £50 per individual and had to come from someone on the SNP's admittedly fluid membership roll.
The main threat to Yousaf, remember, came from a woman on maternity leave. While he watched the First Minister's resignation from the centre of power, she was feeding her young daughter in Dingwall. Without a campaign team, Forbes' start to the contest was regarded as so disastrous some said she would withdraw after just a couple of days.
For some commentators and many in her own party, while whether a person with a penis can be a woman was a matter for legitimate debate, being a member of the Free Church of Scotland was a clearcut barrier to ever being First Minister. When in a TV debate she pointed out to Humza that when he was transport minister, the trains didn't run on time, when at justice the police were at breaking point, and then at health he had achieved record waiting times, SNP insiders and the cognoscenti were clear. The party membership would punish her for attacking one of their own so publicly.
Kate the iconoclast even suggested that despite the canonisation of the Blessed Nicola, some of her miracles were false and there needed to be change – heresy, indeed. Yet instead of trying to burn the lady, the SNP rank-and-file membership almost elected her as their leader.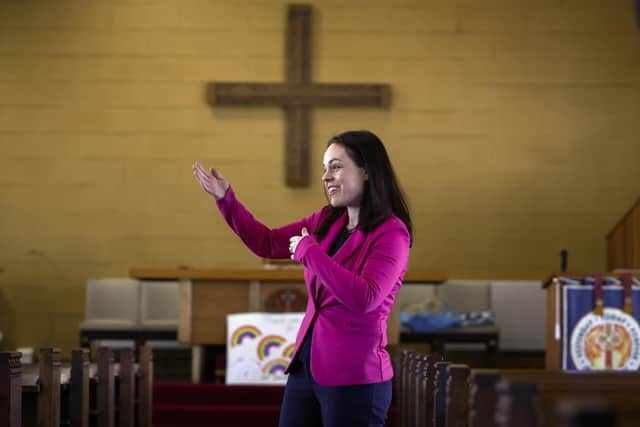 Remember it has long been suggested at Holyrood, that the reason Sturgeon appointed Yousaf as Health Secretary in the first place was because she knew it was a job he could never do and so he could never challenge her. In that, she was cynically correct.
Yousaf now needs to sever ties with the discredited regime of his predecessor. The first thing he must do for his party is to make sure that he and his staff fully comply with the Police Scotland investigation into the SNP's accounts and the apparently missing £600,000. He might not have the brightest broom but the nation expects the SNP's stables to be thoroughly cleaned.
What can the new First Minister do for the nation? This is a minister who has failed in every single department he has run. If anyone believes he can give direction with breadth and depth to a whole government then they must also believe that Rishi Sunak is about to grant a Section 30 order to allow another independence referendum.
How long Yousaf lasts in office is another thing. Much has been made of the years, decades and, perhaps in SNP terms, generations, since they last had a seriously contested election for the leadership. The analogy I would draw is with football clubs like Manchester United, who had towering figures like Sir Matt Busby and Sir Alex Ferguson as managers for decades, but when they stepped down they had a rapid turnover of successors unable to get out from under their shadow.
I suspect we will end up measuring Yousaf's leadership in months rather than years. Indeed if Forbes really wants to be First Minister this might be the perfect result for her.
If she had won there would have been a hue and cry about her faith and her supposedly right-wing economics. This way there is every chance Humza will be unable to walk on water and she can take over when he sinks. As the only candidate who pledged to hold onto Patrick Harvie and Lorna Slater, he starts weighed down – and remember that more than half the SNP members who voted cast their first ballots for candidates who were happy to see the Greens depart from government.
At the end of a long season when there were few points between the teams vying for a championship, Sir Alex used to refer to that run-in period as "squeaky bum time". That nervousness normally ended after victory. So slender was his win, I suspect "squeaky bum time" will last for the entirety of Humza Yousaf's leadership – however long or short.
Murdo Fraser is a Scottish Conservative MSP for Mid-Scotland and Fife
Comments
 0 comments
Want to join the conversation? Please or to comment on this article.