SNP government needs to listen to rural Scotland, not just hand down diktats – Murdo Fraser MSP
In the West Highlands last week I saw the holiday season in full swing. The car park at the head of Glen Nevis packed with vehicles with Dutch, German and French number plates.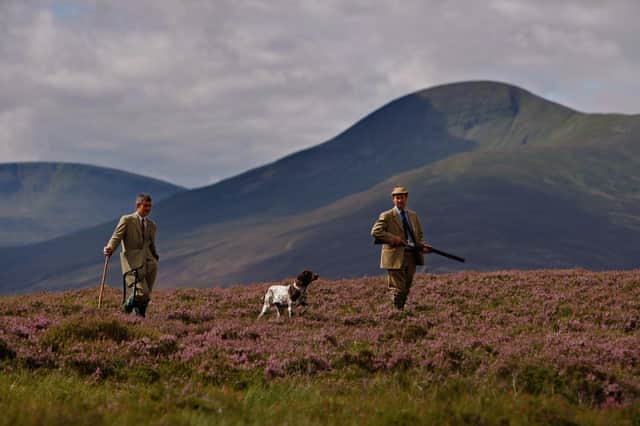 Country sports such as deerstalking and grouse shooting are vital sources of employment (Picture: Jeff J Mitchell/Getty Images)
Along roadsides, signs proclaiming "No Vacancies" seemed to be outside every B&B and guest house. It looked like Scottish tourism is doing as well as ever.
But that is not the reality lived behind the signage. The rising cost of living is hitting as hard here as anywhere else. Whilst the cost of fuel for vehicles has dropped back from the peak of £2 a litre we saw some weeks ago, rising heating and electricity bills for small businesses and domestic premises are biting hard.
Many need help but I heard almost despair from various locals. They think the Scottish Government just doesn't get the rural tourist economy.
In this part of the world, the stalking season is just about to begin, bringing in millions in investment from visitors in Europe. And yet there is the vocal urban political prejudice against local country sports such as deerstalking and grouse shooting.
Ignorant of the vital jobs these sports provide, some in the Scottish Government think that rural unemployment is a price worth paying to salve a city dweller's conscience.
Were it not for the investment from landowners, supported by the income from shooting, fishing, letting and lodges, we would see even greater depopulation in some of our remote communities. Those who pursue an agenda of "rewilding" may promise jam tomorrow in terms of new employment opportunities, but for those currently employed, the gamekeepers, ghillies and stalkers, they present the prospect of the dole today.
If ever there were an illustration of how out of touch the administration in Holyrood is with the rural economy, it has come in the recent legislation regulating short-term lets.
The provision of holiday accommodation in lodges, cottages, chalets, and caravans is vital to the tourist economy in the Highlands and many other parts of Scotland, but the implementation of the new licensing regime threatens serious damage to the sector.
According to Fiona Campbell, of the Association of Scottish Self Caterers, new licence fees will range between £200 to £1,600 per premises, with a range of additional conditions which will further increase costs. It represents, according to the ASCC, a bleak outlook for a sector that contributes £867 million to the economy.
There is clearly a difference between the oversupply of Airbnb properties in urban areas, where there are legitimate concerns about the impact on neighbouring long-term residents. But the situation in rural Scotland is a very different landscape.
Unfortunately, the Scottish Government decided to take a 'one-size-fits-all' approach, rather than let each council decide on whether a licensing scheme was appropriate.
The already squeezed tourist sector faces higher costs, more bureaucracy, and increasing restrictions. Investment will be discouraged. Businesses will face closure. Jobs, livelihoods, and ways of life, lost.
In the West Highlands, Edinburgh seems a very remote place. What people there, in this time of uncertainty, are looking for is a government that actually listens and understands what their concerns are, rather than thinking the centre knows best.
It would be better if Edinburgh stopped collecting 'key levers' and handed them back to rural communities who know what is needed.
Murdo Fraser is Scottish Conservative MSP for Mid-Scotland and Fife
Want to join the conversation? Please or to comment on this article.