In 2011, Murdo Fraser MSP said the Scottish Tory party's only hope to attract greater popular support would be to split off from the UK party led by David Cameron. Then a leadership candidate to replace Annabel Goldie, Fraser said a new centre-right, tax-cutting Scottish party would allow it to build a fresh political mandate and attract voters disenchanted by the status quo. He touted the idea again following the election of Boris Johnson to Number 10, suggesting a Canadian-style federal model would let a separate centre-right party contest Holyrood elections.
His concern was correct: how can the Scottish Conservatives deliver a competitive manifesto offering a centre-right alternative if it is saddled with another government's toxicity? Ruth Davidson subsequently won the leadership contest and oversaw a significant bounce back. Within five years, the party won 31 MSPs at the 2016 Holyrood elections and broke even in 2021. In the 2019 general election, however, the Scottish Tories lost seven MPs, reducing them to only six seats. It remains to be seen if incumbent Douglas Ross can leap from opposition to government.
How can any of the candidates poised to take over from Sturgeon start anew, and save the Yes movement, if they are also burdened with the failure of the SNP leadership? The collapse of the party's credibility is about more than just the record of a previous government or a single leader but also its organisation and infrastructure.
Two of Sturgeon's potential successors, Ash Regan and Kate Forbes, have publicly questioned the integrity of the leadership contest; Sturgeon's husband and party chief executive Peter Murrell has resigned; top adviser Liz Lloyd also announced she would be stepping down; the party's head of communications Murray Foote has resigned; Deputy First Minister John Swinney is quitting; and the SNP finally confirmed that its membership had fallen to 72,186 from the 104,000 it had two years ago.
The SNP have suffered from the same toxicity as the Scottish Conservatives. They were charged with having the same utter indifference to the electorate and have repeatedly been accused of putting independence ahead of attention on public services and domestic policy. Sturgeon, like Davidson, singularly kept the party's demons at bay with her reputation and managerial style (not without flaws, but a one-woman act that was personable, tough, confident, and appealing to voters). But whatever breakthroughs Sturgeon made, they are now being drowned out by party scandals with no big beasts to stem the tide.
Neither Forbes, Regan, nor Humza Yousaf will be the First Minister to deliver independence. They can be the ones whose greatest triumph is to untangle the Yes movement, the SNP government at Holyrood, their local council functions, the Westminster group and the operations of SNP HQ.
Under Salmond and Sturgeon, the Yes movement in Scotland became an extension of the SNP. Many of the acute frustrations of activists, elected representatives and public supporters had more to do with managing expectations of a Yes movement demanding forward action and a cautious SNP rearguard prepared to do things patiently.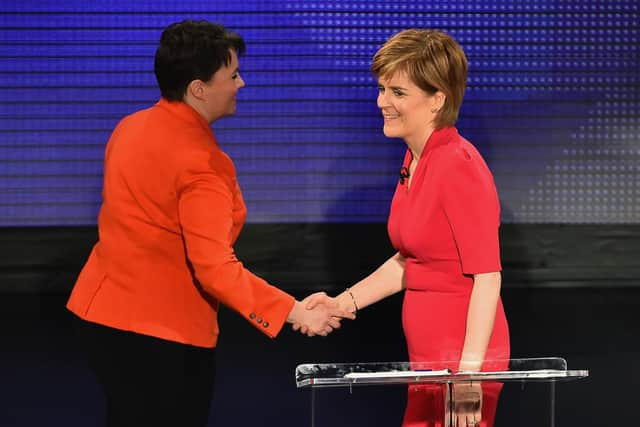 Sturgeon's failed attempt to persuade the Supreme Court that the Scottish Government could hold an independence referendum and her subsequent plan to turn the next general election into a 'de facto' referendum were last-ditch efforts to get the troops marching and give them something to do. Both moves were a far cry from the choreographed scheduling of the 2012 Edinburgh Agreement, that enabled the 2014 referendum.
Regan is the only candidate to identify the abject disillusion of rank-and-file independence supporters. Her declaration that she will hand "independence back to the Yes movement" does not go far enough. To build bridges and offer actual new leadership, all candidates must offer more radical thinking.
Regan's idea of an "independence readiness thermometer" was widely ridiculed. With a large pinch of salt, the spirit of what she was trying to say had merit. Most of her ideas need to be better packaged because they do contain some sense. The independence movement needs to be detached from the daily political realities of the SNP and the decisions they take while governing the nation, whether in local councils or Holyrood. The reality of politics means deals will be done, votes will be cast, and a lot of it will be unpalatable to those Yes campaigners who want no compromise and no surrender.
Suppose Labour leader Keir Starmer does not return an outright Labour majority at the next UK general election. He has said there would be no deal with the SNP. In that case, SNP Westminster leader Stephen Flynn will quickly find himself an unofficial prop to keep the Conservatives out. That, coupled with the SNP's implosion over the last month, means it makes sense to ringfence the Yes cause as much as possible and separate the association between the SNP and independence as a costed, merited argument.
It can no longer be acceptable for yet more years to go by in which Scotland's health, transport and education travails are blamed on Westminster. That cognitive dissonance might wash when things are going well, but there must be a change of attitude when the party – in more ways than one – is over.
Even if it is slightly glib, Sturgeon is not wrong to describe the current woes as "necessary growing pains". But the loss of 30,000 members is not a growth spurt. We can all agree it is unlikely that the next SNP leader will acknowledge a debt to Murdo Fraser, but the overnight destruction of Sturgeon's reputation begs new thinking that could be inspired by his arguments about the need for a Scottish party distinct from the broader conservative movement.
As to why, one can invoke what the First Minister said of the Conservative breakdown in the wake of Liz Truss's resignation: "There are no words to describe this utter shambles adequately."