SNP and Scottish independence are inextricably linked whether dissenting nationalists like it or not – John McLellan
Alex Salmond's call for an 'independence convention' looks like an attempt to return himself to political relevance
As the results came in on September 19, 2014, although the first authorities to declare in the independence referendum were for No, it wouldn't be clear which side was heading for victory until the outcome in the big urban council areas was known.
But the moment I knew No had won was not after a particular result, but when returning officer Mary Pitcaithly announced the turnouts in Glasgow and Dundee, a strange system in which the number of voters was announced about 30 minutes before the actual result. The national turnout was 84.6 per cent, but in Glasgow a quarter of voters didn't bother and in Dundee it was over a fifth, with a turnout of 78.8 per cent.
You didn't need to be Sir John Curtice to understand the missing voters would be mostly at the lower end of socio-economic demographics and much more likely to vote Yes, so it meant around 145,000 potential independence supporters failed to turn out. It wouldn't have been enough to change the result, but it was clear that across the country Yes had not motivated enough people with "nothing left to lose" to give the political dice another roll.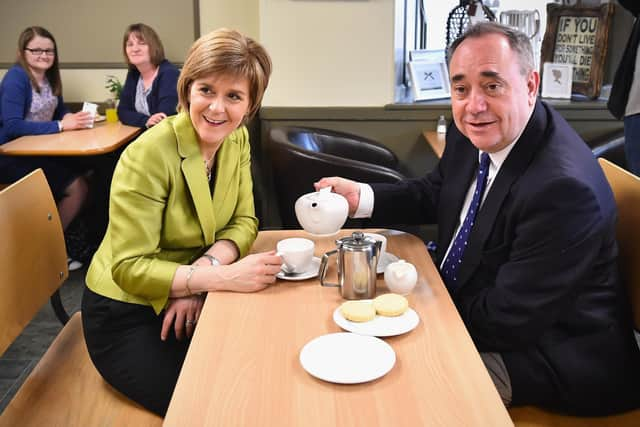 It is in that context that the reputational damage suffered by first Alex "I'm no angel" Salmond and now Nicola Sturgeon needs to be seen; if those people didn't participate in the most fiercely contested plebiscite in living memory, with the promise of a new nation in 18 months, what chance is there now, with the standard bearers of dramatic change falling well short of expectations, be it reputationally, politically or both?
The last ten opinion polls all show independence well short of a majority, between 39 and 46 per cent and, judging by the polls immediately before the 2014 vote which underestimated No support, independence would be rejected by another ten-point margin, possibly more, so for the independence movement the Catch 22 is clear; motivating the disenfranchised is more important than ever at a time when they are likely to feel even more alienated and without a proven figurehead behind whom to rally.
It's also why much of the criticism aimed at the SNP is from the hard left, for failing to do more to tackle poverty and inequality and being half-hearted about independence because the leadership had become too comfortable with the trappings of power and content simply to pass the buck to Westminster for its problems. The buck-passing charge certainly stands, and neither is there an obvious route to achieving independence when it lacks anything like majority support, but the desperation to find one only exposed the basic problem that not enough people want it.
And for all his bluster, Alex Salmond has failed to explain how he'd do any better when the UK Government can just point to the polls and say now is not the time. Nor does questioning the Sturgeon administration's commitment to a socialist programme stand up to scrutiny when it has imposed the highest levels of personal taxation in the UK and significantly increased spending on child benefits for the poorest.
Internal discontent has been building for years and it is only now the façade of SNP moral superiority ─ always nonsense ─ has cracked that more critics than just Alex Salmond and his Alba renegades have been emboldened to break cover. It's not quite Khrushchev denouncing Stalin's cult of personality, but criticism from Yes campaign marketing director and SNP loyalist Ian Dommett over the weekend was remarkable even if only for the length of time it has taken to emerge.
He told The Herald that the 2014 result could have been different had the Salmond-Sturgeon-Murell axis not been in control of the movement, suggesting too many voters didn't vote Yes because they felt they would be endorsing the SNP. But it's fanciful to claim that if the face of Yes had been "someone like" Elaine C Smith, or a non-political figure, we would now be living in an independent Scotland because people would still have demanded answers. Alex Salmond's claim that the No campaign was a "con" is laughable when the promises of his "Scotland's Future" prospectus proved to be as hollow as a bass drum.
His call for an "independence convention" to replace the SNP at the top of the movement just looks like an attempt to muscle his way back to relevance, and whether fellow separatists critics like it or not, the SNP and the independence movement are inextricably linked. A party which has only ever existed to deliver independence can't suddenly just become some sort of devolution administration vehicle just because the public hasn't bought independence. And just because other minor parties back independence doesn't change the reality that, without the SNP, the campaign will just be a day out for flag-waving and bagpipes until the unlikely day when another party takes its place. Like a tetchy married couple, one can't live with the other and they can't live apart.
There's little disagreement that the SNP must govern well to advance the cause, but the schisms opened by the leadership campaign show there is no consensus about what that should look like, and the SNP's mistake is to be distracted by gesture politics to demonstrate difference, rather than focussing on basic competence. More than a few agree with Fergus Ewing MSP that it's time to abandon the Green-driven "economic masochism" to which the current administration remains wedded, but more stinging for a left-wing administration was the view of departing children's commissioner Bruce Adamson that it hadn't done enough to tackle poverty and instead delivered "a very long period of positive words and big positive statements but a real failure to actually deliver change".
To borrow a phrase from Alex Salmond in 2014, Scotland is the Saudi Arabia of glib statements and empty promises, and if nationalists want to understand why the majority aren't buying independence, that's a good place to start.
Comments
 0 comments
Want to join the conversation? Please or to comment on this article.