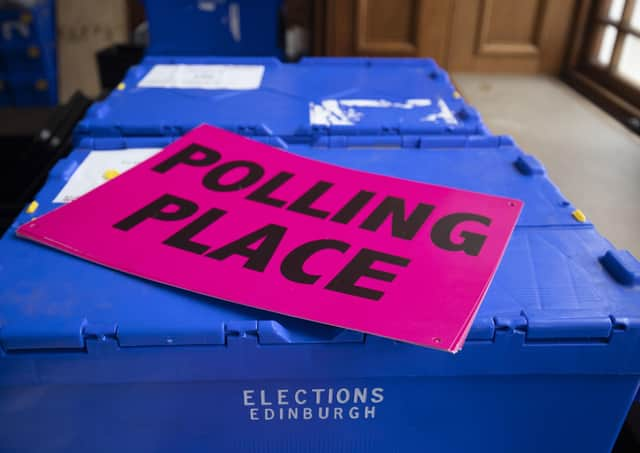 When I see nationalists debating if they should give their second vote to a new independence party while there is open dissent from prominent SNP figures and the ghost of Alex Salmond stalks Bute House I don't need convincing Nicola Sturgeon faces serious divisions in her party that will cost votes and MSPs.
When I consider the impact of such new disruptor parties I can also see collateral damage ahead for the Greens and possibly Labour. All that's being missed out is for a new group to offer genuinely liberal policies and support the democratic outcomes and the so-called Liberal Democrats will be toast.
We live in strange times. Never could I have anticipated that douce and respectable supporters of the Scottish Conservative & Unionist Party would be so exasperated with their own leader's inability to land a glove on the Nationalist First Minister that they would turn to a man they once reviled with a passion.
Galloway has announced he shall contest the Holyrood elections under the colours of UK Unity – a grouping, not a party, that shall stand candidates on the regional lists with the sole purpose of ensuring the nationalists cannot win majority to form another administration. He has said he shall be ranked first on his group's list for the South of Scotland region, but there shall be full lists of candidates across the whole of Scotland representing a cross-section of views. When pressed on issues or party preferences he emphasises there is no policy agenda – just a desire to give voters the mechanism to bring people together to defeat the SNP and unite communities. Galloway's Twitter account @Alliance4Unity has already attracted more than 9.5K followers despite only following nine people itself.
There is no mistaking George Galloway is an able politician, but for all his skill and eloquence as an orator I have never known – until now – any Conservatives who would have looked twice at the man who stood for everything they loved to hate – a pillar-box red socialist, Shamrock-on-his-sleeve republican, replete with a picture library placing him with terrorist sympathisers (if not actual terrorists). Galloway has given voice to those desperate for a leader who will face up to SNP demagogues and put them back in their box. Gorgeous George is winning praise for his combative style and willingness to work with anyone who wants to stop the SNP – resulting in old prejudices being abandoned overnight.
How then has it come to this?
Dissatisfaction with the performance of Jackson Carlaw has been mounting since he saw off his challenger Michelle Ballantyne earlier in the year. Many Tories now tell me they regret they voted for Carlaw as he appears as keen to challenge comments by Tory Leader of the House of Commons Jacob Rees Mogg as he does the daily omnipresence of Nicola Sturgeon.
The Conservative leader's willingness to give praise to Nicola Sturgeon during the Covid-19 pandemic (where he thought it appropriate) drew comments that the Labour Party MP Ian Murray was doing a better job of challenging the First Minister than Carlaw or Scottish Labour leader Richard Leonard. Open goals on issues such as the Nike Conference, care home scandal and testing regime presented themselves but went a-begging. Demands that he shape up or ship out were surfacing on social media and have found their lightening conductor in Galloway.
Now my party contacts are telling me Jackson Carlaw wishes to introduce a right to install his own candidates at the top of the Tories regional lists, thus guaranteeing his favoured disciples can form a phalanx behind him in Holyrood. It was back on 15 June, 2002 that Scottish Conservative members rose up at a specially convened meeting in Heriots school and passed a rule change by a super majority of two-thirds so members rather than party leaders would decide who would be ranked from first to seventh on the electoral lists. The millennium was only two years old but at last the Scottish Conservatives had discovered the modern world. Before the ranking for the Holyrood elections the then Tory leader, Ruth Davidson, went further and extended the franchise to expressed Conservative supporters, creating a system not dissimilar to US primaries. It aimed to broaden appeal and I am told it worked.
Why now go backwards, can the members and supporters not be trusted to identify talent and hard work? How shall party critics or past challengers like Ballantyne – who might be seen as a threat to the dear leader by striking a chord with the Scottish public – be ranked? Is the job of opposition leader not to hold the government to account rather than pick unnecessary fights with your own members?
Such self-inflicted wounds would normally have the SNP laughing all the way to the ballot box but Nicola Sturgeon cannot relax either. The prospect of a new pro-independence party fighting for nationalist second votes offers the prospect of many SNP MSPs losing their seats. While the SNP looks unassailable in the polls in the constituencies the great unknown of how second votes will fall makes predictions little more than guesswork.
The Green Party – often accused of being the SNP in disguise – could in particular suffer if SNP voters who previously gave the Greens their second list vote abandon them for the new independence offering. Only a month ago the Greens were expecting to gain seats, I think that unlikely now.
Likewise, some Labour voters might want to take a punt on Galloway and his grouping, helping to keep Labour in the doldrums, for without doing well in the regional lists it is hard to see how Labour makes a comeback.
With communication skills that cut to the core George Galloway might just connect with working-class Labour voters who had previously been attracted to the SNP in a way that other unionists have failed to do.
Another great disruption is coming to Scotland, with Jackson Carlaw and Richard Leonard its likely casualties – unless they connect with the people.
Brian Monteith is editor of ThinkScotland.org