SNP and Labour's class war on private schools will do nothing to help the pupils that the state system leaves behind – John McLellan
Most of the children getting good grades in private schools would have done as well at a state comprehensive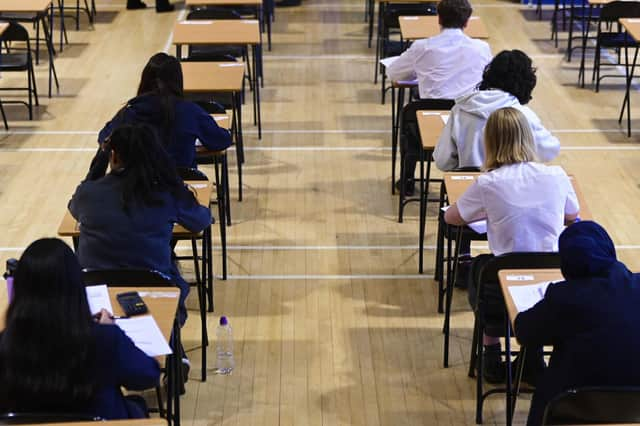 On the Number 10 bus home last week, we stopped at Viewforth and, in a few moments, the many vacant seats were taken up with kids from Boroughmuir High School on their way to the Meggetland playing fields. Polite, helpful and well-behaved, they were a credit to the school.
And why wouldn't they be? It serves some of the most comfortable parts of Edinburgh ─ Merchiston, Church Hill, Morningside and Fairmilehead ─ which means a cohort of engaged parents who take a deep interest in school life and what's being taught. In my experience, there is also a motivation to show their school is the equal of the private George Watson's College which sits at the heart of its catchment area.
With a spanking new building on the Union Canal bank, at least the roof shouldn't cave in, which Watson's can't guarantee now reinforced autoclaved aerated concrete has been found in some of the older buildings. The expansive Meggetland playing fields are less than ten minutes away by bus, far closer than George Heriot's School is to its Goldenacre estate.
In the most recent Times league table of state secondaries, Boroughmuir was the best in Edinburgh and ninth in Scotland behind the usual selection of high-performing schools serving Glasgow's commuter belt. But for the sixth year running all trailed behind the directly funded Jordanhill School, the only one not run by the local council.
The argument goes that if Boroughmuir didn't lose so many kids to Watson's and Heriot's, it, and neighbouring James Gillespie's (23rd), would knock Jordanhill off its proud perch. However, it's no secret Boroughmuir couldn't cope with a sudden exodus because, despite a hastily constructed extension to the new building which was over-capacity when it was built, it will be too small for current numbers for at least six years. Gillespie's, another new build, will be full in two years. Edinburgh's other best performer, Royal High (19th), serving leafy Barnton, is 200 over capacity and will remain so as far ahead as the projections go.
It's against this background that the re-emerging war on private schools must be set, with a motion calling for the end of charitable status and an extra levy going to October's SNP conference and Labour committed to imposing VAT on fees if it wins the next election. VAT will push the average fee for a secondary school day place over £20,000, when First Minister Humza Yousaf (Hutchesons' Grammar, class of 2003) promises higher taxes on people with relatively modest means. Not every parent has access to a hefty trust fund, such as that which pays for the children of Anas Sarwar (Hutchesons', class of 2001) to attend their old man's school.
It's true that VAT, a levy or both will not disincentivise the wealthiest families (£44,000 to board at Fettes, thank you), but for those on the margins at a time of ever-increasing costs, private education could finally be pushed beyond their means. No more sons or daughters of taxi drivers at Hutchie, like me, and if some schools fold, as Kilgraston nearly did, those remaining will be even more elitist than they are currently perceived to be. Shorn of the need to prove charitable worth, private schools will quickly transform into hard-headed businesses where low costs and profit are king. It's already happening at Watson's, where "sweating the assets" involves handing the Myreside pavilion to Hearts football club to run commercially, complete with Grassmarket prices and security guards.
The idea behind the SNP motion and Labour's policy is to invest the plunder in the state sector to close the attainment gap, as if throwing money at the same system will produce different outcomes, especially if it racks up pressure on already over-capacity council-run schools. Maybe most families of the ten per cent of children in home counties independent schools can take the hit, but with one in four secondary school children in Ian Murray's Edinburgh South constituency educated privately and where every state secondary will be over capacity in five years, the effect could be disastrous.
Nor will class warfare break the link between money and "good schools". Analysis from property experts Rettie published in the Sunday Times claimed houses in the catchment areas of the top ten Scottish state schools attract a premium of £100,000 compared to neighbouring areas. "I don't believe in private education, but I sure as hell believe in property investment" is not how Jordanhill parents would necessarily put it, but at least they can recoup some of their fees-by-proxy when the nest empties.
Those with no private school experience think the system produces better results, with five Higher passes in the 80s and 90s, which only the top two state schools recorded, but the truth is that most of those children would have achieved those grades whichever school they attended. So, what are parents buying? Association with success and tradition, good facilities and extracurricular activities uninterrupted by industrial action (unless you send your kids to Hutchesons'), and then there is the network and personal confidence which can, but not always, go with it.
But they set the bar, and set their own rules. Engaged parents know that when they speak to the head or chair of governors the buck stops there, not with some faceless bureaucrat, aka the council's education director. The secret of cracking the attainment gap is not attacking high-achieving institutions, but the system which produces regular failures. If politicians want more schools like Jordanhill, then why not create more like it? Forget the obsession with private schools which offer a genuine public good and be obsessed with those where too many pupils don't achieve their potential. Break the depressing one-size-fits-all council diktat because VAT on private fees will do nothing to improve outcomes for pupils the current state system leaves behind.
Harping on about private school advantages just institutionalises inferiority. As private schools know, level playing fields need proper management and maintenance.
Comments
 0 comments
Want to join the conversation? Please or to comment on this article.