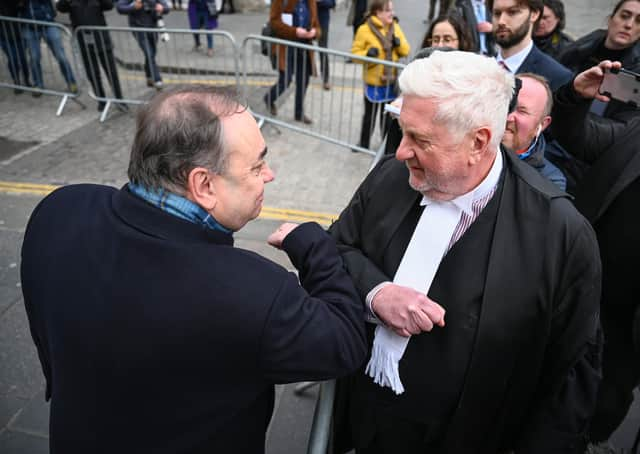 Alex Salmond bumps elbow with Gordon Jackson QC after the former First Minister was cleared of all charges (Picture: Jeff J Mitchell/Getty Images)
As befits these troubled times, the trial of Alex Salmond ended with more of a whimper than a bang, fall-out reserved for another day.
That will be an unusual event in the annals of the SNP for, no matter where they look, there is nobody else to blame. All the dramatis personae remain encamped within the grand temple of Nationalism. Let's hope there is plenty room for social distancing.
Our legal system entrusts a jury of random citizens to act as guardians of justice. There are plenty who find their verdicts in this case inexplicable but these critics were not in court. The verdicts are the verdicts. End of chapter.
Anyway, there are no real winners. Salmond will doubtless prefer lockdown in Strichen to Saughton but, as his former chief of staff, Alex Bell, succinctly put it: "When your best defence is 'I'm sleazy, not criminal', it's nothing to smile about."
The next chapter is already even more bizarre, summarised by Jim Sillars as "a clear political conspiracy at the highest levels of the party to bring him down… the dirtiest blow I have witnessed in 60 years of political life".
Now, all parties have divisions, and indeed, hatreds. But the allegation that "the highest levels" of the SNP sought to put Salmond behind bars in order to nail down the lid on his career takes us into Dreyfus territory.
Alex Bell wrote: "Nicola Sturgeon and many in the SNP's leadership cadre had grown tired of the ex-FM, sick of keeping his secrets from the membership, so sought to stop him."
Ah, the cadre and the membership! But what about the public? Only through the trial were the curtains lifted on life in St Andrew's House and Bute House, and then only a little.
This is a side of the story that needs to be revisited. Salmond ran a regime based on bombast and bullying in which all lines which should separate politicians from civil servants were abandoned.
It was an ethos which permeated every corner of Scottish life. Challenge it and you feared for your job or funding or prospects of patronage. Seek to expose it and the phone would soon ring, early in the morning or late at night. The cadre had its enforcers.
The civil service needed a leader who would stand up to Salmond. Instead, it had Sir Peter Housden who, on arrival as a cast-out from Whitehall, found refuge in becoming a cheerleader, no questions asked.
It may well be that Housden remained blissfully unaware of the challenges experienced at Bute House by those for whom he had a duty of care. But why would he act while, at the same time, nodding through a mendacious White Paper and tweeting merrily about the wonders of the regime?
If the Scottish public had been allowed to know more, the 55 would have become the 65. Alternatively, if the referendum had gone the other way, Scotland would now be in economic meltdown and still under the pomp of Salmond and his entourage.
Mercifully, that was avoided but the prevailing ethos did not change. The civil service remained joined at the hip to political power. Team Salmond was replaced by Team Sturgeon. So no surprise to find Housden's successor, Leslie Evans, messaging: "We lost the battle but we will win the war." Who is this "we"?
On what may seem a minor matter, I found the revelations about Bute House as the epicentre of political cronyism and debauchery offensive, if unsurprising. In pre-devolution days as a Scottish Office Minister, my family and I sometimes had the privilege of staying there.
The building, on loan from the National Trust, and staff were treated with respect. It would never have occurred to use it for party purposes or as a venue for activities described in court. Its degradation acts as a metaphor for the way Scottish politics has gone. The Salmond-Sturgeon years have bequeathed only one major legacy to Scottish society – deep division. For people who thrive on that objective, it was perhaps inevitable they would end up divided against themselves.