Scottish Tories are deploying the Trump playbook - Angus Robertson
US democracy is fragile. That is the warning by President Joe Biden after the impeachment attempt against Donald Trump failed to secure his conviction. Now democracy in Scotland is being put to the test by the Tories who are copying the Trump playbook. With only weeks to go until the Scottish Parliament elections the Scottish Conservatives are using Trumpian rhetoric and tactics which should concern everybody. The evidence is there for all to see!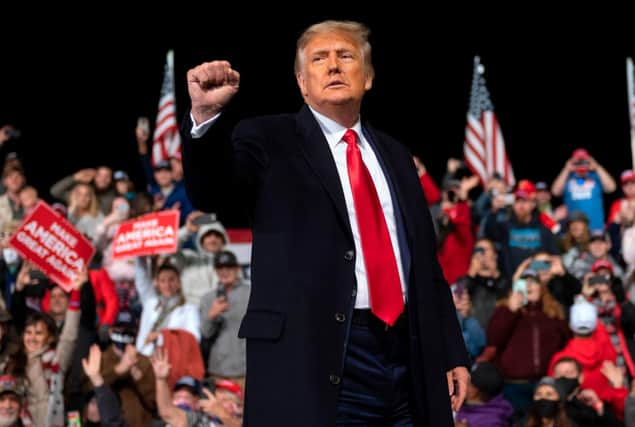 Make Britain Great Again" is their throwback to a largely imagined and forgotten age and an echo of the MAGA mantra of Donald Trump. You do not have to look far to see top Tories like Ruth Davidson using the rhetoric: "We're there to make Britain great again" she boasted in a campaign video. Trump tactics also include the demonising and othering of opponents with "Drain the Swamp" messaging. In plain sight top Tories like Jackson Carlaw have tweeted: "A Corrupt First Minister. A Corrupt Scottish Government. A Corrupt Party". This is matched by an assault on the broadcast media, from their public service coverage of the coronavirus pandemic to the questioning of journalists. Meanwhile, the Tories have weaponised fake-news especially on Brexit. Activists in one local party were told they could "learn lessons" from Trump, adding: "A lie can go round the world before the truth can get its boots on."
Just as Donald Trump faced defeat in Presidential elections by undermining confidence in postal voting, so have Scottish Tories, who face defeat in the Scottish Parliament elections. With the SNP running a major postal vote drive just like the Democrats, the Tories have started a media assault suggesting impropriety, despite doing exactly the same themselves.
In the ultimate Trumpian tactic, the Scottish Tories are proudly and publicly denying democracy. Just as Donald Trump sought to overturn the democratic decision of people in the United States the Tories say they will oppose Scottish democracy regardless of how people vote. They say that even if people vote (again) for a referendum to decide on independence in the wake of Brexit they will deny it at Westminster. Now they are doubling down by suggesting criminal charges for organisers of a "wildcat" referendum, which no-one is even proposing. In an echo of the "lock 'em up" Trump rhetoric, top Tory Douglas Ross told interviewer Andrew Neil: "They have to be answerable for their actions."
Meanwhile the Tories in power at Westminster have left a trail of broken promises as long as Donald Trump. These have recently included: betraying the fishing industry despite promising a "Sea of Opportunity, rowing back on workers rights despite promises not to, voting against protection for the NHS from privatisation despite a "cast-iron guarantee", promises that there wouldn't be a devolution "power-grab" followed by legislation to do so and broken promises by senior Tories that they'd resign if Northern Ireland was given special Brexit deal.
Democracy is fragile. President Joe Biden is right to make the warning. It should worry everyone that Scottish Tories are copying the Donald Trump playbook here. "Make Britain Great Again", drain the swamp, attacking broadcasters, weaponising fake-news, undermining postal voting, denying democracy, and "lock 'em up" rhetoric are tactics being used by Scottish Conservatives. We should use our Scottish Parliament votes to empower not undermine Scottish democracy.
Comments
 0 comments
Want to join the conversation? Please or to comment on this article.